Date : February 2, 2005
"Yokohama Meister" Press Tour
post date : 2013.08.23
"Encountering Yokohama's master craftsmen with authentic techniques for "made-in-Yokohama"
Last year people in Yokohama celebrated the 150th anniversary of opening the country since the Japan-US Treaty of Peace and Amity was signed there in 1854. In four years from now, they will celebrate the century-and-a-half history of the Port of Yokohama. The Port of Yokohama was opened in 1859. Since then, Yokohama has developed as a modern commercial city with raw-silk exports and other industries including construction, attracting people from all over the country as well as overseas. At the same time, Yokohama became the gateway of foreign culture, which influenced local production and culture and in consequences drastically changed all aspects of Japanese living, food, clothing and housing.
Yokohama has enjoyed industrial and cultural prosperity backed by the handwork of artisans. They studied hard the new technology from overseas and became imaginative and inventive in developing their own original techniques and products that have helped local people's life. However, these days, as they are facing such changes in the social structure as technological innovation, change of labor values, and reduction of the young work force, they are becoming an endangered species.
Aiming to preserve the precious techniques of craftsmen as well as to train young people to be their successors, the City of Yokohama gives the title "Yokohama Meister" to the excellent workmen who have become a minority of the local community, and is carrying out various activities to let people know about their work.
Getting deeply into the local community of Yokohama, from downtown to suburbs, this tour will be visiting four "Yokohama Meisters" in their workplaces; an iron teakettle maker, a sushi chef, a fishing rod maker, and a lacquer work artist at their workplace. This is your chance to encounter ordinary people with extraordinary talent, the essence of history of "made in Yokohama", and the spirit of Yokohama artisans, "sticking to the old but curious about the new".
City of Yokohama URL: http://www.city.yokohama.jp/en/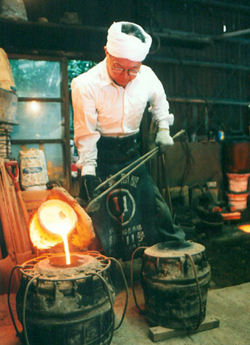 Presentations
Awarding of the title of "Yokohama Meister"
The City of Yokohama selects local workmen with excellent skills and techniques that contribute to the citizens' life and culture and gives them the title of "Yokohama Meister" to encourage them to bring up successors, preserve this precious techniques and upgrade the social status of craftsmanship. The City not only evaluates their past achievements but selects from the expectation of their future activities those that are able to reach the goal. The selection was 
started in FY 1996 and 34 Meisters had been named up to 2004.
Mr. Takashi Nakata, iron teakettle maker
Iron teakettle making is precious old skill and using techniques dating from the ancient times. Among the few local ironworkers in Kanagawa Prefecture, he learned under the very strict master, Mr. Jitsuzo Negoro who was designated as an Intangible Cultural Asset, and creates teakettle with originality and elegance making a profound study of molding and surface.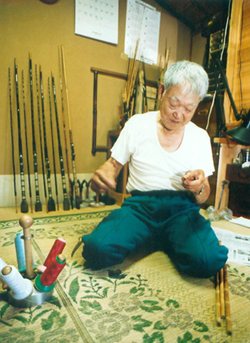 Mr. Kisaburo Yoshida, Japanese fishing rod maker One of a few Japanese fishing rod makers in Yokohama. He not only produces traditional "Yokohama-zao (fishing rod)", which was used by the local anglers before WWII, but also is always keen to introduce new techniques and invent "Yokohama-zao for the new century". He teaches his friends who are fond of fishing the skills and techniques he has long been developing on his own.
Mr. Teruo Miyazaki, artist of "Shibayama" lacquer work
Yokohama's traditional art called "Shibayama lacquer ware" was born in 1859 when the Port of Yokohama was opened. "Shibayama" is a relief on a lacquer ware using pieces of seashell and ivory, and this particular craftsman is called Shibayama-shi, or master of Shibayama. Currently there are only two Shibayama-shi at work, of whom Mr. Miyazaki is one. While he takes care of antiques that are as good as national treasures, he works hard at the study group on Yokohama-Shibayama lacquer ware to hand down its traditions and techniques to the next generation.
Mr. Masamichi Nakamaru, sushi chef
Tour itinerary and application details
His mottto is to make sushi with fish in season. He also won the gold prize at the technique contest for sushi chefs in Kanagawa Prefecture and then became a judge of the contest. He is highly appreciated as a leader of the local sushi chefs.
Schedule
February 2, 2005
08:30
Leave Nippon Press Center Building
Briefing on "Yokohama Meister" and Yokohama's industry in the era of opening of Yokohama Port"
10:00-11:00
Visit Mr. Takashi Nakata, iron teakettle maker
12:00-13:00
Lunch prepared by Mr. Masamichi Nakamaru, sushi chef
12:00-13:00
Lunch prepared by Mr. Masamichi Nakamaru, sushi chef
13:30-14:30
Visit Mr. Kisaburo Yoshida, fishing rod maker
15:00-16:00
Visit Mr. Teruo Miyazaki, Shibayama lacquer ware artist
17:00
Arrive at Nippon Press Center Building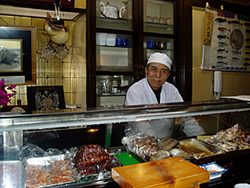 Other Information
Qualification
Bearer of Gaimusho foreign press registration card
Expenses
1,500 yen (lunch included)
*FPC will inform the participants of payment methods, cancellation fee etc. later on.
Participants
Limited to the first 10 applicants on a first-come first-served basis. (Only one reporter and one photographer from each company, but two participants in each TV team will be acceptable.)?If the number of applicants exceeds 10, an upper limit may be set on the number of participants from each country.
FPC Contact
Ms. Koizumi (Tel: 03-3501-5070)
Remarks
(1) When you photograph and film at the tour sites, please follow the instructions of the officials on duty.
(2) FPC will not be liable for any inconvenience, trouble or accident that might occur in the course of the tour.