Date : February 16 - 17, 2006
Ishikawa/ Kanazawa University Press Tour
post date : 2013.08.23
Globalization of Notoユs Traditional industry and IT technologies
Date: 16-17 Feburary
As part of its activities to revitalize the Japanese economy, the Ministry of Economy, Trade and Industry (METI) actively supports the export efforts of small and medium enterprises (SMEs) through export promotions. One is setting out its new intellectual property strategy, メJ-Brand Conceptモ, which promotes greater recognition and increased exports of Japanese products by enhancing the brand power of SMEs. METI has been implementing Support for SMEs Overseas Marketing through Establishment of a "Japan Brand".
In fiscal year 2004, Yamanaka lacquerware and Kutani porcelain were chosen and this fiscal year 2005, Wajima lacquerware and Ishiri fish sauce were chosen from Ishikawa Prefecture. Ishikawa is already famous for traditional art crafts such as gold leaf, lacquerware (also called メjapanモ) or ceramics; however, people in Ishikawa recently have started efforts geared toward featuring their high-quality products as worldwide brands.
Besides traditional industries, education too is a strong feature of Ishikawa. There are two national universities there, Kanazawa University and the Japan Advanced Institute of Science and Technology (JAIST). In FY2002 the Ministry of Education, Culture, Sports, Science and Technology (MEXT) established "The 21st Century COE Program" to support the efforts of universities to achieve distinctive and outstanding education which also would be competitive in the world. Two research projects from each university have been adopted by the program. With a core of JAIST, Ishikawa Science Park, known for fostering IT ventures, has been addressing the various new technologies.
Thanks to the opening of Ishikawaユs second airport, Noto International Airport in July 2003, the Noto Peninsula is now just a one-hour flight from Tokyo, making it one of the Hokuriku region's one of the most popular destinations, famous for its unique culture and history. Noto airport itself is a unique airport with an unprecedented operation system. The Oku-Noto Administration Center has moved its office to the airport terminal building with more than 230 employees. Noto International Airport also attracted the Japan Aviation Academy to an adjacent area in April 2003.
The tour will mainly cover Notoユs traditional industries such as Wajima lacquerware, the best lacquerware in Japan, and Ishiri, one of three major fish sauces in Japan. It also features Ishikawaユs new industrial strategies with an eye to global expansion, visiting research labs at Kanazawa University and Ishikawa Science Park.
*Courtesy of Ishikawa Pref., Kanazawa University, and JETRO Kanazawa
Presentations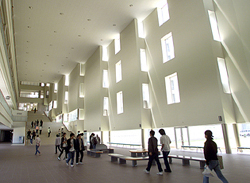 1. Ishikawa Science Park (Tatsunokuchi Town)
Located on the hillside of Tatsuguchi Town which forms an economic entity with the prefectureユs capital Kanawaza, the ISP is appointed as an area to promote R&D in a collaboration of local academics and industries. JAIST is its flagship institution. The tour will also visit the Hokuriku IT Open Laboratory, >> Link a research station for the next generation of Internet technology.
2. Japan Advanced Institute of Science and Technology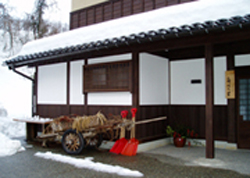 Aiming to become an international base of collaborative R&D between academia and industries in the field of advanced science and technology, JAIST is Japanユs first national graduate school and consists of three schools: Information Science, Material Science and Knowledge Science. In particular, there are many talented researchers who are active both at home and abroad.
3. Higashi Chaya District(Kanazawa City)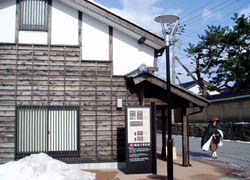 There are three teahouse districts in Kanazawa: Higashiyama, Nomachi and Kazoemachi, Higashi is the most evocative area. This preserved area of wooden latticed houses on narrow streets was Kanazawaユs geisha quarter from 1820. And even now at dusk you can sometimes hear Taiko drums or Shamisen. To this day, there are eight teahouses and the oldest has a 140-year-old history.
4. Kanazawa Univerisity (Kanazawa City)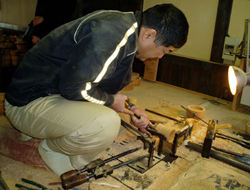 Established in 1949, Kanazawa University has created world-class R&D. One of the research projects, メInnovative Brain Science for Development, Learning and Memoryモ was adopted by The 21st Century COE Program of MEXT in FY2004. The project is for brain functional disorders, including pervasive development disorders in young people and memory disturbance of dementia in the elderly. One of their research projects is expected to find a cure for Spinocerebellar Degeneration, which is one of the most frequent neurodegenerative disorders in Japan. The tour will visit Associate Prof. Hirokazu Hiraiユs lab. Another is a nanotechnology lab for high-speed atomic force microscope that made it possible for the first time to view nanometer-scale dynamic behavior of protein molecules in solution. There are about 380 foreign students from 44 different countries at Kanazawa University (as of May 2005). Welcome dinner will be held at its nature school, Kakuma no Sato, which was an old wealth farmerユs house with 280 year-old-history. Interaction with the students will be organized.
5. Wajima Kobo Nagaya (Wajima City)
Wajima, a port town on the west coast of the Noto Peninsula, is well known for its lacquerware. Wajima Kobo Nagaya opened at the same time as Noto International Airport in 2003 to generate awareness of one of the best lacquerwares, メWajima-Nuriモ. The process of making Wajima lacquerware requires many skilled artisans working with more than 120 stages. Because of this complex method it was very difficult to see each production process before Wajima Kobo Nagayaユs opening. You will be able to see the craftsmen, from beginners to veterans.
6. Ishiri Fish Sauce (Noto)
Ishiri, one of Japanユs three major fish sauces, has long been used in traditional Noto cuisine. There are several types of Ishiri, divided by the ingredients such as squid, sardine and mackerel. Ishiri can be considered like soy sauce; however, it contains more amino acid than soy sauce and gives more aroma and flavor to dishes. In FY 2004 Ishiri was adopted by the METI project メJ-Brand Conceptモ to promote Japanユs great products to the world. They have set out to expand its market to France and Italy where it's known as "gourmet power". The tour participants will have a chance to enjoy traditional Noto dishes with magic Ishiri sauce for lunch.
7. Noto International Airport (Noto)
Noto International Airport is the second airport following Komatsu in Ishikawa. There are two daily flights from Tokyo and also chartered flights from Taiwan. Noto airport operates not only as an airport but also as the seat of local government, Oku-Noto Administration Center. Its 4th floor is open to the public as a lifelong learning center. These new efforts have drawn attention from other local governments.
Tour itinerary and application details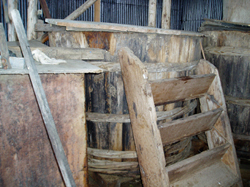 1. Itinerary (Tentative): February 16 (Thu) & 17 (Fri) (move by chartered bus in Toyama)
[Day 1: Thursday, February 16]
07:35 Leave Tokyo Haneda Airport by JAL Flight 1271
08:40 Arrive at Komatsu Airport(Move by chartered bus)
09:30-11:50 Visit Ishikawa Science Park and Japan Advanced Institute of Science and Technology
11:50-12:40 Lunch
13:30-14:10 Tour Higashi Chaya
14:30-18:30 Visit Kanazawa University
18:30-20:30 Discussion with foreign students and welcome dinner hosted by Kanazawa University at Kakuma no Sato, a 280-year-old traditional house
19:30-20:30 Kanazawa light-up tour (optional)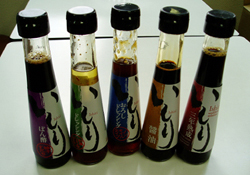 Stay overnight at guesthouse of Kanazawa University
(Tel:076-264-5275)
[Day 2: Friday, February 17]
07:30 Breakfast at Kanazawa University
08:15 Leave the university (Move by chartered bus)
11:00-12:15 Visit Wajima Kobo Nagaya
(Maybe visit morning market as well)
13:00-14:15 Briefing on Notoユs traditional food, Ishiri and Lunch with Ishiri
15:00-15:30 Arrive at Noto Airport and briefing on the airport
15:45 Leave by JAL Flight 148
16:50 Arrive at Tokyo Hanade Airport
2. Qualification: Bearer of Gaimusho Press ID card
3. Expenses: 15,000 yen per person including transportation, meals and accommodation
*If the tour is cancelled because of the weather, we will give you a full refund. However, if you cancel the tour for reasons of your own, we will charge you 7,500 yen after 17:00 on Feb 8th.
4. Participants: Limited to the first 9 applicants on a first-come first-served basis.
(Only one reporter and one photographer from each company, but two participants from each TV team will be acceptable.) 
5. Application: You can also find information on this press tour on the Members-only Page of the FPCユs website: >> Link Please apply online from the page. You need the following username and password to enter the page. Username: fpcj Password: members Or fill in the application form below and send it to FPC by fax.
6. Language: Japanese and English
7. FPC Contact: Ms. Nozomi Suzuki or Kazuko Koizumi (Tel: 03-3501-5070)
8. Remarks: (1) There are some restrictions on photographing and filming at the tour sites. Please follow the instructions of the officials on duty.
(2) Ishikawa Prefecture, Kanazawa University, JETRO Kanazawa, and FPC will not be liable for any inconvenience, trouble or accident that might occur in the course of the tour.