Date : February 29, 2008
February 29: 【"Biomass in Chiba" Press Tour】
post date : 2013.08.23
~State-of-the-art Recycling Plant of Packed Meals from Convenience Stores and Japan's Largest Biomass Power Station ~
Environment and climate change is one of the main issues to be discussed in the G8 Hokkaido Toyako Summit in early July. Japan will host a series of major international meetings in this summit year, and the first will be the G20 Gleneagles Dialogue, to be held March 14th-16th at Makuhari Messe in Chiba Prefecture. Chiba, the venue of the Dialogue, is promoting "Biomass Prefecture Chiba" project. This press tour to Chiba will cover a state-of-the-art recycling plant of packed meals from convenience stores, which realizes a true recyle system, and Japan's largest biomass power station using wood chips.
**************************************************** 
Environment and climate change is one of the main issues to be discussed in the G8 Hokkaido Toyako Summit in early July. This year also marks the start of the five-year period in which industrial countries must cut their greenhouse gas emissions under the Kyoto Protocol, and their specific measures against global warming are attracting attention. Japan will host a series of major international meetings in this summit year. The first will be the G20 Gleneagles Dialogue(The 4th Ministerial Meeting of G8 Gleneagles Dialogue on Climate Change, Clean Energy and Sustainable Development), to be held March 14th-16th at Makuhari Messe in Chiba Prefecture. Global environment issues will be discussed by G8 member countries and 12 emerging economies including China, India, Mexico, and Brazil, as well as the World Bank and the International Energy Agency. 
Chiba, the venue of the Dialogue, is rich in various biomass resources, since it enjoys the third largest agricultural production in Japan (after Hokkaido and Kagoshima), and also attracts many food processing companies with the geographical advantage of being close to the huge market of greater Tokyo. In addition, the accumulation of universities, research institutes, and private companies in the industrial area along the shore of Tokyo Bay is working as a driving force for biomass research and development.
Join our next press tour featuring some of the most advanced efforts in the prefecture, which is promoting "Biomass Prefecture Chiba" by establishing a biomass project team in the prefectural government, something very rare in Japan. 
Presentations: 
1. Agri Gaia System Co., Ltd. - From Packed Meals from Convenience Stores to Animal Feed and Compost, Recycling Plant to Establish Complete Cycle System -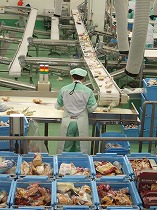 The total food waste (industry sector) in Japan in fiscal 2006 amounted to 11.35 million tons, far exceeding 9 million tons of rice production. If household food garbage is added, the volume surpasses 20 million tons. Of the total 11.35 million tons from the industry sector, 6.7 million tons, or 59%, were reused as animal feed and compost. To further promote food recycling, the Revised Food Recycling Law came into force in December last year. The new law requires food industry and retailers above a certain size to report every year the volume of food waste and their recycling measures. Against this background,convenience stores, which have become indispensable for modern life, are accelerating their efforts for food recycling. 

In September 2007, Agri Gaia System Co., Ltd. established in Sakura City Japan's largest food recycling plant, with a daily processing capacity of 255 tons, and started experimental operation. The state-of-the-art and futuristic plant is open and clean, and looks like a food processing factory rather than a waste disposal facility. One of the major appeals of the plant is its "100% separation system," which removes such items as paper and wood skewers from recyclable food. The system is said to be a breakthrough in the food recycling business, in which the maximum separation ratio is 99.7%. To achieve 100% separation, they have ironically introduced human hands to eliminate non-food items, which cannot be done by machines. They call it the "best match between human hands and machines." 
Agri Gaia System, in partnership with Seven-Eleven Japan, picks up everyday outdated packed lunches and other foods at over 1,000 Seven-Eleven outlets in the 23 wards of Tokyo, and turns them on the same day into three types of materials used for animal feed (high protein, low protein, and liquid). The materials are then brought to major mixed feed manufacturers for the finishing process. The Spinach which Seven-Eleven uses for packed meals is grown using compost made from its own unsold food waste. They are now planning to use pork raised on the feed produced here. This whole system means the completion of a true recycle system involving food factories, retailers and restaurants, recycling plant, and farmers. 
2. Green Power Ichihara Co., Ltd.
- Japan's Largest Biomass Power Station -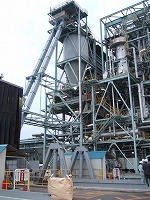 Mitsui Engineering & Shipbuilding Co., Ltd., with two other companies, has established the country's largest biomass power station (about 50,000 kW output) in Mitsui's Chiba Works in Ichihara City, and they are preparing for full operation from this month at the earliest. Fully utilizing construction scrap materials from greater Tokyo, they combust wood biomass or wood chips in a circulating fluidized-bed boiler, and generate power by a steam turbine. Japan has recently seen some biomass power projects using wood chips, but Green Power Ichihara is the largest in scale. It will annually use 200,000-ton wood chips and 55,000-ton RPF (refuse paper and plastic fuel), and is expected to generate 330 million kWh power in full operation, all of which will be purchased by the Tokyo Electric Power Company under the Law on Special Measures Concerning New Energy Use by Electric Utilities, better known as Renewable Portfolio Standard (RPS) Law. The power station will be able to supply electricity to 20,000 households, and reduce the emission of carbon dioxide by 350,000 tons a year. 

What is crucial for the stable operation of such biomass power plants is to secure steady supply of fuel (wood chips). However, demand for construction scrap materials is booming as biomass projects are spreading nationwide and oil prices are soaring. On top of that, the recent revision of the Building Standards Act has caused housing starts to plummet, leading to a drop in the number of demolished houses, and this has led to the shortage of scrap materials. 
In this project in Ichihara, waste disposal companies in Kanto region have teamed up to establish a network to secure a stable supply of wood chips and RPF. In December 2006, a company called Junkan Shigen, made mainly by waste disposal companies, constructed Japan's largest fuel stockyard in adjacent Sodegaura City, giving the stable supply system a great impetus. 
Equipped with clear entrance (stable supply of fuels) and exit (generated power to be sold to Tokyo Electric Power Company), this project is a focus of attention as to whether it can be a model of a large scale biomass power station in Japan. 
Tour itinerary and application details: 
1. Itinerary (Tentative): 
Friday, February 29 
08:00 Leave Nippon Press Center Building (move by chartered bus)
09:00-10:00 Briefing on biomass in Chiba at Makuhari Messe
11:00-12:45 Visit Agri Gaia System Co., Ltd.
13:00-13:45 Lunch at Smile Yachimata
14:45-16:15 Visit Green Power Ichihara Co., Ltd.
16:45-17:15 Visit Junkan Shigen (fuel stockyard)
18:30 Arrive at Nippon Press Center Building 
2. Qualification: Bearer of Gaimusho Foreign Press Registration Card 
3. Expenses: 2,000 yen per person including transportation (bus) and lunch
*FPCJ will inform the participants of payment methods, cancellation fee etc. later on.
4. Participants: Limited to the first 15 applicants on a first-come first-served basis.
(Only one reporter and one photographer from each company, but two participants from each TV team will be cceptable.) 
5. FPCJ Contact: Mr. Yano and Mr. Sugawara (Tel: 03-3501-5070, 3405) 
6. Remarks: 
(1) There are some restrictions on photographing and filming at the tour sites. Please follow the instructions of the officials on duty.
(2) FPCJ will not be liable for any inconvenience, trouble or accident that might occur in the course of the tour.