Date : March 25 - 26, 2019
Notice: 2nd Ibaraki Press Tour
post date : 2019.03.04
[Themes]

1. New Types of Agriculture in the Agricultural Center of Ibaraki
  —Profitable agriculture through a distribution revolution and help from ICT and foreign workers
2. Traditional Ibaraki Cuisine and Pottery Entering Global Markets Thanks to Japanese Food Boom
(1) Entering Global Markets with Non-Sticky Natto
(2) Nonstop Orders from Overseas for Kasama Ware, with a Style Not Bound by Tradition
[Overview]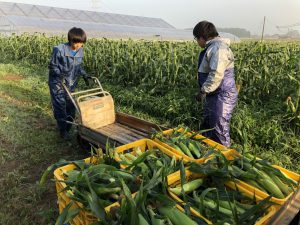 This tour will visit Ibaraki Prefecture, where the G20 Ministerial Meeting on Trade and the Digital Economy will be held in June 2019, and cover agricultural reforms taking place in Ibaraki, an agricultural center, and efforts to sell traditional products overseas.
Ibaraki, located in the north of the vast Kanto Plain, has the largest percentage of farmland of any prefecture in Japan and is third in the country for agricultural output. Ibaraki is the top producer for various agricultural products, including muskmelon, bell pepper, and hakusai (Chinese cabbage). As Ibaraki also has easy access to the Greater Tokyo Area, it is the Kanto region's largest food supply center.
With the rapidly declining and aging population, decreasing birthrate, and the liberation of trade, agriculture in Japan faces issues including a lack of workers and a shrinking domestic market. In Ibaraki, close to Tokyo and home to Tsukuba Science City, where cutting-edge technology is gathered, people are working to revolutionize agriculture and food.
This tour will look at initiatives in Ibaraki, a leader for the future of agriculture in Japan: an automated tractor being developed by a major agricultural equipment manufacturer that is a leader in smart agriculture, a farmer's market where the farmers decide the price themselves with annual sales of 600 million yen, a student organization that provides student helpers to farms to help with the shortage of workers, and a farm producing high-quality strawberries in cooperation with foreign workers.
The government of Japan has chosen exports of agricultural, forestry and fishery products as a pillar of its growth strategy. The tour will cover how natto, a traditional Japanese food and a specialty of Ibaraki, has begun to be sold overseas in a modified form. The tour will also visit a pottery workshop which makes Kasama ware, which is designated by the national government as a Traditional Craft and has been made in Ibaraki since the Edo period (1603–1868), and hear about training the next generation of potters and efforts to expand sales overseas.
[Tour Details]

1. New Types of Agriculture in the Agricultural Center of Ibaraki
(1) Iseki & Co., Ltd.: Dream Agricultural Research Institute
—Center for Research, Testing, and Promotion of Smart Agriculture
Iseki & Co., Ltd. was founded with the desire to free farmers from the need for harsh physical labor, and over more than 90 years has developed a variety of revolutionary agricultural equipment to become one of the top three Japanese manufacturers of agricultural equipment. Iseki was the first to announce a head-feed combine harvester (which reaps, threshes, and gathers rice) used in rice cultivation, and has developed agricultural equipment that contributes to increasing the precision of agricultural labor while decreasing costs and the energy required.
In 2018, Iseki began sales of a robot tractor that, using Global Navigation Satellite System (GNSS), can operate without a driver when under human supervision. As driving tractors requires precision, there are high hopes for this technology to increase efficiency by reducing operator fatigue when expanding businesses and making it possible for operators without years of experience to operate tractors. With women working in more areas in the agriculture industry, the company has also developed tillers and mowers targeting female farmers.
◆The tour will visit the Dream Agricultural Research Institute where research on the future of agriculture is carried out using the latest robotics and ICT. There, they will hear about the changing environment surrounding agriculture in Japan and what issues exist, and smart agricultural to help overcome the shortage of workers. After, there will be a demonstration of a driverless tractor.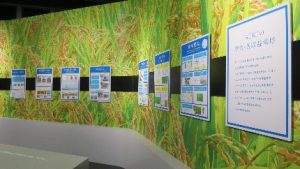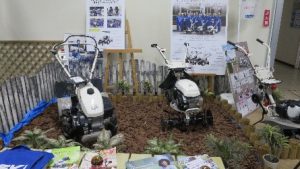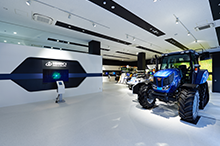 (2) Mizuho-no-Muraichiba Farmer's Market: Annual Sales of 600 Million Yen! A Farmer's Market Betting on Quality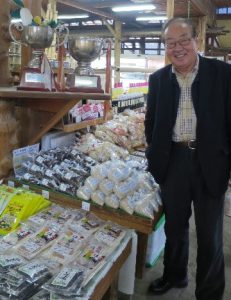 There are currently over 20,000 farmer's markets in Japan, and Mizuho-no-Muraichiba in Tsukuba, Ibaraki was a pioneer in the field. Established in 1990, over 300,000 people go through in a year, and annual sales are approximately 600 million yen.
With farmers suffering from price drops due to the price for products being decided by the marketplace instead of farmers, since its establishment Mizuho-no-Muraichiba used unique methods such as not selling products at a lower cost than what other farmers are already selling them for, and putting the names of the farmers in advertisements instead of the price, developing a new style for purchasing agricultural products. Currently, preparations are underway for an IT system to help close the distance between producers and consumers, evolving into a next-generation farmer's market.
◆The tour will look around the market and Mr. Hasegawa, president of Mizuho-no-Muraichiba, will speak about developing a system in which farmers can steadily provide the high-quality agricultural products that are the strength of Japanese agriculture, and building a next-generation farmer's market focusing even more on health considering the declining birthrate and aging population.
(3) Tsukuba Student Nogyo Helper
—Youth Helping Farms! More Future Options after Agricultural Experiences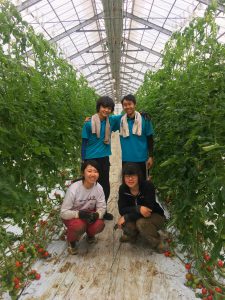 Tsukuba Student Nogyo (Agriculture) Helper is a volunteer group whose members contribute to local farms while getting agricultural work experience, composed of students from the University of Tsukuba. Tsukuba is a center for scholarship and research within Japan, and is also known for many agricultural products such as rice, blueberries, and onions. Twenty-five students are part of this group, including students from degrees not directly involved in agriculture, and work at farms around Tsukuba as paid volunteers.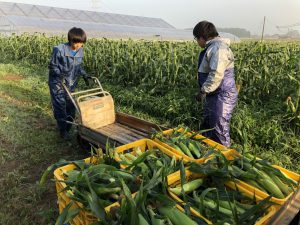 The students also benefit from the experience of dealing with cultivating and shipping crops, and approach the work seriously. Tsukuba Student Nogyo Helper will enter its 18th year since founding this year, with some former members have entered the agriculture industry after graduation, and new members now visit their farms to help as part of a new cycle.
◆The tour will visit a farm contracting with Tsukuba Student Nogyo Helper, and speak with both the owner of that farm and Mr. Ebara, the president of Tsukuba Student Nogyo Helper.
(4) Hatake Company
—Newcomer to Agriculture Growing into a Major Farm with One Billion Yen in Annual Sales, 20 Years after Establishment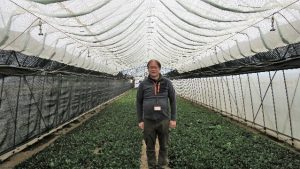 Born in Tokyo, Mr. Kimura was working at a mineral producer and distributor in Tsukuba where he was involved with many local farmers when he became interested in the possibilities of agriculture as a business. In 1998, he and his wife started a farm, growing baby leaves, which were extremely uncommon in Japan at the time.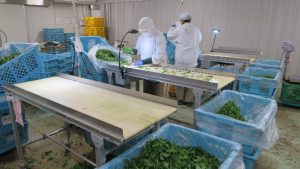 While he was trying to determine an efficient and consistent way to cultivate baby leaves, a project by Zen-Noh Ibaraki and Toyota Motor Corporation led to him being the first in the agriculture industry to introduce the Toyota Production System meant to eliminate waste, inconsistency, and unrealistic targets. Mr. Kimura then developed a unique cultivation management system to make tasks visible and reduce the energy necessary for each task, and created a logistics system for the company as well. His farm is now one of the largest producers of baby leaf in Japan.
◆The tour will see baby leaves being cultivated in a greenhouse, and hear from Mr. Kimura about growing into a major agricultural business as a newcomer to the industry, and examples of how he introduced the Toyota Production System. The tour will then be able to see baby leaves being picked and packed at the company plant.
(5) Murata's Family Farm: Growing Along with Foreign Trainees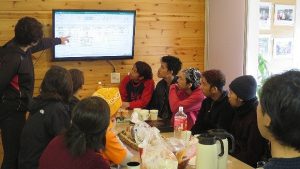 Ibaraki Prefecture has the highest number of foreign technical interns in the agricultural industry of any prefecture in Japan. Murata's Family Farm, a strawberry farm located in Hokota, begun hiring foreign trainees from Indonesia in 2010 through a local supervising organization, and has hired a total of 13 so far.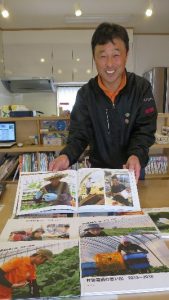 Currently, 7 members of the 17 staff are foreign trainees from Indonesia, and they manage 36 greenhouses.
Their strawberries are served at Ginza Sembikiya and The Peninsula Hotels, and are popular with top pastry chefs. To keep a close eye on the growth of the strawberries, the trainees and the rest of the staff each have greenhouses they are in charge of, and every day they hold three meetings to report to each other on the work each staff member has done that day.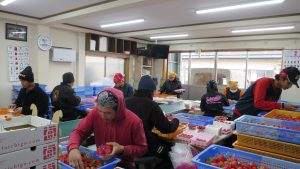 Mr. Kazutoshi Murata, the second-generation president of Murata's Family Farm, has said, "I am a representative of Japan, and the trainees are representatives of foreigners. Working together, I hope to as many people as possible become fans of Murata's Family Farm strawberries."
◆The tour will see the morning meeting, hear from Mr. Murata about Murata's Family Farm and how he has built it together with foreign trainees, and then interview the foreign trainees.
 2. Entering Global Markets Thanks to Japanese Food Boom:
Natto, an Ibaraki Specialty, and Kasama Ware, a Traditional Craft
(6) Natto Manufacturer Asaichiban: Targeting Global Markets with Non-Sticky Natto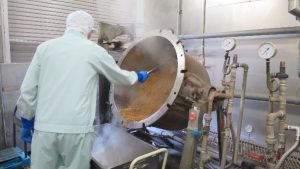 Ibaraki Prefecture produces the most natto, a traditional Japanese food, of any prefecture in Japan. Natto has been receiving attention from overseas as a Japanese superfood due to being an excellent source of protein, fiber, and vitamins, and products targeting foreign markets are being developed. When staff from Asaichiban, a natto manufacturer whose plant is located in Tsuchiura, went to the US, they were shocked to hear from locals that there were rinsing the natto to get rid of the stickiness and using it as a salad topping.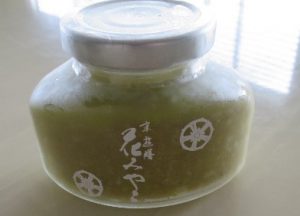 With cooperation from sources such as the Industrial Technology Innovation Center of Ibaraki Prefecture, the company developed natto which was less sticky than normal to appeal to foreign tastes. It is now being sold under the prefecture's joint brand name of Mamenoka. Mamenoka can be enjoyed in new ways for natto, such as eating it with olive oil or with cheese and crackers, and overseas exports have begun, with an eye to France and the European market. It also has the potential to expand into new markets domestically, as the lack of stickiness makes it easier for seniors to eat as well.
                     (Photo: Mamenoka dip for vegetables)
◆The tour will hear about the development and manufacturing process for Mamenoka, natto with reduced stickiness made to target overseas markets, and see the natto manufacturing plant.
(7) Kouzangama: Japanese Dishes for Japanese Food. Nonstop Orders from Overseas for Kasama Ware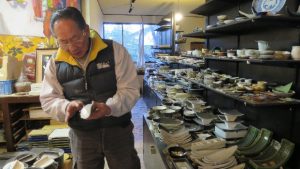 Located in central Ibaraki, Kasama is known as the oldest pottery village in the Kanto region as the home of Kasama ware, which has its origins in the Edo period (1603–1868). Flexibility and artistic liberty are characteristics of Kasama ware, and there are a range of products produced in the style, from dishes used in family homes to those used in traditional Japanese restaurants.
However, imports of cheaper products in recent years due to globalization has led to Kasama ware production declining to around half of what it was at its peak. Kouzangama, a pottery workshop with over 10 potters working there, has been growing by putting efforts into training the next generation and expanding sales routes overseas. Five of the potters at this workshop have been recognized by the Japanese government as Traditional Craftsmen for Kasama ware, and there is also a potter who moved to Kasama from Australia. Mr. Masubuchi, president of Kouzangama, saw that Japanese food was growing ever more popular overseas when it was recognized as Intangible Cultural Heritage by UNESCO, and through methods including JETRO business fairs he has begun expanding sales routes to places such as China, Dubai, France, Singapore, and the US in order to bring Kasama ware to the world.
◆The tour will hear from Mr. Masubuchi about expanding sales overseas, and interview potters making Kasama ware in the workshop.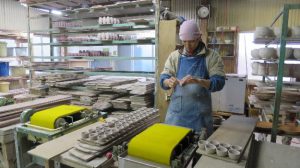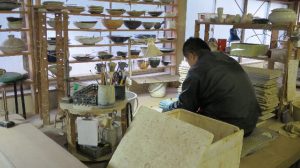 -------------------------------------------------------------------------------------------------------- 
[Tour Itinerary]
1. Dates: Monday, March 25 to Tuesday March 26, 2019
2. Schedule:
*The schedule is not yet finalized, and may change without notice.
<Monday, March 25>
7:20-8:30             Tokyo to Tsukubamirai (by chartered bus)
8:45-10:30           Dream Agricultural Research Institute (with demonstration of driverless tractor in fields)
11:10-12:30         Farmer's Market Mizuho-no-Muraichiba
12:30-13:20         Lunch
14:00-15:30         Tsukuba Student Nogyo Helper
16:00-17:30         Asaichiban
18:40                   Arrive at hotel
<Tuesday, March 26>
9:10                      Leave hotel
10:10-11:45          Murata's Family Farm
12:45-13:30         Lunch
13:45-15:00         Kouzangama
16:00-18:00         Hatake Company (including seeing farm)
18:00-19:30         Tsukuba to Tokyo
3. Qualification: Bearer of Gaimusho Press Registration Card
4. Cost: 10,000 yen per person including transportation, accommodation (breakfast included), and lunches
*The following cancellation fees will apply:
-Cancellation before 3 p.m., Friday, March 22: 5,000 yen
-Cancellation after 3 p.m., Friday, March 22: 10,000 yen (full amount)
5. Participants: Limited to 10 applicants. (Only one reporter or one photographer from each company, but two participants from each TV team will be acceptable.)
*If the number of applicants exceeds 10, an upper limit may be set on the number of participants from each country/region.
6. FPCJ contacts: Megumi Ishida (Ms.), Junya Sugawara (Mr.)
(Tel: 03-3501-3405, E-mail: ma@fpcjpn.or.jp )
7. Remarks:
(1) This tour is organized by the Promotion Council for the G20 Ibaraki Tsukuba Ministers Meeting on Trade and Digital Economy, and planned and operated by the FPCJ.
(2) The schedule is subject to change without notice.
(3) This tour will require participants to bear part of the cost, but is not a profit-making venture.
(4) Neither the Promotion Council for the G20 Ibaraki Tsukuba Ministers Meeting on Trade and Digital Economynor FPCJ will be liable for any inconvenience, trouble or accidents that might occur during the tour.
(5) There may be some restrictions on photographing and filming at the tour sites. Please follow the instructions of the staff in charge.
(6) This press tour is intended to provide opportunities for news coverage. We request that all participants send a copy of the content of their coverage (article, video, or audio in the case of radio) to the Promotion Council for the G20 Ibaraki Tsukuba Ministers Meeting on Trade and Digital Economy through the FPCJ after their reports are published or aired. When your report is in a language other than English or Japanese, we also ask you provide a summary in English or Japanese. With receiving your application, we assume that you agree to these conditions.