Date : March 10, 2006
Tokyo Fashion Press Tour
post date : 2013.08.22
the leading edge of Tokyo Fashion rivals Paris and Milan
"Japan Fashion Week in Tokyo" (JFW), an integrated fashion event, was launched last autumn and it held the "New Tokyo Collection" as its core part. The former "Tokyo Collection", which was said to be upstaged by China and Korea, had lost its shine for years. Many fashion designers in Japan have staged their own shows at overseas collections in, for instance, Paris and Milan. Meanwhile, foreign buyers and the press visited the "Tokyo Collection" less and less because of its inconvenient schedule and venue. 
Last autumn, the new-look JFW welcomed 45,000 visitors not only from Japan but abroad, and its many new features attracted comment. JFW announced its policy of having a strong partnership between "creativity", "technique" and "business". In other words, "imagination of designers", "high-level technique of textile producers" and "improved distribution to meet the extremely high demand of Japanese consumers for quality and design". JFW wants to see more fashion news coming from Tokyo, and Tokyo staging one of the most important fashion events in the world. 
The second round of JFW (06-07 Autumn/Winter) will be held from 17th March, 2006. There you can see the unique features of Tokyo –among them, a mixture of "leading edge fashion", "street fashion" and "youth culture". This kind of originality will impress the visitors from abroad.
In this Press Tour, you will cover both the present and future of Tokyo Fashion. Mr. Akira Matsumoto, chairman of JFW, and Mr. Hokuto Katsuki and Ms. Nao Yagi of "mintdesigns", one of the striking and cutting-edge fashion design labels, will brief you about JFW and the latest fashion trends in Tokyo, so you will see the global market positioning of Tokyo Fashion. You will also visit Bunka Fashion College, which has played a leading role in fashion and design education in Japan. Let's focus on the near future of Tokyo Fashion in an interview with seven students and a professor. 
Presentations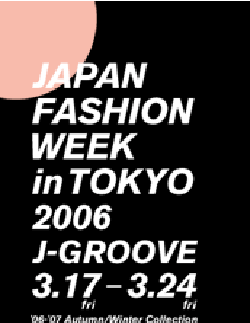 1. Briefing on Japan Fashion Week (JFW) 2006-2007 Autumn/Winter 
and the leading edge of Tokyo Fashion
Mr. Akira Matsumoto, Chairman of JFW
Mr. Shigeki Okada, Chairman of Council of Fashion Designers of Tokyo
The first test run of "Japan Fashion Week" (JFW) was held from October 31st to November 9th, 2005. Worried about the growing popularity of Western fashion brands and the upturn in the fashion business in Asian countries, the field of fashion in Japan feared a drain of talent out of the country. JFW was launched with the full-scale efforts of the business field, breaking the mold of the old Tokyo Collection.
The first JFW, last autumn, attracted 45,000 visitors, which was up to their expectations. Thanks to thorough spadework by the Council of Fashion Designers of Tokyo, 52 brands participated and brought a lot of excitement to the "New Tokyo Collection", which was the core part of JFW. Added to that, exhibitions and trade fairs of Japanese textile manufactures were also arranged at the same time, which created many business opportunities in the fashion field. Moreover, the press, buyers and textile producers enjoyed a cross-industrial association which had not existed in the old Tokyo Collection. All this innovation made a fresh impression on the visitors.
The second round of JFW (06-07 Autumn/Winter) will be launched on 17th March, 2006. It presents total Tokyo Fashion by mixing stage and street, for it has been said that the most "cutting edge" fashion exists on the street in Tokyo today. A special "jeans" exhibition featuring young designers and other holiday events will be held to capture young consumer attention.
In the interview with Mr. Matsumoto and Mr.Okada, you will have a briefing on the report of the last JFW and improvements for the coming JFW, highlights of the "New Tokyo Collection" and the "leading edge" of Tokyo Fashion. 

*Participants for only the morning briefing and lunch meeting will also be accepted.
2. Interview with "mintdesigns" which will participate in the coming 
Tokyo Collection
Designer: Mr. Hokuto Katsui and Ms. Nao Yagi
After studying at Parsons, New York, Mr. Hokuto Katsui graduated from Central St. Martins, London, and set up "mintdesigns" with Ms. Nao Yagi, also a St. Martins graduate. The brand was launched in July 2001 and has participated in the Tokyo Collection from October 2002. They worked on costumes for the movie "Casshern" in 2004 and won the 7th Moet et Chandon New Designer's Award in 2005.
The most fundamental point of mintdesign's fashion is the collaboration with "handwork by Japanese craftsman" to create meticulous products. Their unique vision for production especially attracts young people.
They had a show on the first day of the last Tokyo Collection and became famous for the unusual lace accents they used. You will visit their studio in Shibuya, and interview them on their own ideas for fashion design and Tokyo Fashion.
3. Meeting with a professor and seven students at Bunka Fashion College
Ms. Katsue Kudo, Professor of Fashion Buying and Merchandising, and seven students from the Fashion Business & Communication Department, Fashion Creation Department and Bunka Fashion Business School 
Since its establishment more than 80 years ago, Bunka Gakuen has played a leading role in fashion and design education in Japan. Bunka Gakuen comprises two major divisions: the Educational Division and the Business Division (including publishing) and is aiming to provide an incubation function that contributes to the development of the fashion industry.
Bunka Fashion College has produced many famous fashion designers including Hiroko Koshino, Kenzo Takada, Yohji Yamamoto, Chisato Tsumori, Akira Minagawa and Toshikazu Iwaya. The college has a good reputation for serving as an educational institution that nurtures professionals in the fashion industry, not only from a domestic but also from a global perspective.
Many foreign students, especially from China and Korea, are now studying at this college, and it is expected that Tokyo Fashion will spread more widely around the world. You will visit Bunka Fashion College and interview seven students and a professor on their own expectations of Tokyo Fashion in the future.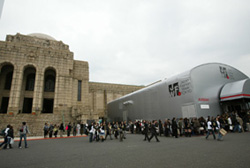 4. Visit The Fashion Resource Center at Bunka Gakuen Educational Foundation
The Fashion Resource Center comprises three different resource rooms (the Textile Reference Room, the Costume Reference Room and the Visual Reference Room) that provide practical resources as samples, as teaching materials for the classroom and resources for student research or creative work. The Textile Reference Room, for example, stores pieces of material as hanger samples or swatches. The assortment covers everything from fundamentals and Japanese traditional textiles to the newly innovated ones, from raw materials to processed textiles. A given sample is located by a general search using the retrieval system and may be handled and examined.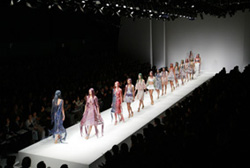 photo1: the logo of JFW
photo2: mintdesigns' presentation at Tokyo Collection last autumn
photo3: Mr.Akira Matsumoto, Chairman of JFW
photo4: Mr.Shigeki Okada, Chairman of Council of Fashion Designers of Tokyo
Tour itinerary and application details
1. Itinerary : (transportation: chartered bus)
Friday, March 10
9:50 Meet at FPC conference room 
10:00-11:30 Briefing about JFW and Tokyo Fashion
11:30-12:15 Lunch meeting
12:15 Leave FPC by chartered bus
13:00-14:30 Interview with "mintdesigns"
15:00-16:00 Meeting with a professor and students at Bunka Fashion
College
16:00-16:30 Visit "Fashion Resource Center" of Bunka Gakuen
17:00 Arrive at Nippon Press Center Building, disperse
2. Qualification: Bearer of Gaimusho foreign press registration card
3. Expenses: 1,000 per person including transportation and lunch
* FPC will later inform the participants of methods for payment, cancellation fee etc.
4. Participants: Limited to the first 15 applicants on a first-come first-served basis. (Only one reporter and one photographer from each company, and two participants from each TV team will be acceptable.)
5. FPC Contact: Ms.Yamashiro and Mr.Yano (Tel: 03-3501-3401)
6. Remarks:
(1) There are some restrictions on photographing and filming at the tour sites. Please follow the instructions of the officials on duty.
(2) FPC will not be liable for any inconvenience, trouble or accident that might occur in the course of the tour.