Date : March 18, 2008
March 18, 2008: "Agriculture in Tokyo" Press Tour
post date : 2013.08.22
Vol.1 Rediscovery of Edo vegetables
- Local Production for Local Consumption: unique agricultural products from the metropolis -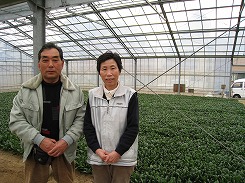 As the first of an "Agriculture in Tokyo" series of Press Tours, this tour will covertraditional "Edo vegetables" which have histories originating from the Edo period. At that time, Tokyo used be a great production region which had many original varieties of vegetables. But in the process of urban modernization and streamlining of agriculture, most of the farmlands disappeared. Though most of the Edo vegetables have not been seen since World War Ⅱ, there are some still remaining, carried on by successive generations, such as the komatsuna in Edogawa-ku. Some others once disappeared but wererediscovered and brought back, such as kameido-daikon, in the Kameido area.
The ideas such as "local production for local consumption" or "slow food" have made a come-back. Those ideas present the importance of eating local/traditional food produced in the area where you live. Consumer's concerns for food security have been rising. In this situation, traditional "Edo vegetables" such as komatsuna (a green leafy vegetable) or kameido-daikon (a Japanese radish, smaller than the regular daikon), which were originally produced in Tokyo in the Edo period, are attracting more attention. There are also new movements in agriculture inside Tokyo, such as the branding of milk produced exclusively in the Tama area of Tokyo. "Local production for local consumption" which doesn't need long distance transport, is also ecologically efficient. Urban agriculture could serve as a green space or could function as an on-the-spot emergency food supplier in a disaster. Thus, the tour will cover new trends or producers with the passion and ingenuity to bring agriculture back to metropolitan Tokyo, and rediscover an unexpected partnership between Tokyo and agriculture.
Note: FPCJ is planning to have sequels of the series "Agriculture in Tokyo" Press Tours, covering the branding of milk produced exclusively in Tokyo, and a bee-keeping project in the Ginza, better known as a fashion center of Tokyo.
Komatsuna as a Local Character
The name of "komatsuna" comes from an old story: in the Edo period the 8th Shogun Tokugawa Yoshimune (1684-1751) visited the Komatsugawa area in present-day Edogawa-ku, and he was pleased with the taste of a green leafy vegetable served for his lunch. He named the vegetable "komatsuna" after the name of the area. Komatsuna, with such an honorable origin, is still largely produced in Edogawa-ku. As the national top production center of komatsuna, Edogawa-ku supports the huge consumption of the metropolis. In schools in Edogawa-ku, komatsuna plays a key role in dietary education. Schools intentionally use locally produced komatsunafor school-provided lunches, and the children experience growing the vegetable. Komatsuna even promotes the local economy. Local businesses have created new specialties using the vegetable.
Comeback Story of Kameido-daikon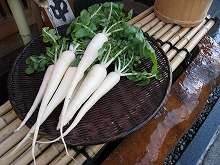 Kameido-daikon was totally forgotten after the post-war urbanization. It used be the daily food of ordinary people from the Edo period in the Kameido area. When the previous manageress of a local restaurant "Masumoto" decided to serve a dish usingkameido-daikon to preserve traditional taste, kameido-daikon again came in the spotlight. 

【 Presentations 】
Komatsuna (Edogawa-ku)
1. Komatsuna grower (Mr. Zenichi Ishikawa, chairman of Farmers' Club in Edogawa)
The municipality of Edogawa-ku is the biggest production center with a harvest of 3,570 tons (as of 2005). In a tradition that dates from the Edo period, growers are trying out modern ideas.
2. Collaborative project of the administration and 
komatsuna growers in Edogawa, and Hirosaki University 
(Edogawa Industry-Academic-Government Project of Agriculture)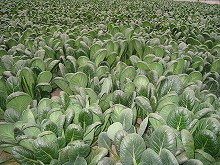 The administration of Edogawa-ku, local growers and Hirosaki University formed a team to promote komatsuna. The Edogawa Industry-Academic-Government Project of Agriculture started trying to prove the superiority of the taste and food value of komatsuna produced in Edogawa using scientific data. Hirosaki University in Aomori opened a satellite office in Tokyo and was looking for a collaborative partner in Tokyo. Edogawa's needs to differentiate itskomatsuna from others, matched the university's needs. The recent results of tests showed thatkomatsuna from Edogawa had a higher amount of calcium and iron than the national average. In the mood of more concern for food value and safety among consumers, this will empower the"Edogawa komatsuna brand." 
3. komatsuna School Lunch (Visit an elementary school)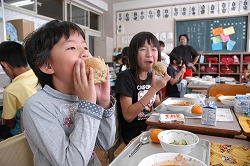 Schools in Edogawa make much use of komatsuna in school-provided lunches. Last year, the town named November 15th as "komatsuna School Lunch Day", and all the 106 elementary and junior-high schools in Edogawa provided dishes using komatsuna. Dieticians in each school created original menus such as bread or cake, using komatsuna. On that day, 1.7 tons of komatsuna were consumed for school lunch. Some schools provide children opportunities to grow the vegetable themselves. komatsuna is a key factor for "shokuiku" (dietary education) to promote children's awareness of traditional food culture and health.
4. New creation of komatsuna specialty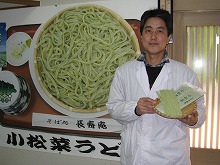 Now komatsuna is even promoting local business. The local noodle restaurant "Chojuan"created komatsuna noodles in which the vegetable is kneaded into the dough, and it has gained popularity. There is komatsuna shochu (distilled spirit) and even komatsuna ice cream. A young komatsuna grower, the creator of komatsuna ice cream, combined komatsunaand milk from a farm which provides manure compost for his komatsuna field.
Kameido-daikon (the Kameido area)
5. Japanese restaurant "Masumoto" (lunch)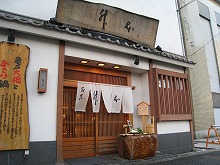 A contributor to the comeback of kameido-daikon was a previous manageress of a Japanese-style restaurant "Masumoto" in Kameido. She was worried about the shrinking traditional food culture and decided to serve an old-fashioned everyday dish "kameido-daikon asari nabe", a combination of the vegetable and short-necked clams. The dish started a new movement to preserve traditional food culture. Children at local elementary schools started growing the vegetable. In 2000, a festival "fukuwake matsuri" (luck sharing festival) started. In the festival, the children dedicate their kameido-daikon to a local shrine and the vegetables from growers are shared with visitors, which is an opportunity to share the traditional food culture of the local community. 
6. Kameido-daikon field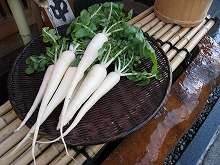 The tour will visit a field of Masumoto's contract grower. The vegetables retain the original shape and quality of the variety from the Edo period.
【 Tour itinerary and application details 】
1. Itinerary (Tentative): March 18 (Tue), 2008
08:45 Leave Nippon Press Center Building (move by chartered bus)
09:15-10:00 Visit a komatsuna grower in Edogawa-ku
10:15-11:30 Arrive at a lecture room of the Tokyo Metropolitan Agriculture and Forestry Research Center 
- briefing on Edogawa Industry-Academic-Government Project of Agriculture
- briefing and tasting of new local specialties of komatsuna
- briefing on school lunch with komatsuna menus
12:00-13:15 Visit an elementary school
13:45-15:10 Visit Japanese restaurant "Masumoto" (Lunch and interview)
15:30-16:00 Visit a field of kameido-daikon 
16:45 Arrive at Nippon Press Center Building
2. Qualification: Bearer of Gaimusho Press ID card
3. Expenses: 2,000 yen per person including transportation (bus) and lunch
*FPCJ will inform the participants of payment methods, cancellation fee etc. later on.
4. Participants: Limited to the first 10 applicants on a first-come first-served basis.
(Only one reporter and one photographer from each company, but two participants from each TV team will be acceptable.) 
5. FPCJ Contact: Ms. Koizumi, Ms. Yoshida (Tel: 03-3501-5070)
6. Remarks: 
(1) There may be some restrictions on photographing and filming at the tour sites. Please follow the instructions of the officials on duty.
(2) FPCJ will not be liable for any inconvenience, trouble or accident that might occur in the course of the tour.