Date : April 22, 2006
Press Tour to cover "the New style of Communal living in Tokyo"
post date : 2013.08.22
Urban dwellers seek their own community despite nuclear families
Now Japanese residences are wobbling. Land prices in Tokyo are going up, so some think the bubble economy is coming back from the fact that luxury urban condominiums are selling well. On the other hand, large numbers of baby boomers are going to retire in the next few years, in other words "the 2007 problem", so the real estate business in Japan is still unclear. Added to that, there has been the scandal of falsified quake resistance data. People who are burdened with several decades of mortgage repayments or who spent millions and millions of yen find it incredible and infuriating that their own homes are in danger of collapse.
Meanwhile, some people start to doubt the existing real estate service in Japan and want to be responsible not only for their own residence but also for their way of living. One of the movements is "collective housing", which was spread in Northern European countries by working women in the 1970s. This consists of housing complexes with some common spaces inside, and residents also share some cooperative housekeeping. Now, although collective housing is widely regarded as one alternative in Western countries, this style of living in Japan is still rare and we have only a few examples such as public re-housing especially for elderly people after the big earthquake in Kobe.
A leader of collective housing in Japan is "Collective Housing Corporation" (CHC),a nonprofit organization based in Tokyo. They went on visits to Sweden, one of the most developed countries in the field of collective housing, to study how to adjust the system to meet the needs and housing conditions in Japan. Then CHC were involved in the planning and coordinating of two projects named "Syoin Commons"(2002) and "Kankan Mori"(2003), both of them launched in the dawn of collective housing in Japan. "Syoin Commons", one big Japanese traditional folklore house, hosts seven single residents, while "Kankan Mori" is a very modern condominium which hosts 28 multi-generation families. The most interesting point would be the difference of the purpose between European countries and Japan: the former think that collective housing helps the residents to reduce their housekeeping workload, the latter, however, aims at "constructing a community". The more Japanese society, based on nuclear families, matures, the less communication is with neighbors for most Japanese who live in urban areas. As a result, more and more Japanese people hope to live in collective housing nowadays.
In this Press Tour, you will cover the two collective housing sites above, and meet with CHC staff and residents. We will focus on the new style of communal living which has been newly launched by Japanese urban dwellers.
Presentations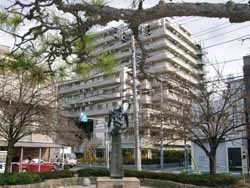 Collective House "Kankan Mori" in Arakawa-ku, Tokyo
There is a twelve-story complex building on the site of an old public school in the Higashi-Nippori area of Arakawa-ku where you can find the downtown atmosphere of Tokyo. Kankan Mori is on the second and third floors of the building. Other floors are occupied by an elder care facility, residences for the elderly, a nursery and a clinic. Kankan Mori consists of 28 independent rental rooms of 24-62 square meters each and a 166 square-meter common space including kitchen, living room and laundry. Residents work together at preparing for "common meals" held three times a week and cleaning the common space. Added to that, they enjoy their own lifestyles while meeting their own needs, for example, caring for each other's children or establishing a human network. Now Kankan Mori hosts 28 families and 36 people age zero to eighty, and it is said to be a unique collective housing style in Japan.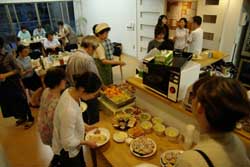 "Mori no Kaze", forest wind, is the residents' association and it is in charge of all operations of Kankan Mori. It has an all-hands regular meeting every month, and daily problems and concerns are to be solved there. Residents also join some "activity groups" spontaneously to maintain the building or to do light work. Although these co-working systems help senior residents from many points of view, most residents put the emphasis not on reducing the housekeeping workload but on belonging to their community as the merit of living in Kankan Mori. CHC considers this is a special feature of Japanese collective housing.
In the interview with Ms. Mariko Miyamae, one of the board members of CHC, you will have a briefing about the trend of collective housing in Japan and an outline of CHC. Then you will come to understand its unique management system by looking around both the common space and the public space of Kankan Mori, and you can try lunch as a "common meal", along with informal conversation with residents of Kankan Mori.
"Syoin commons" in Setagaya-ku, Tokyo
A 150-year-old traditional-looking house, a very modern five-story concrete condominium, and a magnificent new-looking residence, are located side by side, set in a private woodland in a quiet neighborhood of Setagaya-ku. The total area is about 2000 square meters. Mr. Nobuo Suzuki, who inherited the whole plot, was faced with having to sell part of the land to pay the huge amount of inheritance tax in 2001. This fascinating estate could have been divided up into dozens of normal-size Japanese houses, and it might have happened that all the houses and trees, including a 250-year-old zelkova tree, would have been removed by developers.
Mr. Suzuki, however, had second thoughts about such a "normal" procedure to pay the inheritance tax, and adopted instead a newly proposed project: the combination of (1) new- style shared housing in the 150-year-old house named "Syoin Commons" as practiced by CHC, (2) "Keyaki House", "zelkova house", a newly-built cooperative-style condominium and (3) Mr. Suzuki's own residence, also a new construction. Mr. Suzuki, the intending residents, and business proprietors including CHC had several meetings before construction started, and decided that the three buildings should not have any barriers between them, and the 250-year-old zelkova tree would be moved to the center square of the three buildings. Then this unique project, what might be called "Setagaya Forest", which hosts three buildings with lots of greenery, was established even though it is in central Tokyo.
Syoin Commons, the 150-year-old house, originally the main house for the Suzuki family until a few years ago, now hosts seven single residents aged in the 20s to 40s. It differs from Kankan Mori in the point that there are only individual six-tatami-mat to ten-tatami-mat private rooms and all facilities are shared by the seven residents. It is neither a collective house by definition, nor simply a shared house, for the reason that they have a large 20-tatami-mat room open to the public. The residents of Syoin Commons use this "public-common space", facing onto a Japanese-style veranda, for linking to the local community in the neighborhood by hosting some events or open house days. For such occasions, Syoin Commons is fairly open to residents' friends and neighbors including the residents of "Keyaki House", which is next to Syoin Commons. It has now become a place where a local community can be established.
Ms. Tomoko Noguchi, one of the residents, says with a laugh, "Most of my friends felt it strange when I started to live here in 2002. But now they have a kind of understanding and tell me it is quite a nice style of living!" She also points out, "I feel a big difference compared to the beginning of this project. Along with the stream of the times, more and more people may wish to live in communication with others."
On the tour, you will visit Syoin Commons and have a briefing about the methods and merits of living in a 150-year-old house. You can also talk with some residents, who identify themselves as "living alone, but also living as seven people". So you can find a new way of living, which reactivates the local community spirit that has been almost lost in Tokyo.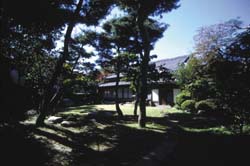 Tour itinerary and application details
1. Itinerary : (transportation: chartered bus)
Saturday, April 22
9:50 Meet at the entrance of Nippon Press Center Buidling (2-1-1 Uchisaiwaicho Chiyoda-ku)
10:20 Arrive at Kankan Mori, Arakawa-ku
10:30〜11:30 Briefing about CHC and Kankan Mori
11:30〜12:00 Observation at Kankan Mori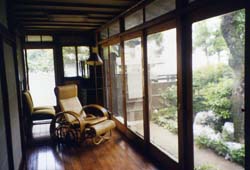 12:00〜12:30 Lunch ("Common Meal" served by residents of Kankan Mori)
12:30〜13:00 Question and Answer period 
13:00 Leave Kankan Mori, and short briefing about Syoin Commons in the bus
14:00 Arrive at Syoin Commons
14:00〜14:30 Observation of Syoin Commons
14:30〜15:20 Briefing by residents and Question and Answer period
15:20 Leave Syoin Commons
16:00 Arrive at Nippon Press Center Building, disperse
2. Qualification: Bearer of Gaimusho foreign press registration card
3. Expenses: 1,500 per person including transportation and lunch
* FPC will later inform the participants of methods for payment, cancellation fee etc.
4. Participants: Limited to the first 15 applicants on a first-come first-served basis. (Only one reporter and one photographer from each company, but two participants from each TV team will be acceptable.)
5. Application: You can also find information on this press tour on the Press tour information of the Media Assistance Page of the FPC's website: >> Link
Please apply online from that page. You need the following username and password to enter the application page. 
Username: fpcj Password: members 
6. FPC Contact: Ms. Yamashiro (Tel: 03-3501-3401)
7. Remarks:
(1) There are some restrictions on photographing and filming at the tour sites. Please follow the instructions of the officials on duty.
(2) FPC will not be liable for any inconvenience, trouble or accident that might occur in the course of the tour.