Date : April 28, 2006
Mukojima Press Tour
post date : 2013.08.22
Exploring Tokyo's shitamachi, where traditional geisha culture uniquely coexists with contemporary art 
Date: April 28 (Friday)
Application status: Waiting as the number of applicants has exceeded the limit of 10.
Mukojima (Sumida Ward) literary means "the island over there" (in the eyes of people living in Asakusa), and is one of the few areas in central Tokyo where the flavor of Edo culture still remains. There have been active discussions over the world of geisha described in Steven Spielberg's "Memoirs of Geisha," but if you wish to experience the genuine geisha culture, you should go to Mukojima.
Mukojima was a popular place with lots of eating houses during the Edo period (1603-1867), and it was the early Meiji period (1868-) when the town saw the emergence of geisha. In 1940 several geisha management offices in Mukojima were united to make Japan's largest hanamachi, "flower town," with 1,300 geisha, 408 geisha houses, and 215 high-class restaurants. As Japanese society has undergone dramatic changes, many hanamachi across the country have disappeared. Mukojima currently has 120 geisha and 18 restaurants, and is passing on real geisha culture as the largest of six hanamachi in Tokyo.
This historic town is now attracting attention from young artists as well. Mukojima Exposition, a large-scale modern art event first held in 2000, turned Mukojima's maze of back alleys and old houses into public art spaces, followed by various art events every year. Some young artists are even moving into Mukojima, which is uncharted territory to them. Mukojima miraculously survived such disasters as the Great Kanto Earthquake (1923) and the Great Tokyo Air Raids (1945), and there still remain some wooden buildings built almost 100 years ago. These houses gradually being abandoned and some point out the problem of their vulnerability to crime and fire. For young artists, however, these almost derelict houses appear to be attractive and they renovate the houses to their taste so they can live and produce art works in comfort. Some see such a trend as a sign that Mukojima can be revitalized as Tokyo's SoHo.
Why don't you join us on this press tour and walk the back alleys of this shitamachi area where traditional culture meets modern art.
The tour is co-hosted by the Foreign Press Center, Mukojima Bokutei Kumiai, and Sumida Municipal Government, Sumida Culture and Tourism Association.
Presentations
1. Briefing on the history of Mukojima and activities of young artists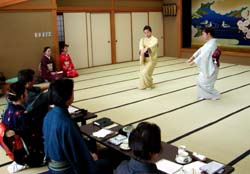 Mr. Shigemoto Sahara, Mukojima Hyakka-en Garden
Mukojima Hyakka-en Garden, a charming and informal garden for the local people, was established in 1804 by Mr. Kikuu Sahara, Mr. Shigemoto Sahara, 56 years old, is the eighth generation of the family. The garden is now under the management of the Tokyo Metropolitan Government, but Mr. Sahara still runs the tea house "Sahara" in the garden. Mr. Sahara is not only most prominent figure in town,holding various posts in the local community, but also acts as an intermediary between  
young artists and local people, helping them organize art events. You will visit Mr. Sahara at Mukojima Hyakka-en and hear from him about the history of Mukojima and how the young artists are reviving the town.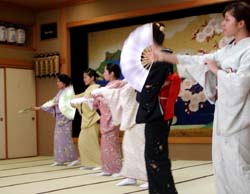 2. Visiting young artists in Mukojima
(1) Ms. Tamaho Moriwaki, rising contemporary artist
After participating in an art event five years ago, Ms. 
Moriwaki decided to move into an 80-year-old wooden house in eastern Mukojima. She likes the quiet and relaxing atmosphere like her hometown and the easy access to Ginza, where many art galleries are located. She has restored the old building by renovating the interior, and now uses it for an atelier and living space. While enjoying her life in the old house, she is also active in local art events.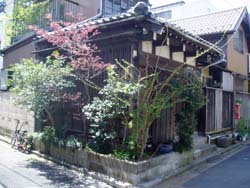 (2) Mr. Ryuken Oyama, Japanese-style painter
Two years ago, Mr. Oyama moved into a former dress shop in Hatonomachi shopping street, where many shops have closed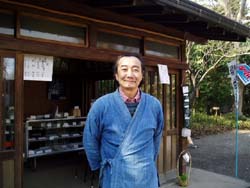 down. He feels comfortable with the warm human feelings of the street where people stop over to see his paintings and talk to him in the public bath. Although he was an outsider, he is now prominent as a member of the street's shop owners association and even designed a jacket for the association members. Having finished a doctor's course at the Tokyo National University of Fine Arts and Music only a month ago, Mr. Oyama is now planning to open a drawing class in his atelier here.
(3)Ms. Yuka Sato, architect
Ms. Sato is a young architect who works on the restoration and reconstruction of traditional Japanese houses. Her recent work is a chic antique shop in Hatonomachi shopping street, where she herself settled down from Chofu in western Tokyo three years ago. The house was built about eighty years ago as a row house and has been used as a pharmacy. When Ms. Sato was moving in, she was given permission by the owner of the house to do whatever she liked, and so she did. She uniquely used old lumber in decorating the shop, and created a space where people can feel the architect's sense of joy.
3. Lunch at a ryotei restaurant and briefing on Mukojima geisha town 
Mr. Teruo Hagii, President of Mukojima Bokutei Kumiai
Mukojima Bokutei Kumiai (geisha and restaurant association) was established in 1986, combining the geisha and geisha house association, ryotei restaurant association, and catering service association. After having lunch at ryotei Mizunoto, which was established in 1903, and learning about the performance of geisha arts, you will be briefed by Mr. Hagii on the history and present situation of Mukojima as a" flower town". He will also touch upon how they are going to liven up their business, which has long been in the doldrums after the collapse of the bubble economy.
4. Cover geisha practice (dance, flute, and singing to samisen), stage performance, and interview a dance master and geisha
Mukojima Bokutei Kumiai is also a place where they are trying to preserve Japan's heritage of geisha arts. Every day geisha in casual kimono have hard lessons in dance, flute, singing to the samisen, and other traditional stage arts. One noteworthy characteristic of Mukojima is that there are many young geisha, and young office workers commonly visit here asking how they can learn the traditional arts and become geisha. Another interesting aspect is that ryotei and catering businesses employ young women called kamome-san to serve at banquets, and some of them try to become geisha. This system also helps to keep the traditional arts and culture alive.
Tour participants will have a rare opportunity to see geisha having lessons, usually not open to the public, cover a stage performance of dressed-up geisha, and also have a chance to interview a dance master and some geisha.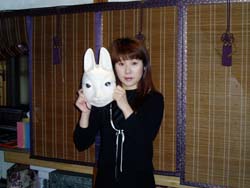 Tour itinerary and application details
1. Itinerary : (transportation: chartered bus)
Friday, April 28
8:15 Leave Nippon Press Center Building
9:00-9:45 Briefing on history of Mukojima and young artists'activities by Mr. Shigemoto Sahara
10:00-11:45 Visit three young artists 
12:00-13:20 Lunch & Briefing on Mukojima flower town by Mr. Teruo Hagii, President of Mukojima Bokutei Kumiai
13:30-14:30 Cover geisha lessons  (dance, flute, and singing to samisen)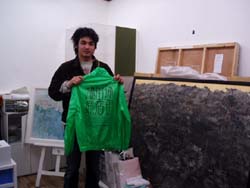 14:40-15:00 Cover stage performance
15:00-15:45 Interview with a dance master and some geisha
16:30 Arrive at Nippon Press Center Building,disperse
2. Qualification: Bearer of Gaimusho foreign press registration card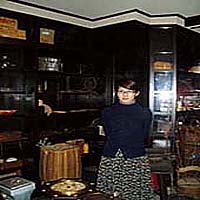 3. Expenses: 1,500 per person including transportation and lunch
* FPC will later inform the participants of methods forpayment, cancellation fee etc.
4. Participants: Limited to the first 10 applicants on a first-come first-served basis. (Only one reporter and one photographer from each company, but two participants from each TV team will be acceptable.)  If the number of applicants exceeds 10, an upper limit may be set on the number of participants from each country.
5. FPC Contact: Mr. Yano and Ms. Shirai (Tel: 03-3501-3405)
6. Remarks:
(1) There are some restrictions on photographing and filming at the tour sites. Please follow the instructions of the officials on duty.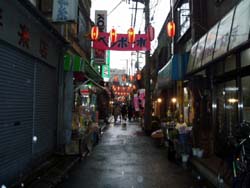 (2) FPC will not be liable for any inconvenience, trouble or accident that might occur in the course of the tour.