Date : March 21, 2012
Notice: Yokohama City Press Tour -Social Business Rooted in Local Community- (Mar. 21, 2012)
post date : 2013.08.22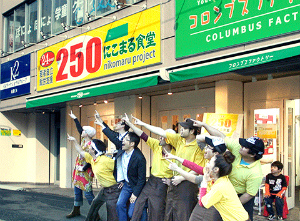 Challenges facing local communities have become diverse with social structural changes. In particular, Yokohama City, Japan's second largest city with a population of 3.7 million, faces multiple challenges in various areas including industrial, agricultural, commercial, and residential zones. Today, what is called "social business" is drawing attention, applying business techniques to solve social problems in local communities.
Yokohama City started promoting social business ahead of other municipalities. Under the Yokohama Social Business Support Project, which was launched four years ago, the city arranges social venture incubation programs to train new "social entrepreneurs" and also offers opportunities for entrepreneurs to meet up so that business matching can be promoted. 
At the Kannai Future Center, an incubation center that opened in March 2011, Yokohama City has extended its support for social business, creating a system to facilitate communication between entrepreneurs and establishing a training school for social entrepreneurs. 
This press tour will visit Kannai Future Center, which celebrates the first anniversary of its opening in March, to cover the social business support system of Yokohama City and the private sector. Also, as examples of social businesses, the tour will feature the K2 International Group, which provides job assistance for young people, and Koto-Lab, which works to revitalize a local community.
*Yokohama City's Website: http://www.city.yokohama.lg.jp/front/welcome.html 
*The tour is hosted by Yokohama City with FPCJ's cooperation in planning and operation. 
【Overview】
1. Kannai Future Center: Providing a business hub for entrepreneurs 
Kannai Future Center was inaugurated in March 2011 in Naka-ku, Yokohama City, aiming to revitalize local communities by supporting social entrepreneurs and creators and forming their networks. Among other Future Centers set up by companies or local governments, Kannai Future Center is the first of its kind specializing in social business. With a co-working space and a workshop studio, the Center holds events and sends information to provide opportunities for resident entrepreneurs to create new businesses. 
The tour will visit the Kannai Future Center to interview resident entrepreneurs and Ms. Yuka HARUTA, Director/General manager, Kannai Inovation Initiative, which operates the Center. 
*Future Center: a facility for individuals, businesses, municipalities, and the central government to work together to solve mid-and-long term challenges. Various people concerned gather at a Future Center to discuss to create new ideas, figure out solutions to problems, and take actions in cooperation with each other. 
2. K2 International Group: Youth Employment Assistance 
-Living together with young people with various difficulties-
K2 International Group (K2) is one of the major organizations doing social business in Yokohama. Since 1989, the organization has offered support for young people who have trouble in joining society to become independent, and has created places for them to live together in a community. K2 has some bases for its activities in Yokohama. In addition to doing business, it also provides not-for-profit services as well, undertaking projects commissioned by central/local governments. 
For young people who have difficulty in participating in society, K2 arranges work camp programs called JOB CAMP and provides workplaces by operating a cafeteria, which serves lunch at 250 yen, and Okonomiyaki restaurant chains. In the neighborhood, in February 2011, K2 launched Japan's first free consultation service available 24 hours a day and set up an emergency shelter for young people suffering from social withdrawal or those regarded as NEETs (Not in Education, Employment or Training). 
After the March 11th earthquake last year, K2 purchased a house in the disaster-hit Ishinomaki City, Miyagi Prefecture, to make it a base for its work camp programs, in which young people supported by the organization have engaged in volunteer work such as removing debris and providing food for affected people. 
The tour will visit the cafeteria mentioned above to interview young people working there. It also includes an interview with Ms. Mami IWAMOTO, Project manager, K2 International Group, who was involved with the start-up of the cafeteria. 
3. Koto-Lab: Community-Building
-Utilizing local resources to create a new flow of people and new image- 
The Kotobukicho area in Yokohama once flourished as a flophouse neighborhood for day-laborers. With the population graying, however, 90 percent of the residents currently live on welfare, and the area also faces prejudice coming from the negative image it had in the past. In addition, Kotobukicho is now home to different problems---that could happen in other parts of Japan in the future--- such as a growing number of solitary deaths and residents' decreased motivation for rejoining society. 
In this situation, Koto-Lab has started running Yokohama Hostel Village in Kotobukicho, utilizing such local resources as empty rooms of cheap lodging houses in the area. The hostel business, funded only by the private sector, aims to create a new flow of people and new industries and establish a mechanism or a system to help local residents find something meaningful to do or something worth living for. Since last year, in collaboration with Keio University, Koto-Lab has provided opportunities for students to study outside the campus, offering classes on NPO activities in Kotobukicho. The company has been also helping local people to rejoin society by finding out job opportunities in a project carried out by NTT DOCOMO in the area. Through these activities, the company is exploring "networks" and "fields" beyond the area, working to motivate people and help them find their places. 
Koto-Lab also has a network with overseas enterprises addressing common social issues, and they cooperate with each other sharing better and sustainable solutions. 
The tour will visit Yokohama Hostel Village to interview Mr. Tomohiko OKABE, CEO of Koto-Lab, who also works as a member of an intermediary organization. 
【Tour itinerary and application details】
1. Itinerary (Tentative): Wednesday, March 21, 2012
12:40   Meet at the exit of Bashamichi Station on the Minatomirai Line
13:00-14:00  Kannai Future Center
- Briefing on the Future Center and Yokohama City's support for social business, Q&A session, tour of the Future Center, interview
(Move by chartered bus) 
14:20-15:20 K2 International Group
- Briefing, Q&A session, tour of the related-facilities, interview
(Move by chartered bus)
15:40-16:40 Yokohama Hostel Village (Koto-Lab) 
- Briefing, Q&A session, tour of the related-facilities, interview
(Wrap up and disperse)
2. Qualification: Bearer of Gaimusho Press Registration Card
3. Cost: Free of Charge 
4. Participants: Limited to the first 10 applicants on a first-come first-served basis. 
(Only one reporter and one photographer from each company, but two participants from each TV team will be acceptable.)
5. FPCJ Contact: Ms. Ishikawa and Mr. Yano (Tel: 03-3501-3405)
6. Remarks: 
(1) There may be some restrictions on photographing and filming at the tour sites. Please follow the instructions of the officials on duty.
(2) FPCJ and the City of Yokohama will not be liable for any inconvenience, trouble or accident that might occur in the course of the tour.