Date : February 21 - 22, 2018
Notice: Fukushima Press Tour (Part 2)
post date : 2018.02.05
-Recovery from the nuclear power station accident:
Fukushima residents on the frontline of the recovery effort
-Producers raising awareness of food safety: Clearing misconceptions about Fukushima
-Creating jobs and supporting Fukushima: An animation company and a robot manufacturer
Nearly seven years have passed since the Great East Japan Earthquake. As time passes, interest in the disaster both in Japan and internationally is gradually fading, and there are concerns that memories of the disaster will be lost as well. However, efforts to restore life to normal are still underway in areas of Fukushima Prefecture affected by the nuclear power station accident, as well as continuing efforts to clear up the negative rumors, stemming from a lack of information, about the state of reconstruction and safety of Fukushima products.
This press tour will visit the towns of Okuma, where the Fukushima Daiichi Nuclear Power Station is located, and Namie, which had evacuation orders for most of the town lifted last year, to learn about their plans for reconstruction, the projects they have put in action, and the people continuing their efforts there. The tour will also meet with producers trying to encourage people to come to Fukushima to increase awareness that its agricultural products are safe, and visit businesses that continue to operate in Fukushima to maintain and create employment, for a variety of perspectives on the recovery.
1. Recovery from the nuclear power station accident: Fukushima residents on the frontline of the recovery effort
Commutan Fukushima
Commutan Fukushima, the information and communication building of the Centre for Environmental Creation, teaches visitors fundamental knowledge about radiation and the current situation in Fukushima, through exhibits and videos. Many people, particularly children, visit the center every day, both from Japan and from other countries.
◎In addition to an explanation supported by exhibits with general information on radiation and decontamination, and of radiation levels from immediately after the earthquake being compared to levels today, there will also be information about the state of recovery throughout Fukushima Prefecture as a whole.
Okuma Town
The Fukushima Daiichi Nuclear Power Station is located on the eastern edge of Okuma, and the town's entire population of 11,000 remain evacuated. There are also plans to build an 11 square kilometer mid-term storage facility around the power station for the waste created in the decontamination process. In the Okawara district in the south of Okuma, which is designated as a residency restricted area and as the base for recovery efforts in Okuma, an office was established in 2016 to prepare for building a new town hall.
◎The tour will visit the Okawara district, and have the opportunity to film and photograph sites where preparations to build homes and parks are underway. Mr. Shuyo Shiga, Recovery Project Leader, whose home is located in the area where the mid-term storage facility will be built, will speak about the recovery plan.
◎An employee of Fukushima Electric Power, which is engaged in renewable energy initiatives for Fukushima, will give an explanation of the Okuma Hometown Reconstruction Mega Solar, which began generating power in 2015.
◎The Jijii Butai (Old Man Squad), composed of six former town hall employees, will talk about their patrols and other continued efforts to protect the town, which is still completely evacuated. There will be opportunities to film and photograph homes planned for demolishment, and the remnants of a pear orchard.
Namie Town
Namie is located to the north of Okuma and Futaba, where the Fukushima Daiichi Nuclear Power Station is, and is one of the most recent areas to have evacuation orders lifted (on March 31, 2017; still has "difficult-to-return" zones). The population of Namie was approximately 21,000 before the earthquake, with about 500 having returned to live in the town currently. Preparations for places to live and work are being hurried to enable more residents to return to the town.
Machi Nami Marche, a temporary shopping mall, was opened in October 2016, and consists of 10 stores, from restaurants to stores selling essentials. Kitchen Grandma makes lunches and homemade food, and sells 80 to 130 meals per day. Although this is the first time its owner, Ms. Rieko Watanabe (65), has been involved in the restaurant industry, she has been tirelessly providing the returned residents and workers with meals since opening: "Using my experience from the temp agency I ran before the earthquake, I've brought together housewives from Namie Town and want to make this into a business that the staff enjoy working at, and make the town lively again."
◎The tour will travel north along the coast on National Route 6, which goes through difficult-to-return zones where barricades and guards have been placed in front of homes and guards. It will not be possible to get out of the vehicle to take video or photographs.
◎A town employee will guide the tour around Ohirayama Cemetery, located on high ground, and Ukedo, a district along the coast which was damaged by the tsunami. The tour will then visit the center of town, to see what the town is like nine months after the evacuation order was lifted.
◎At Kitchen Grandma in Machi Nami Marche, the tour will interview Ms. Rieko Watanabe, who runs the restaurant while living in temporary housing in Minamisoma, about her thoughts on the recovery.
2. Producers raising awareness of food safety: Clearing misconceptions about Fukushima
Niidahonke
Niidahonke is a sake brewery in Koriyama, established in 1711. Since before the earthquake, the brewery has made sake using 100% natural rice cultivated without using agricultural chemicals or synthetic fertilizers. Currently, the brewery is cooperating with Fukushima farmers who are suffering due to baseless rumors, cooperating with them in the process of growing rice for sake, and brewing sake using Fukushima-grown rice.
When sales declined after the earthquake, and the brewery wanted a way to attract even people without interest in sake to come to the brewery and see how safe their products are, Niidahonke decided to make sweets using koji (rice-malt) and other byproducts from brewing sake. These products, including koji chocolate and a yogurt drink made using rice, became popular, and between 1,000 and 1,500 people come to the "Sweets Day" events the brewery holds once a month, at which both sake and these products are sold. The brewery also holds a "Thanksgiving Festival" event twice a year together with organic food producers, which are attended by around 3,000 people.
◎President and Head Brewer Yasuhiko Niida will speak about his passion for making sake and about the development of new products such as koji chocolate. He will then give a tour of the brewery and its equipment, such as fermentation tanks, along with explaining the process of making sake.
Wonder Farm
Wonder Farm is a five hectare "tomato theme park" that includes a plant factory where tomatoes are grown, a restaurant with dishes made from those tomatoes, and a store selling products made using those tomatoes. There is also a space to have barbeques, and pick blueberries. President Hiroshi Motoki grew tomatoes in a greenhouse in Iwaki before the earthquake. After the disaster, he felt bad about the lack of places for children to play, and so opened Wonder Farm in 2015, in what had been ruined fields, both as a place to play and to promote the safety of agricultural products. Wonder Farm has around 200,000 visitors annually.
Wonder Farm grows eleven varieties of tomato, with a target of 600 tons per year. Half of the yield is used at the restaurant and for Wonder Farm processed goods, with the rest being sold to local markets. One third of the staff of around 50 (including part-time staff) are agricultural workers. Since they can sell their own produce as well at the store, Wonder Farm also helps promote other local farms.
◎Mr. Motoki will show the group the greenhouses where the tomatoes are grown, and the store where products such as tomato juice are sold.
3. Creating jobs and supporting Fukushima: An animation company and a robot manufacturer
Fukushima Gainax
In April 2015, the animation company Gainax, known for creating popular anime including Neon Genesis Evangelion, established Fukushima Gainax in Miharu, Fukushima. Its president, Mr. Yoshinori Asao, is from Fukushima. When looking for a place to build a new studio, he heard that young families were giving up on returning to Fukushima after the nuclear accident, and the decision was made to rent an old school building in Miharu to "support the recovery with anime." Of the 12 employees, the majority are from Fukushima, and in their 20s or 30s. In addition to anime production, they also organize events and run a museum in the company building. So far, the company has made 10 anime set in the Fukushima and the Tohoku region for local governments. In the future, while continuing to make anime for local governments, Fukushima Gainax will also create its own original anime.
◎Mr. Asao will show the group around the museum, followed by an opportunity to see where anime is made, and interviews with workers including Ms. Manami Murakami (19 years old, animator, from Koriyama), Mr. Yuki Takagi (25 years old, production staff, from Iwaki), and Ms. Minori Kan (31 years old, transferred from Gainax in Tokyo to Fukushima Gainax, from Yamaguchi Prefecture).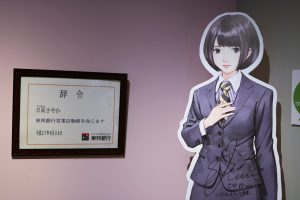 Kikuchi Seisakusho Fukushima Factory
Kikuchi Seisakusho is a die machining company established over 40 years ago, whose president is from Iitate, Fukushima. The company works together with various research organizations, and carries out development, prototyping, and mass production all in house. The Fukushima factory is located in Iitate, which was temporarily designated as an evacuation area after the disaster, but since then has continued production while making the safety of its workers the highest priority. Since the earthquake, the company has opened two new factories in Fukushima (Kawauchi and Minamisoma), contributing to creating local employment and research into manufacturing robots.
◎The tour will visit the Fukushima factory, and hear about the reason behind continuing to keep the business open ever since right after the earthquake. The factory has pressings machine operated by foot pedal, which the company has used since its beginning, and there will be an opportunity to try out the "muscle suit" muscular-support apparatus developed by the Tokyo University of Science, which Kikuchi mass produces in orders of 1,000 to 2,000.
<Tour Details>
1. Itinerary
Wednesday, February 21
| | |
| --- | --- |
| 7:32-8:55 | Tokyo Station~Koriyama Station (Yamabiko 125) |
| 9:45-10:40 | Commutan Fukushima |
| 11:00-12:00 | Fukushima Gainax |
| 12:15-13:00 | Lunch |
| 13:20-14:20 | Niidahonke |
| 16:00-17:15 | Okuma Town |
| | Stay at Iwaki Yumoto |
Thursday, February 22
| | |
| --- | --- |
| 9:00-10:00 | Wonder Farm |
| 11:15-13:30 | Namie Town (incld. lunch) |
| 14:30-15:30 | Kikuchi Seisakusho Fukushima Factory |
| 17:16-18:48 | Fukushima Station~Tokyo Station (Yamabiko 150) |
2. Qualification: Bearer of Gaimusho Press Registration Card
3. Cost: Free of charge
4. Participants: Limited to seven applicants.
(Only one reporter and one photographer from each company, but two participants from each TV team will be acceptable.)
*If the number of applicants exceeds seven, an upper limit may be set on the number of participants from each country/region.
5. Remarks:
- This press tour is organized by Fukushima Prefecture.
- Schedule may change due to weather or other issues.
- Fukushima Prefecture and the FPCJ will not be liable for any inconvenience, trouble or accidents that might occur during the tour.
- There may be some restrictions on photographing and filming at the tour sites. Please follow the instructions of the staff in charge.