Date : October 1 - 2, 2012
Notice: Shizuoka Press Tour "Mt. Fuji aiming at World Heritage Site" (October 1-2, 2012)
post date : 2013.08.23
- People worship Mt. Fuji as deity and live with its blessings -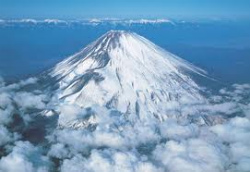 The highest mountain in Japan at 3,776 meters, Mt. Fuji is a symbol of Japan and is well known all over the world for its beautiful conical shape. Every year about 320,000 climbers (figure of 2010) including foreign tourists, visit Mt. Fuji, an active volcano with its own vigorous dynamism, which has been depicted in a variety of art works including Japanese woodblock prints since ancient times. It is said that Mt. Fuji took its present shape after repeatedly erupting and spewing lava from 400,000 to 100,000 years ago. People feel awe and reverence for Mt. Fuji. Legend has it that a shrine was established in 27 B.C. at the foot of Mt. Fuji to silence eruptions. Tracing its origin to this legend, the Fujisan Hongu Sengen Taisha (shrine) enshrines Mt. Fuji as its shintai (body of kami, or deity) and is the head shrine of about 1,300 Sengen shrines all over Japan. The shrine also enshrines "Konohana-no-sakuyahime-no-mikoto" as the water deity to appease the fire deity. The worship of Mt. Fuji as a sacred mountain has been inherited tight up to today, though its form has changed with the ages.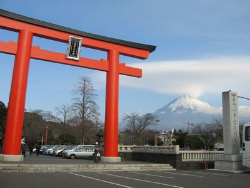 Mt. Fuji has not only been an object of worship but has also given many blessings to people. The subterranean water stored in caverns beneath the mountain has been providing the surrounding areas with about 450 tons of clear water every day, supporting agriculture and other industries there.
Shizuoka Prefecture and other local communities are trying to register Mt. Fuji on the World Cultural Heritage List, with a view to protecting this mountain which has had a great influence on the people's lives, culture and history, and handing over the related cultural assets to the future. The International Council on Monuments and Sites (ICOMOS), an advisory organization of UNESCO, sent a survey team to Mt. Fuji from August 29 to September 5 this year. Based on the findings of the survey team and on Japan's recommendation, ICOMOS will put out its evaluation results as early as May next year. Whether Mt. Fuji is registered or not will be decided at a World Heritage Committee meeting to be held in Phnom Penh in June next year. 
The tour will visit the Fujisan Hongu Sengen Taisha (shrine) and cover the cultural and historical background of Mt. Fuji. The participants will meet with Shizuoka Governor Kawakatsu and hear about the significance of registering Mr. Fuji on the World Heritage List. Then the tour will have a briefing from the Emergency Press Officer on countermeasures for disasters, including volcanic eruption. Participants will also cover a citizen's activity to preserve the environment of Mt. Fuji, a sake brewery and a trout farm that are benefitting from the spring water from Mt. Fuji.
*Shizuoka Prefecture and FPCJ jointly host, plan and conduct this tour.
< Presentations >
1. Mt. Fuji Jukuu no Mori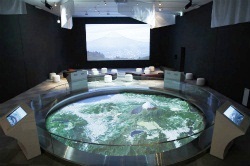 - Learn the history of Mt. Fuji from its birth to the present -
http://jukuu.jp/
This is a new type of park in Gotemba City, containing various facilities for providing information about Mt. Fuji. At its Visitor Center, you can learn the history of Mt. Fuji from its birth to the present and also the structure of the active volcano through screen images projected on a model of Mt. Fuji and its surroundings, making a three-dimensional screen. 
The tour will visit these facilities to learn about the basics of Mt. Fuji. Officials of Shizuoka Prefecture will talk about how they are aiming to register Mt. Fuji on the World Heritage List.
2. Fujisan Hongu Sengen Taisha
- Center of faith worshiping Mt. Fuji as a deity –
http://fuji-hongu.or.jp/sengen/english/index.html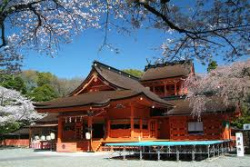 Enshrining Mt. Fuji as shintai (the embodied kami deity), this shrine has long been the center of Mt. Fuji worship and is the original and head shrine of about 1,300 Sengen shrines scattered all over Japan. People have worshiped at this shrine since the Heian period (794-1185) and Ieyasu Tokugawa protected it in the Edo period (1603-1868). Built at its present location in 806, this is the oldest shrine in the Tokai region.
Legend has it that the origin of the shrine dates back to 27 B.C. when the 11th Emperor Suinin, worrying about the devastation caused by Mt. Fuji's intense volcanic activity, built a shrine at the foot of the mountain to worship and appease the Sengen deity, and that as a result, Mt. Fuji's volcanic activity quietened down and people were able to live in peace. (Then in 806, in the Heian period, the shrine pavilion was built at its current location.)
The grounds of the shrine are vast; the shrine itself is about 17,000 square meters in area, and Mt. Fuji above the 8th station (about 3,850,000 square meters) is included in the grounds.
The main hall of the shrine was built by Ieyasu Tokugawa and is now an important cultural property of Japan. In the shrine grounds is Wakutama-ike pond, which gushes out spring water of Mt. Fuji and is now a national natural monument.
Wakutama-ike (Candidate for Component Part of a Religious Entity)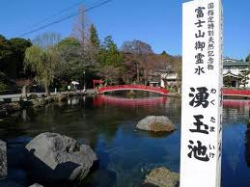 Water stored in caverns of lava beneath Mt. Fuji gushes out in the grounds of Fujisan Hongu Sengen Taisha and forms Wakutama-ike. Clear water gushes out throughout the year and this pond is the riverhead of the Kanda River which runs through Fujinomiya City. In 2008, Wakutama-ike was designated as one of the 100 best springs in Heisei Japan. It is now a venue for ablutions of Mt. Fuji climbers. A national special nature monument.
We will visit the shrine and be given a lecture by Mr. Norihiko Nakamura, the chief priest, on the history and cultural background of Mt. Fuji, which has been an object of worship since ancient times.
3. Mr. Heita Kawakatsu, Governor of Shizuoka Prefecture
- Registering Mt. Fuji, Japan's symbol, on the World Heritage List -
http://www.pref.shizuoka.jp/a_foreign/english/index.html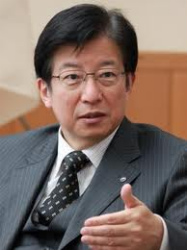 "Being an asset of the Japanese people and the symbol of Japan, Mt. Fuji, with its extraordinarily beautiful scenery, has long inspired people to artistic fervor and faith. In 2009, we, the areas surrounding the great Mt. Fuji, designated February 23 as Mount Fuji Day in order to carry over to future generations Mt. Fuji and our own knowledge, thoughts and love of Mt. Fuji, based on the Mount Fuji Charter.
Based upon Mount Fuji Day, Shizuoka Prefecture has been endeavoring to pass on everything connected with Mt. Fuji to future generations, by, for instance, compiling "Fujisan Hyakunin Isshu" and "Fujisan Manyoshu" (two collections of poems) or promoting joint efforts of the prefectural government and the private sector for conserving Mt. Fuji's rich natural environment."
We will meet with Governor Kawakatsu, who will talk about the significance of registering Mt. Fuji on the World Heritage List and his thoughts about it.
4. General Control Room, Disaster Management Headquarters, Shizuoka Prefecture
- Measurements of Shizuoka, Japan's leading prefecture in disaster management –
http://www.pref.shizuoka.jp/bousai/index.html 
Since the Tokai Earthquake Theory was announced in 1976, Shizuoka Prefecture has been preparing for earthquake and related disasters in cooperation with the national government, local municipalities, self-defense forces, and other related disaster management organizations.
During this period, Shizuoka Prefecture announced three times its own damage estimate, including the size of tremors and tsunami, human casualties and property damage, and the scenario from the occurrence of a disaster to reconstruction. Based on the estimates, the prefecture has been working on various countermeasures to mitigate the damage and speed up emergency measures. After the national government announced the levels of seismic intensity, tsunami height, flooded areas, human casualties, and property damage estimated to be caused by a huge earthquake in the Nankai Trough, the prefecture is now trying to make a fourth damage estimate to set new goals for earthquake and tsunami countermeasures.
Since it will be difficult to get support from the neighboring areas when an earthquake occurs, Shizuoka is strengthening its cooperation with the US Forces in Japan. In May they held the "Shimoda Meeting" attended by Mr. John V. Roos, US Ambassador to Japan, and discussed with relevant officials of the US Forces and the national government the challenges and lessons related to Operation Tomodachi and other cooperation between the two countries after the Great East Japan Earthquake, and also measures to use such lessons for future disaster management. Strengthening of the ties was evident in the Shizuoka Prefecture General Disaster Management Drill held on September 2, when the US Forces Disaster Medical Assistance Team (DMAT) and the Japan Self-Defense Forces carried out radiation monitoring and cleared the roads of debris. As an advanced prefecture in terms of disaster preparedness, Shizuoka Prefecture is maintaining its efforts to prepare for serious disasters in the future.
The press tour will visit the headquarters of emergency and disaster management in the Shizuoka prefectural government office and have a briefing from Mr. Takayoshi Iwata, Emergency Press Officer, Emergency Management Department, on their countermeasures for disasters, including volcanic eruption.
5. NPO Groundwork Mishima, Managing Director/Secretary General Toyohiro Watanabe
- Citizen's activity to preserve the environment of Mt. Fuji and the river in the area -
http://www.gwmishima.jp/modules/information/index.php?lid=76&cid=29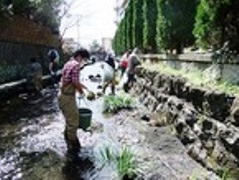 Mishima City has abundant spring water and is called the "city of water." Since the era of rapid economic growth in the 1960s, however, the level of water has fallen and the river conditions have deteriorated. With a sense of crisis, Mr. Watanabe established Groundwork Mishima in 1992, and has led local citizens in restoring the clean water of the Genbei River in Mishima City, bringing back the Mishima-baikamo, a flowering water plant that needs pure water, and maintaining retarding basins.
In promoting the civil movement to protect the water environment in Mishima, Mr. Watanabe has come to believe that unless the environment of Mt. Fuji improves, restoration of Mishima water will never be achieved. They have organized a Mt. Fuji clean-up campaign with about 5,000 participants a year. They have also set up environmental friendly bio-toilets to deal with the raw sewage problem caused by 300,000 climbers per year.
The press tour will visit the Genbei River and cover the activities of Groundwork Mishima volunteers and interview Mr. Watanabe about his ideas on how to restore the environment of Mt. Fuji, a World Heritage candidate.
6. Kakishima Troutfarm Co., Ltd. Ms. Izumi Iwamoto (second generation)
- With abundant spring water from Mt. Fuji, making trout farming a regional material-cycle industry -
http://kakishima-troutfarm.com/index.html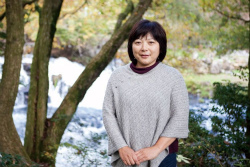 Shizuoka Prefecture is known as Japan's top producer of trout, and most of the trout farms are located around Mt. Fuji, utilizing the rich spring water from the mountain. Most of the nation's farmed trout weigh about 150g, but Shizuoka trout are 50% heavier. It is said that this is because of Shizuoka's original farming method, and the spring water from Mt. Fuji provides an ideal temperature for trout farming throughout the year.
Kakishima Troutfarm in Fujinomiya City is one of the largest aqua farming companies in Japan with an annual shipment of 400 tons. They produce mainly fresh-water fish such as trout and iwana (whitespotted char). Ms. Izumi Iwamoto, daughter of the company's founder, is trying to make aqua farming a material-cycle industry. They used to import fish meal, for example, mainly from South America and Africa, but they have now switched to locally produced fish meal. Shizuoka Prefecture has many fish ports and marine products processors, so naturally they have plenty of residues. Kakishima Troutfarm now buys the residues and produces its own fish meal. Ms. Iwamoto says that in order to produce tasty high quality fish, it is most important to keep them in good health, so fresh and good fish meal is a must.
The average size of iwana in the Japanese market is 100g simply because it fits a Japanese food dish. Breaking the stereotype, Kakishima's iwana weighs 120g to 150g and tastes better. They also process iwana and produce rillettes as a value-added product. The homemade rillettes with natural (non-chemical) condiments are very popular and are often sold out. (Rillettes are like a pate of chopped fish, served with bread.)
The press tour will interview Ms. Iwamoto and visit her trout and iwana farms.
7. Fujinishiki Sake Brewery Co., Ltd. Mr. Shinichi Sei, 18th President
- Shizuoka's local sake made from subterranean water of Mt. Fuji, and locally-developed rice and yeast - 
http://www.fujinishiki.com/page/item/index.html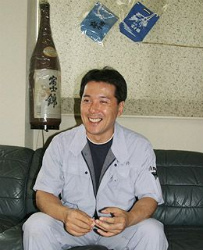 Fujinishiki Sake Brewery Co., Ltd. is a long-established sake brewery, brewing sake more than 300 years since its establishment in 1688 using the rich subterranean water of Mt. Fuji. On the premises, with a view of Mt. Fuji beyond the country scenery, there is a well, which provides subterranean water of Mt. Fuji from 30 meters below ground for making sake.
Water filtered by the bedrock of Mt. Fuji is said to produce a mild and gentle taste. The company brews sake unique to this location, enjoying as it does the blessings of Mt. Fuji, using "Homarefuji," a kind of rice suited for sake-making, and "Shizuoka Kobo," yeast originally developed by Shizuoka Prefecture.
Mr. Shinichi Kiyoshi, the 18th president of the company, is unusual as a sake-brewer; he used to work in the think-tank of a security firm. He quit his job in order to succeed to the family business of his wife's parents and studied brewing at an agricultural university, and judgment and analysis of sake at the Tokyo Regional Taxation Bureau. When he holds a "kurabiraki" event, when the sake storehouse is opened up, as many as 10,000 people attend. Some people take their children, for whom a traveling amusement park is ready. "I hope in the future the children will keep remembering their parents' partying together in this nature-rich village," Mr. Kiyoshi talks about his passion for this event.
The tour will interview Mr. Shinichi Sei and observe sake-making.
< Tour itinerary and application details >
1. Itinerary (Tentative): Oct. 1 (Mon) and 2 (Tue), 2012
Day 1 (Monday, Oct. 1):
07:30 Meet at Tokyo Station
07:56 Leave Tokyo by bullet train
08:53 Arrive at Mishima Station
10:15-11:00 Mt. Fuji Jukuu no Mori
Lunch
12:45-14:00 Fujisan Hongu Sengen Taish      
15:30-16:00 Shizuoka Prefectural Government Office
16:15-18:00 Headquarters of emergency and disaster management
Day 2 (Tuesday, Oct. 2):
08:00 Leave the hotel
10:30-12:00 NPO Groundwork Mishima     
Lunch         
14:20-15:30 Kakishima Troutfarm Co., Ltd.
16:00-17:10 Fujinishiki Sake Brewery Co., Ltd. 
18:36(TBD) Leave Shinfuji Station by bullet train
19:40(TBD) Arrive at Tokyo Station
2. Qualification: Bearer of Gaimusho Press Registration Card
3. Cost: 10,000 yen per person including transportation and lunch
* FPCJ will later inform the participants of methods for payment, cancellation fee etc.
4. Participants: Limited to the first 10 applicants. 
(Only one reporter and one photographer from each company, but two participants from each TV team will be acceptable.)
5. Application: Fill in the application form below and send it to FPCJ by fax
6. FPCJ Contact: Ms. Chika Yoshida (Tel: 03-3501-3405)
7. Remarks: 
(1) There may be some restrictions on photographing and filming at the tour sites. Please follow the instructions of the officials on duty.
(2) FPCJ and Shizuoka Prefecture will not be liable for any inconvenience, trouble or accident that might occur in the course of the tour.