Date : November 2 - 3, 2012
Notice: Ishikawa Press Tour (November 2-3, 2012)
post date : 2013.08.22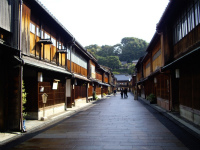 "Handing Down Traditions to the Future"
~World Agricultural Heritage Noto's Satoyama and Traditional Craftsmanship Freshening up with Modern Design~
With its central city of Kanazawa, which flourished as a castle town during the Edo period, Ishikawa Prefecture has long-preserved historical cultural assets, traditional arts and crafts, and streets filled with a nostalgic Japanese atmosphere. Also, the prefecture's Noto Peninsula, which juts out into the Sea of Japan, boasts of a beautiful stretch of pristine farmland. 
Today, Ishikawa has been witnessing various initiatives to hand down the local traditions to the future by incorporating new styles and designs. Last spring, colorful ceramic beetles crafted with the traditionalKutani porcelain techniques enchanted New Yorkers and then Parisians in an exhibition to display Japan's modern craftwork combined with traditional techniques. When a magnitude 6.9 earthquake hit Wajima City, the home of Wajima lacquerware, five years ago, the collaboration of a local artisan and the luxury brand LOUIS VUITTON drew attention, creating monogram-patterned lacquered accessory cases as part of the fashion brand's reconstruction assistance. The earthquake motivated local artisans wishing to revive the damaged local industry to produce many kinds of innovative Wajima lacquerware incorporating modern designs.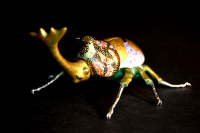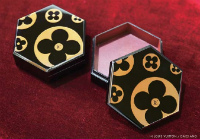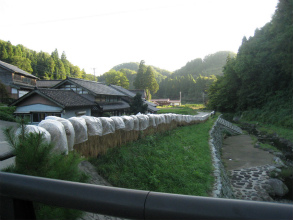 In the Noto area, where farming villages are facing depopulation and an aging society, people work to revive their villages that have preserved the unspoilt beautiful landscape unique to Japanese farmland. They are trying to get young people to return to the farm by operating farm guesthouses and offering eco-tourism. Noto's mountains and sea were designated as Globally Important Agricultural Heritage Systems in 2011, becoming the first GIAHS in a developed country. 
This tour features local initiatives to revitalize marginal villages in the Noto area, which maintains the beauty of pristine farmland; and also activities by those who propose new forms of traditional arts and crafts combined with modern styles and designs. Including interviews with craftsmen, younger creators, and others, the tour will offer an opportunity to see Ishikawa people upholding traditions and also innovating them for the future. 
*GIAHS 
An initiative started in 2002 by the United Nations Food and Agriculture Organization. It aims to identify and safeguard Agricultural Heritage sites that maintain traditional farming methods and systems utilizing the local environment, land use that preserves biodiversity, unique local cultures, and landscape, which have been vanishing with the modernization of the world. 
※The tour is hosted by Ishikawa Prefecture with FPCJ's cooperation in planning and operation. 
【Presentations】
1. GIAHS: Noto's Satoyama and Satoumi 
http://www.pref.ishikawa.jp/satoyama/noto-giahs/f-lang/english/index.html
(1) Shunran-no-sato (village of the Noble Orchid) 
~Challenge of a marginal village: the efforts to attract young people to revive the farm village ~ 
http://shunran.info/
Noto's mountains and sea (satoyama and satoumi) were designated as GIAHS in 2011. Despite the agricultural modernization throughout Japan, this area still maintains traditional agricultural methods and systems, as well as unique local cultures and landscapes, such as ine-no-hazaboshi (drying rice sheaves by hanging them on wooden stilts), Ama Fishing (women divers), rice terraces on the slopes, and the Agehama salt manufacturing method.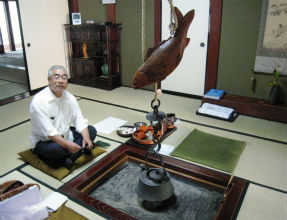 All across rural Japan, the graying and decreasing population is among the most serious problems, and the Noto's satoyama and satoumi are no exception. As of 2010, in Noto Town, which preserves a beautiful stretch of pristine farmland, 36.9% of the total population was aged 65 or older. Especially in Mizuho/Miyaji districts, where the ratio of the elderly is the highest in the Noto area, more than half of the population was elderly in five out of 16 villages. To overcome the crisis facing those marginal villages, a group of seven senior local volunteers launched an initiative called "Shunran-no-sat" in 1996. Setting up the goal of "getting younger people to return from cities to the farms by creating a mechanism to earn money," the members led by Mr. Kiichiro Tada decided, after much trial and error, to open a guesthouse by renovating Tada's own home. The policy of the guesthouse is "accepting only one group of guests each day." The guests are welcomed into the owner's house featuring the traditional irori hearth and served with local dishes, handmade chopsticks, and bowls of Wajima lacquerware. This endeavor has got off the ground, and currently there are 30 guesthouses of this kind in an area covering 12 villages with a capacity of up to 200 visitors at one time. Each guesthouse also offers different seasonal activities utilizing the nature of satoyama, such as mushroom picking, rice planting, and fishing. Having accepted many school trips, the Shunran-no-sato expects a total of 10,000 visitors this year. The members include a Taiwanese couple, hoping to have more guests from China and Taiwan. 
◎The tour will visit the area now called Shunran-no-sato, where the 30 guesthouses are being operated, to meet Mr. Kiichiro Tada, the leader of the project, who will talk about his efforts to revitalize the local villages. For lunch, you will have dishes using locally grown ingredients such as wild vegetables and mushrooms. You will also visit a couple of guesthouse to have a look at the local people's lives. 
(2) Noto Smart Drive Project
~Attraction of tourists to the mountains and seas of Noto vitalizes local communities~
http://www.pref.ishikawa.jp/syoko/notosmartdrive/index.html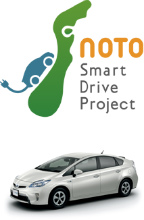 This is Japan's first project combining the environment, tourism and information technology, which enables tourists to Noto to visit tourist spots and other must-see points of the Noto mountains and seas. Guided by information offered by smartphone, tourists can enjoy Noto driving an environment-friendly car. This is a joint project of Ishikawa Prefecture, Toyota Motor Corporation and others. Toyota's plug-in hybrid Priuses are available as rental cars for sightseeing at the airport and stations, and tourists can visit places of interest using "DriMuch," an application for smartphones. Each sightseeing spot is equipped with a plug-in "G-Station" with a Wi-Fi access point. Tourists can use their information terminals for fast communication. Charging is done by environment-friendly green electricity.
◎In this tour, an official of Ishikawa Prefecture will brief you on the project at the G-Station of Shunran no Sato and demonstrate how to use a G-Station and DriMuch. You can test-run a Priuse to enjoy the mountains of Noto (optional).
2. Shinichi Shioyasu, Shioyasu Urushi Ware Company
~5th generation owner of a lacquer house, creating new products with traditional techniques~ 
www.shioyasu.com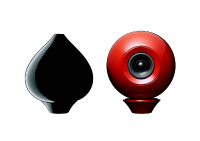 Shioyasu is a Wajima lacquerware (Wajima-nuri) manufacturer with 150 years of history. Mr. Shinichi Shioyasu, the fifth generation owner of the family business, strives to develop new products while employing traditional Wajima-nuri techniques. Among those products is an audio speaker called "Something to Touch." The speaker was created in collaboration with Project "MILE" formed by a trio of young designers/engineers and won the 2006 Good Design Award. When a magnitude 6.9 earthquake hit Wajima City in March 2007, Mr. Shioyasu, together with other lacquerware manufactures and designers, initiated a project called "WAJIMA x Kakitsubata" to revive the local industry. In the project, his team produced various kinds of lacquered tableware with modern designers, such as hat-shaped dinner plates. His works include a made-to-order Wajima-nuri electric guitar. 
◎The tour will visit Shioyasu's lacquerware studio, where Mr. Shinichi Shioyasu will brief about what is Wajima-nuri and how it is produced, while showing the actual workplace of craftsmen. Mr. Shioyasu will also talk about his initiative to blend traditional technique with modern design, demonstrating the speaker, Something to Touch. 
3. Saishitsu-kai and Osaki Lacquerware Shop 
~Proposing Wajima-nuri table settings that go with contemporary living from women's standpoint ~ 
http://www.osakisyoemon.jp/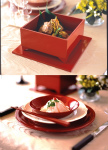 Saishitsu-kai is a group formed in 1999 by women involved with Wajima-nuri, aiming to encourage people to use the lacquerware more often in daily life. People tend to think that Wajima-nuri, often described as Japan's finest lacquerware, is "difficult to deal with," "used only on special occasions such as New Year's Day," or "used only for Japanese dishes." The six members of the group are working to clear up this misunderstanding, which has been making people avoid the lacquerware, and to stem its declining popularity. Their activities include presentingWajima-nuri table settings that go with contemporary living and holding seminars to teach how to deal with the lacquerware and lunch/dinner parties using Wajima-nuri tableware.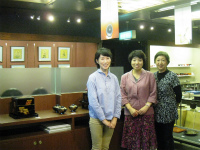 ◎The tour will visit Osaki Lacquerware Shop, which dates back to the late Edo period.Saishitsu-kai members including Ms. Etsuko Osaki, the owner of the Shop, will brief about their activities, while serving you tea and sweets using Wajima lacquerware. Ms. Osaki will also show you around the Shop, a traditional Wajima-style wooden house. 
4. 2012 National Traditional Crafts Festa in Ishikawa, the 29th Traditional Craft Products Month National Assembly
~The largest traditional crafts festival in Japan~
http://www.kougei-ishikawa2012.com/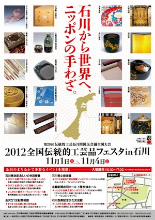 The Traditional Craft Products Month National Assembly is a big annual event held in November by the Ministry of Economy, Trade and Industry to promote Japanese traditional crafts. As part of the event, this year's venue of Ishikawa Prefecture will hold a "2012 National Traditional Crafts Festa in Ishikawa"from November 1st to 4th, and various kinds of Japan's fine craft techniques will be gathered in the center of Kanawaza City. With the keyword of "new craftwork for the world," this year's festa features"Ishikawa x Europe Table Setting Exhibition," which presents a variety of table settings with a mixture of Japanese and Western styles using Ishikawa's traditional crafts and European ceramics, and "Crafts x Sweets Collaboration Exhibition," which displays Ishikawa's seasonal sweets served on plates of the prefecture's traditional crafts. 
◎The tour will visit Shiinoki Cultural Complex, a former Ishikawa government building that will be used as one of the exhibition halls for the event. Ms. Fumi Kimura, a producer of comprehensive food and tableware environment and the supervisor of the table settings to be displayed in the event, will show you the exhibitions described above. 
5. Utatsuyama Craft Workshop
Training facility for younger craftsmen ~ Upholding traditions and fostering leaders in creation~ 
http://www.utatsu-craft.gr.jp/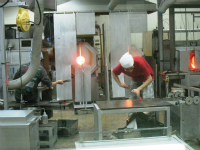 The Workshop was founded in November 1989 to celebrate the 100th anniversary of Kanazawa's incorporation as a city, aiming to advance the preservation and development of the traditional crafts in Kanazawa, a city that is often said to rival Kyoto as the "Kingdom of Crafts." Focusing on "personal training" as the pillar of its work, the Workshop provides training for younger craftsmen up to 35 years old. Most of its trainees, including foreigners, are graduates from art universities, and its education philosophy is "keeping in mind the traditional techniques while aspiring to create original works as modern craftsmen." When Ishikawa Prefecture hosted an international food festival called "Cook it Raw" in 2011, tableware created by the Workshop's trainees was presented with dishes cooked by 15 top chefs in the world.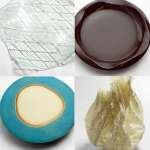 *Cook it Raw
http://cookitraw.org/
A group of the world's most renowned chefs spends a week in a foreign area, learning about local traditions from people living there and travelling to local mountains and oceans to explore a variety of ingredients specific to the region, before completing their ultimate dishes. The first Cook It Raw took place in 2009 in Denmark. Since then the event has been held in Italy, Finland, and the fourth was last year in Ishikawa Prefecture.
◎The tour will cover Utatsuyama Craft Workshop, which fosters craftsmen capable of keeping pace with the changing times, while upholding traditional techniques originating in Kanazawa. You will tour the Workshop and interview trainees whose works were presented in last year's Cook it Raw. 
6. Kanazawa Leaf (Sakuda Gold & Silver Leaf, Higashi Chaya District)
400-year old techniques of master craftsmen to handle the thickness of 0.0001 millimeter
http://www.goldleaf-sakuda.jp/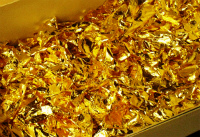 What makes the Golden Pavilion in Kyoto "golden?" It is the 400-year old "Kanazawa Gold Leaf"from Kanazawa City. The Gold Leaf Production Ban (1820 and 1824) in the Edo period slowed down the production, but in the Meiji Era (1868-1912), production resurrected. At present Kanazawa accounts for 99% of Japan's gold leaf production. Sakuda Gold & Silver Leaf, established in 1919, is in Higashiyama district, Kanazawa City, which contains Higashi Chaya District, an old castle town with a taste of the Edo period. The company now handles a variety of products, from craftwork to cosmetics, edible gold leaf and architectural decoration. In 2012, the fan-shaped dish "Shiki (four seasons)" produced by the company won the Grand Prize of the "Charming Japanese Souvenir Contest 2012" of the Japan Tourism Agency.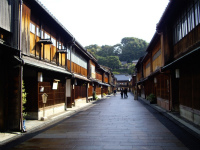 ◎The tour will visit Sakuda Gold & Silver Leaf, which was introduced in the 2009 Michelin Green Guide Japan. Mr. Kazunori Sakuda, President, will brief the tour on an outline of Kanazawa gold leaf, the production process and merchandise development, and craftsmen will demonstrate gold leaf production. The tour will then have a walk in Higashi Chaya District where tea houses of the Edo period still remain unchanged. 
7. Kutani-juku 
~Younger craftsmen's "likes" become a stepping stone to the revival of Kutani ceramics~
Kutani-juku: http://www.kutanijuku.com/
Nomi Kutani Ceramics Museum:http://www.kutaniyaki.or.jp/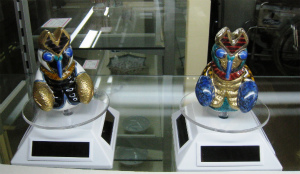 Alien Baltan, snails, USB memory sticks, and Choro-Q toy cars----. The works created by a group of artisans, Kutani-juku, overturn the fixed image of Kutani ceramics. The style of Kutani, generally known for multi-colored vases and tableware, originated in Ishikawa in the 17th century during the Edo period. The ceramics were mass-produced and exported to Europe in the 19th Century during the Meiji period, but the industry has been declining with a change in market demand. To turn this situation around, craftsmen and wholesalers involved with Kutani ceramics formed a study group in 2006, which was the start-up of Kutani-juku. The members decided to set aside regular business for a while and create ceramic beetles and stag beetles, their childhood favorites, using the traditional Kutani techniques with 350 years of history. Launching a SUPER KUTANI INSECT PROJECT, they created ceramic sculptures of insects in various vivid colors and designs and displayed them in an exhibition that went to San Francisco, New York and Paris.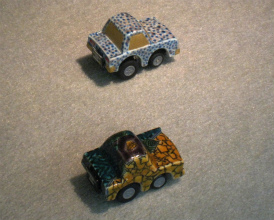 In 2010, they also released a series of Kutani Choro-Q toy cars in a tie-up with Japan's toy giant Takara Tomy and TV personality George Tokoro. The toy company's original Choro-Q became a big hit in the 1980s in Japan, and most of today's Japanese men in their 30s and 40s played with the miniature cars in their childhood. The "likes" of the younger craftsmen, who inherit the tradition of Kutani ceramics, might become a stepping stone to the revival of the industry. 
◎The tour will visit Nomi Kutani Ceramics Museum in Nomi City, the largest Kutani ceramics production area in Ishikawa Prefecture. After a brief lecture about the ceramics' history and the production process, Mr. Sobun Taka, the leader of Kutani-juku, will brief you about the group's activities, showing unique works created by Kutani-juku. 
< Tour itinerary and application details >
1. Itinerary (Tentative): Nov. 2 (Fri) and 3 (Sat), 2012
Day 1 (Friday, Nov. 2)
9:00 Meet at Tokyo Haneda Airport 
9:55 Leave Tokyo Haneda Airport by ANA 747
10:55 Arrive at Noto Airport
11:40~12:10 Noto Smart Drive Project 
12:15~14:30 Shunran no Sato and lunch
15:30~16:30 Shioyasu Lacquer Studio
16:30~17:30 Osaki Lacquer Shop/ Saishitsu-kai 
Stay overnight at Garden NOTOYA, a hotel in Wakura hot spring resort
Day 2 (Saturday, Nov. 3)
8:30 Leave Hotel
10:00~11:30 2012 National Traditional Crafts Festival in Ishikawa
11:45~12:30 Utatsuyama Craft Workshop 
12:45~13:45 Lunch 
14:00~14:45 Sakuda Gold & Silver Leaf
14:45~15:30 Higashi Chaya District
16:30~17:30 Kutani-juku
19:55 Leave Komatsu Airport by ANA760
21:05 Arrive at Tokyo Haneda Airport 
2. Qualification: Bearer of Gaimusho Press Registration Card
3. Cost: 13,000 yen per person including transportation, meals and accommodation
* FPCJ will later inform the participants of methods for payment, cancellation fee etc.
4. Participants: Limited to 10 applicants 
(Only one reporter and one photographer from each company, but two participants from each TV team will be acceptable.)
5. FPCJ Contact: Ms. Shinobu Ishikawa (Tel: 03-3501-3405)
6. Remarks: 
(1) There may be some restrictions on photographing and filming at the tour sites. Please follow the instructions of the officials on duty.
(2) FPCJ and Ishikawa Prefecture will not be liable for any inconvenience, trouble or accident that might occur in the course of the tour.