Date : November 22, 2010
Notice: Yamanashi Press Tour (November 22, 2010)
post date : 2013.08.22
~Challenges of "Yamanashi Brand" created by rich natural environment, forests and water~
In Yamanashi prefecture, the "Kingdom of fruits", approx. 80% of the prefectural land accounts for forest, and the bounty of water produced by such rich nature helps the production of many kinds of fruit such as grapes and peaches. Yamanashi has been gaining much attention as the center of wine in Japan both domestically and internationally by taking advantage of its long hours of sunlight, the large temperature difference between day and night, and well-drained soil. Yamanashi, also known as a Japanese paper production region and a place famous for hot springs, accounts for 40% of the share of mineral water production in Japan. Many major food giants set up their factories in the prefecture attracted by the prefecture's high quality and abundant water.
In this tour, you will cover the prefectural approach to boosting its regional economy, and challenges by local small and med-sized companies to the global market by using their greatest fortune, abundant natural resources, as "Yamanashi, the prefecture of lush water and greenery".
1. Chuo Budoshu Winery
http://www.grace-wine.co.jp/english/englishnew.html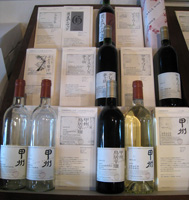 Wine made from Koshu, a variety of grape cultivated in Yamanashi Prefecture, has debuted on the European market after being officially certified by the International Organization of Vine and Wine (OIV), based in Paris in July 2010. Koshu wine is the first variety originating in Japan exported to the European market, and it has already won respect as "the wine perfectly matching with Japanese cuisine". The first shipment was 2,000 bottles of Grace Koshu Kayagatake and Grace Koshu Private Reserve, which are both 2009 vintage produced by Chuo Budoshu Winery, one of the representative wineries in Katsumuna. The Yamanashi Prefecture Wine Manufacturers Association plans to export 10,000 bottles of koshu wine produced by five firms in the prefecture by the end of March next year.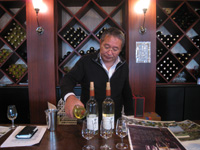 Japan's leading wines produced by Chuo Budoshu Winery were highly publicized by a leading Australian newspaper last year. With this news coverage their wine exports to Australia began last year. Chuo Budoshu Winery has been expanding their sales destinations to Asian markets such as Singapore, Malaysia and Taiwan, and Europe including Germany and France, as well as the United States markets. However, this debut was officially the long-planned full-scale entry into the traditional wine regions.
In this tour, you will have a briefing on the process and future strategies of Koshu wines by Mr. Shigekazu Misawa, president of Chuo Budoshu Winery and president of the Yamanashi Prefecture Wine Manufacturers Association. After the briefing, you will have a chance to taste their leading wines and visit the factory and a vineyard. 
2. Press Conference by Yamanashi Governor Shomei Yokouchi
http://www.pref.yamanashi.jp/english/profile/governor.html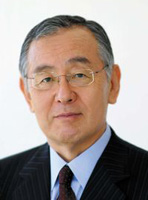 Born in Nirasaki City, Yamanashi, in 1942. After graduating from the faculty of law at Tokyo University, Governor Yokouchi joined the Ministry of Construction (currently Ministry of Land, Infrastructure, Transport and Tourism) in 1964. Governor Yokouchi served as a member of the House of Representatives for 9 years from 1993, and was appointed vice minister of the Ministry of Justice in the first Koizumi Cabinet in May 2001. He was first elected Governor of Yamanashi in 2007.
As a top salesperson himself, Governor Yokouchi has been actively working to revitalize its local industry and economy, promoting "Yamanashi Brands" to both domestic and international markets to extend sales outlets of prefectural products and attract tourists. In January 2010 Governor Yokouchi visited the center of wine, London, where 70% of wine news is said to come from. He introduced the attractions of Koshu to prominent local wine journalists, and also visited Hong Kong and Shanghai to promote the prefectural wines, fruits and tourism at the end of August this year.
3. Onao Co., Ltd.
http://www.onao.co.jp/english_index.html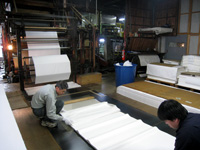 Ichikawa Daimon, surrounded by the majestic Southern Alps and limpid water, has been known asa production center of washi--Japanese paper-- since the Heian period (794-1192). Even now, this region is a major paper production area with 40% share of all the paper screens in Japan.Onao (incorporated in 1974), a well-established washi manufacturer based in this area developed"Naoron" paper, mixing new modern technique with tradition. Naoron is durable enough to be used for interior accessories and everyday goods. This new material defies the common wisdom in that it is highly water-resistant and very strong. Surprisingly its strength actually increases when it is wet.Naoron has passed a load capacity test up to 10kg even though its weight is as light as paper.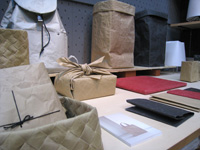 Two years ago when Onao made their first appearance in Maison & Objet Paris, the largest international home decoration exhibition in Europe, with a new product line "SIWA" using Naoron in collaboration with Mr. Naoto Fukasawa, the world-renowned industrial designer from Yamanashi, they drew great attention. "SIWA", which means "crinkle" in Japanese, was created by marrying traditional techniques with a thousand-year-history and the latest technology. "SIWA" was born with the goal of making new-style products while preserving the identity of tradition. The SIWA collection, including bags, book covers, iPod cases and many more, can be purchased not only in Japan but also seven countries including Italy, France, Switzerland and the United States. 
It is now difficult to purchase domestic raw materials for making washi, such as kozo or mitsumata. Instead, they train locals in the Asian countries like Thailand, Vietnam and the Philippines in handmade paper skills using local natural materials, and process the imported paper in Japan.
In the tour, Mr. Yoshinori Ichinose, Director/Owner of Onao, will give you a briefing on the history of washi from Ichikawa Daimon, and their product development and future strategies. The tour will also take you to the factory and you will have a chance to see a nationally rare paper processing machine, which has been working since 1960 when they switched from handmade to machine made production.
4. The Institute of Enology and Viticulture, University of Yamanashi
"Product development by University of Yamanashi" and "Human resource development program for the wine industry"
http://www.wine.yamanashi.ac.jp/iev/E-IEV.html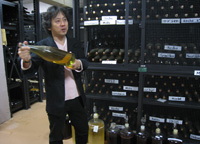 There are about 80 of the country's 200-some wineries in Yamanashi prefecture, known as the main center for domestic wine production. The Institute of Enology and Viticulture, founded in 1947, is the only research institution in Japan specializing in the study of fruit liquor. The uniqueness of the institute among national universities in Japan is that it has a government license to make wine.
The institute commercialized "University of Yamanashi Wines" one after another using various research achievements and techniques. The wines are made and sold from local wineries. Above all, "Yamanashi Koshu Kaiyo Kobo Wine" ("sea yeast wine"), the world's first wine featuring marine-based yeast, became a big hit with sales of 10,000 bottles a year.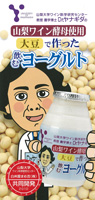 In April 2010, the institute and a local manufacturer in Hokuto city in Yamanashi jointly developed a yoghurt beverage made from soy, using the University's original wine yeast. All the ingredients—soy beans, natural spring water from the Southern Alps, and the wine yeast, are locally produced. Prof. Fujitoshi Yanagida, Director of the Institute, solved a problem of removing characteristic soy aroma using the "Yamanashi Wine Yeast", which also works to increase the umami, the fifth primary taste. Reflecting stronger consumer health-consciousness, the yogurt beverage went on sale not only in the prefecture but also the Tokyo metropolitan area in July this year. The beverage has been gaining much attention, sold in the convenience store chain Natural Lawson, and major supermarkets are also interested in the product.
Prof. Yamagida says he will start developing new "Yamanashi Brand" products using their specialties such as grapes and peaches made in the "Kingdom of fruits".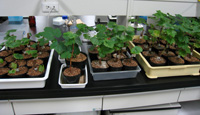 Although many graduates of the University of Yamanashi have joined wineries across the nation, the university started a new program called "Formation of a Center of Developing Human Resourses for Wine Industry". This program was designated by "Formation of a Center of Developing Human Resources for Revitalizing Local Regions" of the Ministry of Education, Culture, Sports, Science and Technology in fiscal year 2006. It is jointly operated by the University of Yamanashi, Yamanashi prefecture and local wineries to foster skilled human resources for the wine industry. The center provides both technical and business support to enhance the technical capacity of the local wine industry to the world-class level that will lead to establishing local wine brands. Graduates receive a professional diploma, and many of them contribute to the wine industry, which is highly appreciated by private companies. Because of this success, even though the program is due to end next March, the continuation of it is under consideration.
Followed by a briefing from Prof. Yanagida who is the inventor of "Yamanashi Koshu Kaiyo Kobo Wine" and the yogurt beverage, you will visit the wine cellar and an experimental winery. You will taste some of the wines produced by the University at the end of the tour.
*Foreign Press Center/Japan and Yamanashi Prefecture have co-organized this press tour. Tour participants bear part of the cost, but the purpose of the tour is not profit-making.
Tour itinerary and application details:
1. Itinerary: Monday, November 22nd
07:30 Leave Nippon Press Center Building by chartered bus
09:30-11:00 Visit Chuo Budoshu Winery
11:40-12:35 Lunch at Sadoya Winery
12:45-13:30 Interview with Governor of Yamanashi, Mr. Shomei Yokouchi, at Sadoya Winery
14:30-16:00 Visit Onao Co., Ltd.
17:15-18:50 Visit the Institute of Enology and Viticulture, University of Yamanashi
20:30 Arrive at Nippon Press Center Building
2. Qualification: Bearer of Gaimusho foreign press registration card
3. Expenses: 3,000 yen per person including transportation and lunch.
* FPCJ will later inform the participants of methods for payment, cancellation fee etc.
4. Participants: Limited to the first ten applicants on a first-come first-served basis.
(Only one reporter and one photographer from each company, but two participants from each TV team will be acceptable.)
5. FPCJ Contact: Ms. Suzuki and Mr. Yano (Tel: 03-3501-3401) 
6. Remarks: 
* The FPCJ and Yamanashi Prefecture will not be liable for any inconvenience, trouble or accident that might occur in the course of the tour.
**There are some restrictions on photographing and filming at the tour sites. Please follow the instructions of the officials on duty.