Date : September 28 - 29, 2010
Notice: Pre-COP10 Press Tour to Aichi-Nagoya (September 28-29, 2010)
post date : 2013.08.27
~Food Culture and Manufacturing Supported by Biological Diversity~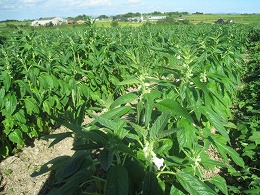 The tenth meeting of the Conference of the Parties (COP10) on biological diversity will be held in Nagoya, Aichi Prefecture, in October this year. Various issues will be discussed in the Nagoya Congress Center, with the highlight being the ministerial meeting held from October 27 to 29. The year 2010 is a target year to achieve a significant reduction of the current rate of biodiversity loss, which was adopted at COP6 in 2002. COP10 is important since it will assess the progress toward the target and also discuss the future target. Diplomatic maneuvering is taking place on whether they can adopt the "Nagoya Protocol," an international regime on access to genetic resources such as medicinal plants and benefit-sharing for the countries concerned.
In Japan, traditional food culture and manufacturing techniques have been maintained by the "conservation of biological diversity" and "sustainable use of the components of biological diversity", which are stipulated in the Convention on Biological Diversity, and have been passed down from generation to generation. This press tour to Aichi Prefecture will focus on the relationship between human beings and biological resources close to our daily life, covering the fermented food industry such as making vinegar and miso, and the ceramic industry which uses earth and water. The tour will also cover new moves in agriculture utilizing ecosystem services to the fullest.
Presentations
1.Briefing by Mr. Ryo Kosaka, Associate Professor of Nagoya City University
How is the conservation of biological diversity and its sustainable use closely related with our daily life and mutually interactive? How is each region of Japan trying to tackle this issue, and what is the significance of Nagoya hosting COP10? 
Mr. Ryo Kosaka, Associate Professor of Nagoya City University, will give a briefing on these topics. After graduating from the Agricultural Faculty, University of Tokyo, Mr. Kosaka was Project Officer at the Regional Environmental Centre for Central and Eastern Europe in Hungary. After earning a master's degree in Britain and a PhD in Germany, he was Junior Professional Officer at the United Nations Environmental Programme (UNEP), the Secretariat of the Convention on Biological Diversity (SCBD), from 2006, and assumed his current post in April this year. He specializes in forestry economics and environmental policy.
2.INAX Corporation (Tokoname City)
~Front-runner in environmental management, working on environmental issues from the viewpoint of ecosystem services~
<INAX global website>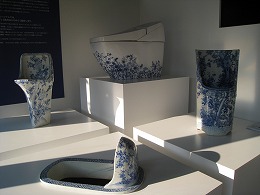 Tokoname City on the Chita Peninsula is known for Tokonameyaki ceramic ware, which dates back to the end of the Heian period (12th century) and has the largest of Japan's six old kilns. INAX Corporation is based in this city of ceramics. It is a leading company in building materials and sanitary fixtures for daily life including bathroom equipment. It is also the world's largest tile manufacturer. The company was established in 1924 as Ina Seito Co., Ltd. and was known as the producer of the outer wall tiles of the original Imperial Hotel.
As a ceramics producer, INAX recognizes that materials like earth and water are a product linked to biological diversity, or ecosystem services, and has set an aggressive reduction target in CO2 output of 80% below the 1990 level by 2050 to achieve a sustainable society. In reducing CO2 output from the kiln in the firing process, they have changed their fuel from kerosene to natural gas, and adopted a regeneration hearth which has enabled effective exhaust heat recovery. They have also produced no waste for landfill since 2000 by recycling sludge and scraps of ceramics. 
In May this year, they established the "Policy for Environmental Diversity." Recognizing that water is indispensable for maintaining biological diversity, they consider the circulation of water and are trying to return the water they have used to nature with the help of the soil, with the perspective of "preserve water and utilize soil."
INAX also sends out employees to give a "water workshop" to primary and the junior high school students to nurture their understanding of biological diversity through water circulation. The employees are also keen to take part-in Satoyama's conservation activities. The tour will visit INAX Live Museum, where you can experience the culture and history of ceramics and soil, and have a briefing on their environmental management.
3.Mizkan Group (Handa City)
~Spirit of vinegar-making still living in the birthplace of kasuzu vinegar, first produced in a challenge against a taboo~
<Mizkan Group global website>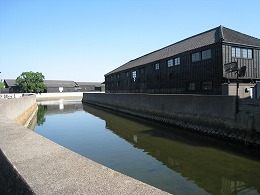 Vinegar has been known for its health benefit including increasing appetite and recovery from fatigue. They have recently found that vinegar is effective for lowering blood pressure and decreasing fat in the internal organs, raising expectations for preventing metabolic syndrome. Komesu, rice vinegar, was brought to Japan from China around the 5th century. It is produced by adding acetic acid bacteria to sake. Another kind, kasuzu started to be produced in the late Edo period and uses sakekasu, or sake lees. Handa City is the birthplace of kasuzu and also where Mizkan, synonymous in Japan with vinegar, was established.
While dealing with his family business of running a sake brewery, Matazaemon Nakano 1st embarked on the challenge of making vinegar out of sakekasu (sake lees) and he established an independent branch of the business in 1804. Back then, producing vinegar in a sake brewing facility was considered to be taboo because acetic acid bacteria, necessary for making vinegar, could possibly turn all the sake into vinegar if they contaminated the sake barrels.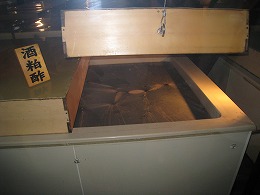 However, using sakekasu would cost less than conventional rice vinegar. Moreover, it gained a high reputation since the flavor and taste of vinegar produced from sake lees goes very well with rice for sushi. At that time in Edo, "Nigiri-zushi (hand rolled sushi)" was becoming a popular fast food. Matazaemon's "kasuzu" caught this trend and his challenge against the taboo eventually produced wonderful results. 
The most delicate process in producing vinegar is quality control of the acetic acid bacteria for making the most out of the natural power of the microorganism. At the Handa factory, where Mizkan originates, the vinegar-making craftsman carefully controls the temperature for an ideal fermentation process by carefully watching the foam on the surface of the liquid caused by the vinegar bacteria.
The tour will visit Handa city, home town of the Mizkan group for 200 years. The beauty of its black-painted wooden walls along the canal and the fragrance of the vinegar is special. This is why it was selected as "Best 100 Kaori (fragrance) landscape" by the Ministry of Environment. At the comprehensive vinegar museum "Su-no-Sato" in Handa city, you can experience the spirit and techniques handed down by generations of vinegar-making craftsmen, and the work of the microorganism.
4. Mr. Shuo Kameyama, Home-grown Kin-goma Producers Network (Agui Town and Hekinan City)
~Saving home-grown sesame, a kind of "endangered species" in the field~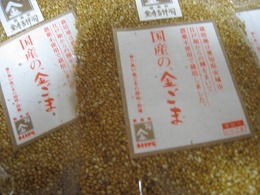 Goma, or sesame, has long played a major role in Japanese food culture as a nutritious material. It has even been found in the remains of the Jomon period (from 14,000 to 300 BC). Currently, however, consumption of sesame in Japan is heavily dependent on imports, and the self-sufficiency ratio is only 0.1%. In this situation, a project to save home-grown sesame, a kind of "endangered species," has started in Aichi Prefecture.
About seven years ago, Mr. Shuo Kameyama, who used to operate a bakery using natural yeast, was interested in finding out where the sesame used on bean-jam buns came from, and found that only 0.1% of the sesame consumed in Japan was home-grown. Lamenting that there is nothing more disappointing than the extinction of agricultural products which are the source of our life, Mr. Kameyama started producing sesame in his home town of Anjo City in Aichi Prefecture. His choice was kin-goma, or golden sesame. The production of kin-goma is very small: only 20 tons out of 170-ton domestic sesame production, but it is quite popular as it contains a lot of oil and has a distinctive flavor. Mr. Kameyama got the native species of kin-goma grown from the Edo period and decided to grow only kin-goma, to avoid cross-fertilization. He also established the Home-grown Kin-goma Producers Network, whose membership has grown to some 50 farmers from Fukushima to Nagasaki Prefectures. The only rules of the network are: not to use any agricultural chemicals and never to kill any bugs or worms in the field. Last year the farmers belonging to the network produced eight tons of kin-goma, and became Japan's "largest kin-goma producing group."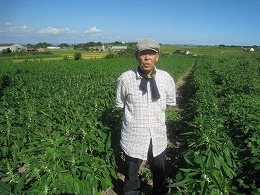 In 2007 Mr. Kameyama established Fukuroku Shoten in Hekinan City and started to produce processed food using sesame. Here again he uses only domestic materials and no chemicals. In cooperation with a local social welfare organization, he is also offering a workplace for mentally handicapped persons.
Mr. Kameyama's activities are now leading to the reutilization of farmland. Itayama District of Agui Town in the prefecture has a problem of "abandoned" farmland caused mainly by the lack of successors. A group of farmers there established the Itayama Environment Preservation Team and are turning such abandoned farmland into sesame fields with the full cooperation of Mr. Kameyama. The tour will take you to Itayama District which has a great view of sesame fields in the agricultural area and talk with Mr. Kameyama and local farmers. You will also visit Fukuroku Shoten and cover the packaging process.
5. Maruya Hatcho Miso Co.,Ltd (Okazaki City)
~Internationally renowned organic food "Hatcho Miso", utilizing natural energy~
<Maruya Hatcho Miso website>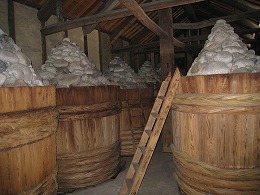 No artificial additives. Its manufacturing process has changed little in the last 300 years. Hatcho Miso, traditionally made soy bean miso, is gaining a high reputation as a nourishing food and is now exported to more than 20 countries. "Hatcho" literally means "eight blocks": the distance between the Hatcho Miso factory and Okazaki castle, where the Shogun Tokugawa Ieyasu was born. This location was ideal for manufacturing miso, as an intersection of the Tokaido trunk road and the Yahagi River, which had the advantages of shipping miso and supplying the raw materials, sea salt and soybeans. Besides the geographical advantage of the Yahagi River, its underground water was also used for the production of miso. All the conditions for miso production existed in this location. The Shogun Tokugawa Ieyasu, who unified Japan during the turbulent era of civil war, lived to the age of 75, exceptionally long-lived for that time. He was known for his frugality and his great care for his health. It is believed that he mainly ate nutritious Hatcho miso and rice mixed with barley. Partly, this may have contributed to his longevity. From that time Hatcho Miso became a favorite food of the Tokugawas.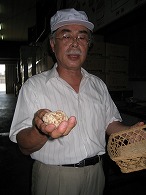 Founded in 1337, Maruya Hatcho Miso is the oldest miso manufacturer in Japan and carries on the traditional taste with 50 employees. The characteristic of Hatcho miso is its traditional way of production. Soybean mash is sprinkled with koji-kin (yeast cells) mixed in a large cedar-wood vat, more than 2 metres high. The vat is then sealed, and about three tons of river stones are placed on top to keep it airtight. Leaving this vat about two years, without adjusting the temperature, will produce a very dense miso without losing any flavor of the soybeans. During this period, nothing but the force of nature is controlling the taste of the miso. There are a couple of vats that have been used for more than 100 years. Some says that a micro organism that lives inside a vat or in a factory adds a distinctive flavor and creates an original flavor for each miso maker. The reason why the vats are directly set on the ground is to borrow power from nature for the fermentation and aging process.
Maruya Hatcho Miso Co.,Ltd has started a "Hatcho Miso Mikawa project", which uses locally grown soybeans and natural water from the same Mikawa district. Also, to preserve the skills of the craftsmen who make the vats, they ordered three new vats for the first time in 70 years. Nobutaro Asai, president of Maruya Hatcho Miso Co.,Ltd, says, "We are not going in the direction of rationalization, but just trying to pass on the exact production method of our ancestors". The tour will interview Nobutaro Asai on his passion for making traditional miso supported by natural energy, in a method unchanged for 670 years since the company's establishment. 
※Aichi-Nagoya COP 10 CBD Promotion Committee, the host, and the Foreign Press Center/Japan, have co-organized this press tour. Tour participants bear part of the cost, but the purpose of the tour is not profit-making.
Tour itinerary and application details:
1. Itinerary:
Tuesday, September 28th 
08:30 Leave JR Tokyo Station by Nozomi 17
10:13 Arrive at JR Nagoya Station
10:40-12:00 Briefing on Biological Diversity by Ryo Kosaka, Associate Prof., Nagoya City University @ Nagoya Congress Center 
13:00-13:45 Lunch
13:45-15:30 Visit INAX Museum
16:15-17:45 Visit Mizkan Group Corporation and Vinegar Museum "Su-no-Sato" 
18:30 Check in at the Westin Nagoya Castle Hotel
Wednesday, September 29th 
09:00 Leave hotel by chartered bus
10:00-12:00 Home-grown Kin-goma Producers Network 
12:15-13:00 Lunch
14:00-15:30 Maruya Hatcho Miso Co.,Ltd
18:00 Leave JR Nagoya station by Nozomi 248
19:43 Arrive at JR Tokyo station
2. Qualification: Bearer of Gaimusho foreign press registration card
3. Expenses: 13,000 yen per person including transportation, meals, and accommodation
* FPC will later inform the participants of methods for payment, cancellation fee etc.
4. Participants: Limited to the first ten applicants on a first-come first-served basis. (Only one reporter and one photographer from each company, but two participants from each TV team will be acceptable.)
5. FPCJ Contact: Mr. Yano and Mr. Yamaguchi (Tel: 03-3501-3405, 5251)
6. Remarks: 
* Aichi-Nagoya COP 10 CBD Promotion Committee, the host, and FPCJ, will not be liable for any inconvenience, trouble or accident that might occur in the course of the tour.
**There are some restrictions on photographing and filming at the tour sites. Please follow the instructions of the officials on duty.