Date : September 8, 2010
Notice: Sendai Press Tour (September 8, 2010)
post date : 2013.08.22
-Disseminate creative local industries from Greater Sendai to the world-
Challenges for the international recognized creative city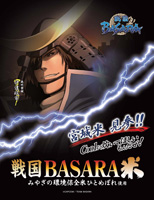 The creative industry catalyzed by art and culture has drawn much attention as a new movement by Sendai City and also by the national government. The Ministry of Economy, Trade and Industry drew up a strategic plan this April calling for making Japan a superpower in terms of its cultural industry to boost its export of items named"Cool Japan" such as animation, games and fashion. Miyagi Prefecturehas also been promoting its local industry by producing original local animation as well as cartoon character-related merchandise.
In this tour you will have opportunities to discover how the City of Sendai promotes its unique and appealing culture from Greater Sendai to Japan and to the world by covering the city and prefectural policies, local creators and enterprises. 
photo: ©CAPCOM/TEAM BASARA
***********************************************
Sendai City is the only government-ordinance-designated city in the Tohoku region, and the city has been developed as the center of the Tohoku economic zone. The city has the character of no strong local industry, and its economy largely depends on branch offices of Tokyo-based major corporations. Developing its own industry has been one of the great challenges for the city for many years. To solve these problems, Sendai has been promoting new academic-industrial business, and human resources development. The city has produced successful results in the fields of health and welfare business by launching the"Sendai-Finland Wellbeing Center Project" with the aim of enabling the elderly to live independently in preparation for the aging of society. MEMS (Micro Electro Mechanical Systems) research, which was started in Tohoku University, has also achieved great results. In recent years automotive-related industries have been forming numerous clusters in the Tohoku region in cooperation with neighboring prefectures. There are a number of encouraging signs such as the progress of establishing an industry and academia center, and research projects from Greater Sendai.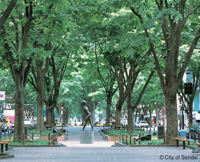 The creative industry catalyzed by art and culture has drawn much attention as a new movement by Sendai City. In 2006 the city's creative industry, especially in the fields of music, architecture, film and video, accounted for approx. 6% of all industries, which is number three after Tokyo and Fukuoka City. Sendai City is also known as the "City of Music" and a number of musical and cultural events are organized by citizen volunteers throughout the year. Various new efforts and projects are now in progress with the aim of revitalizing the city, developing human resources and local brand-building in the creative industry from Greater Sendai and the Tohoku region. 
In 2007 the Sendai Creative Cluster Consortium was founded by an academic-industrial alliance with the idea of creative industry cluster formation. The creative sharing office "TRUNK" was opened this February in Oroshi-machi, Sendai City, where creative related business such as design, architecture, video image and fashion are concentrated. The City of Sendai has established an Internet portal site, "Creative Anthology Sendai" introducing creators who work in the photography, software, game, fashion design, and other creative business. This unique government-led approach was started with the idea of introducing individual creators as "a group of creators", because many creators are small-scale, and do not belong to any kind of industry organization. The city has a hope that the site will faciliate successful business matchmaking between creators and enterprises. 
Creative industry promotion is a new approach not only of Sendai but of the national government. The Ministry of Economy, Trade and Industry drew up a strategic plan this April calling for making Japan a superpower in terms of its cultural industry to boost its export of items named "Cool Japan" such as animation, games and fashion. Miyagi Prefecture has also been promoting its local industry by producing original local animation as well as cartoon character-related merchandise.
In this tour you will have opportunities to discover how the City of Sendai promotes its unique and appealing culture from Greater Sendai to Japan and to the world by covering the city and prefectural policies, local creators and enterprises. 
*This press tour is sponsored by the Foreign Press Center/Japan with the support of Sendai City. Tour participants bear part of the cost, but the FPCJ does not make profit from the tour.
Animation Industrial Promotion by Miyagi Prefecture
"Sengoku Basara"(Devil Kings) is a series of action video games starring Sendai's great Samurai, Date Masamune, as one of the main characters. In 2009 the video games were made into an animated TV series."Sengoku Basara" triggered a Warring States boom among young women and the coined word "Rekijo", women who are enthusiastic about history. The number of tourists who visit places connected into the game throughout Japan has been rising, and the sales of character related merchandise has become a big hit as well.
The prefectural government has been working on projects to boost the local economy and tourism helping local business toexpand merchandise in collaboration with the animation production company. The government held a sales promotional seminar for local enterprises last February. This seminar had positive effects on local business. The product lineup consists of a variety of items, ranging from food products such as beer, rice, and Sendai's specialty "Sasakamaboko", bamboo-leaf-shaped fish cake, to postcards made using Miyagi's traditional craft, "Tamamushinuri" techniques. The total sales amount from April to December 2009 reached 100 million yen. This new challenge aims at a fusion of "new contents" business and local industry. When the TV series "Sengoku Basara II" started on air this July regional development is expected to expand more.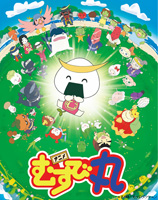 Miyagi Prefecture started the Miyagi Sendai Animation Grand Prix last year to promote Miyagi as Tohoku region's contents business hub. As for making it the center of the animation industry, the prefectural government succeeded in welcoming the Tokyo-based Asahi Production, known for their Mobile Suit Gundam, to Shiroishi City this April. There are eight universities and technical colleges which have anime-related departments and courses in the prefecture; however, they do not have animation production in the region. To solve the talent drain to the metro area they introduced a plan to build a hub for the animation industry, and improve the local development as well. Miyagi Prefecture also has an idea of producing their own anime from the prefecture. "Musubimaru", the prefectural tourism promotion character, was born with this idea. They also produced this character in TV animation in the Shiroishi Studio and hired most of the creators from the prefecture. Their goal is to create new youth employment.
photo: ©Miyagi Prefecture, Asahi Production
The prefectural government officials will tell you about their animation industry promotion.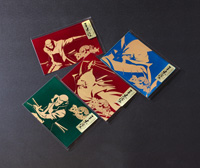 Tohoku Kogei Co. Ltd.
http://www.t-kogei.co.jp/index.html
Tamamushi lacquer ware was developed in 1932 as a part of national craft training. Tamamushi lacquer ware is made with a special patented technique, coating the surface with silver powder, which gives a beautiful shining color to products. Tamamushi lacquer ware was named after "Tamamushi", the jewel beetle, because of this unique iridescent luster.
In 1933 Tohoku Kogei was established in cooperation with the National Industrial Art Research Institute (NIARI) and Research Institute for Iron, Steel and Other Metals (RIISOM) which was initiated in Tohoku Imperial University. Since the company received the patent for the Tamamushi technique in 1939 Tohoku Kogei has been making Tamamushi lacquer ware, one of the traditional crafts of Sendai. Tamamushi lacquer ware became an important product for export after World War II and many American soldiers took their products home as souvenirs. The wife of General MacArthur visited their store in 1949. Most of the products have traditional patterns, which mainly attracts people aged 50-60. How to attract young customers has been their big challenge for many years. The turning point came when they participated in a sales promotion seminar using animation characters last February. Tohoku Kogei started making "Sengoku Basara" postcards, and sold 10,000 postcards in three months since last July. The postcards have made a great contribution to promoting the name "Tamamushinuri".
This tour will take you to the factory following a briefing on the process of starting making anime related products.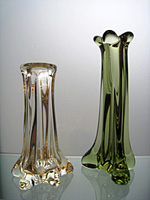 Kaiba Glass Works
Founded in 1996, Kaiba Glass Works is the workshop of a glass artist, Mr. Koji Murayama. "Sendai Glass Project" selected by the 2011 support project of Sendai Creative Cluster Consortium (SC3*) is in progress. The scheme of this project is making glass products using sand from the Hirose River in Sendai on an industrial basis. Mr. Murayama has introduced "Sahara Glass" with his original technique using the sand from the Sahara Desert in Morocco for the first time in the world. Mr. Murayama is dedicated to the "Sahara Glass" project with the philosophy of "environmental crafts", which considers the environment surrounding the glass-making process as well as the material. One of his pieces was presented to the Kingdom of Morocco.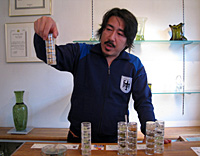 When Mr. Murayama visited the Sahara Desert he thought about what he could do as an artist, and came up with the idea of "environmental crafts", and producing glass crafts with the sand of the Sahara Desert. He says his goal is to make this project a business model for the tourism industry in a desert area, and it leads an opportunity for all the 47 desert areas around the world to build such workshops.
*SC3 provides support for creators and creative industry. SC3 is an academic-industrial organization that contributes to forming a creative industry cluster in Sendai with the goal of solving urban and social issues by a creative approach.
Shoukeikaku
The "Shoukeikaku" restaurant was built in 1905 as a residence of the Date Clan. When the Showa Emperor was on a tour to the Tohoku region in 1947 he stayed there, and Shoukeitaku was temporarily used as the diplomatic office for the governor. In 1983 it was moved from central Sendai, and restored in its current location, which is in the southwest of central Sendai in a place called Shibaniwa. When the present Emperor and Empress attended the National Tree-planting Ceremony in 1997 they stopped at Shoukeikaku for a rest. It is the city's designated tangible cultural heritage and is known to the citizens as a valuable asset.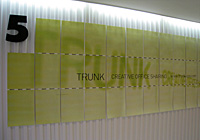 TRUNK, creative office sharing
In February 2010 the creative sharing office "TRUNK" was opened in Oroshi-machi, Sendai with the goal of creating a new business model and lifestyle in a collaboration of creativity, technology and art. The building was used as a business hotel until three years ago. There are now 32 residents in TRUNK, which was built to create a better regional community by sharing the knowledge and skills of creators such as artists, architects, and web creators.
"GloNet", one of the events of the world famous media art festival "Future Everything", was held in TRUNK on May 13th. "GloNet" was an international networked event which took place in five cities around the world (Manchester, Sao Paulo, Vancouver, Istanbul and Sendai). Sendai was singled out because of its vigorous activities in the creative industry such as visual images and music. 
One of the city's new approaches toward creative industry promotion is the opening of the Internet portal site, "Creative Anthology Sendai" which was established this April, and approx. 140 creators have registered so far. The concept of the site is that companies can easily find any kind of creators and contact them individually for starting up a new business. Their goal will be to increase the registered creators to 300 by the end of next March, and build up an English site for overseas clients in the future.
You will have a briefing on the creative industry promotion by the city officials, and you will have an opportunity to interview creators from TRUNK.
*The contents of the coverage at TRUNK may be changed.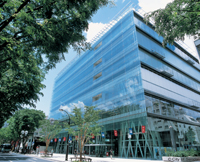 Sendai Mediatheque
http://www.smt.city.sendai.jp/en/smt/
Opened in January 2001, Sendai Mediatheque is a cultural-arts complex on Jozenji Dori Avenue in central Sendai. The center is located in a trendsetting spot for arts and film culture surrounded by art-related stores and companies. Sendai Mediatheque welcomes more than one million visitors every year, and it greatly contributes to the city development.
Highly-respected Sendai Mediatheque was designed by the world recognized architect Mr. Toyo Ito. This seven-story above ground and two below building is composed of six floor slabs and 13 independent steel-ribbed shafts without walls. The architectural concept is basically the same as the traditional Japanese-style house, which is built with poles, but this building is beamless using the shipbuilding skills of craftsmen from Kesennuma, a major port off the Sanriku Coast, one of three major international fishing ports. Combined with their advanced operational principles, which are "cutting edge, node and barrier-free", and this unique construction technique and design, draw attention from not only architecture related business people but domestic and overseas tourists. Ms. Okuyama, Mayor of Sendai, served as the first director of this center.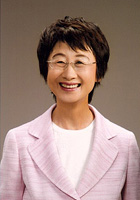 Interview with Ms. Emiko Okuyama, Mayor of Sendai
http://www.city.sendai.jp/index-e.html
Born in Akita City in 1951, Ms. Okuyama joined Sendai City Hall after graduating from the faculty of Economics at Tohoku University in 1975. After holding prominent positions such as Director, Women Planning Section of the Living Environment and Cultural Department, Director of Sendai Mediatheque, Deputy Director General, Community Affairs Bureau, and Superintendent, Sendai City Board of Education, Ms. Okuyama became Deputy Mayor of Sendai in 2007. 
In 2009 she was first elected Mayor of Sendai City and became the first female mayor of a government-ordinance-designated city.
Sendai City, known as the "City of Academia", has more than ten universities with over 70,000 students. The proportion of students to the population is the fourth largest among the government-ordinance-designated cities after Kyoto, Tokyo's 23 wards and Fukuoka, and also the proportion of grad students to the population is second only to Kyoto. Globally competitive R & D research institutions including Tohoku University greatly contribute to promoting new industries and attracting enterprises.Sendai is one of the most important academic cities in Japan.
Music is another word that represents the character of Sendai. The "City of Music" yearly holds a number of music and cultural events, and the city is now holding the 4th Sendai International Music Competition, which has been held every three years since 2001.
"APEC Japan 2010 SOM III" is scheduled to be held in Sendai this September, and "2010 APEC Sendai Supporting Council" was launched with Mayor Okuyama as the chairman in April. Sendai in collaboration with related local organizations, is now gearing up to welcome the upcoming meeting by providing a variety of attractive information from Sendai and Miyagi.
This press tour presents an opportunity to have an interview with Ms. Okuyama at Sendai Media Mediatheque, where she served as its first director.
Tour itinerary and application details:
1. Itinerary
Wednesday, September 8th
07:36 Leave JR Tokyo Station by Hayate 3
09:17 Arrive at Sendai Station
09:30-10:00 Briefing from Information Industries Promotion Division, Policy Planning department, Miyagi Prefecture, on prefectural measures for animation/contents business promotion (on the bus to Tohoku Kogei)
10:00-11:00 Tohoku Kogei Co. Ltd. (Tamamushi Lacquer Ware)
11:30-12:45 Kaiba Glass Works
13:15-14:00 Lunch at Shoukeikaku
14:30-16:00 Briefing by Economic Affairs Bureau, City of Sendai, on the City's measures for creative industries promotion at TRUNK
(Including Q & A and interview with creators at TRUNK)
16:30-17:00 Sendai Mediatheque
17:00-17:15 Presentation by Ms. Emiko Okuyama, Mayor of Sendai
17:15-18:00 Q & A
18:47 Leave Sendai for Tokyo by MaX Yamabiko 128
20:56 Arrive at Tokyo Station
2. Qualification: Bearer of Gaimusho foreign press registration card
3. Expenses: 5,000yen per person including transportation and meal.
* FPC will later inform the participants of methods for payment, cancellation fee etc.
4. Participants: Limited to the first 10 applicants on a first-come first-served basis.
* Only one reporter and one photographer from each company, but two participants from each TV team will be acceptable.
5. FPCJ Contact: Mr. Yano and Ms. Suzuki (Tel: 03-3501-5070)
6. Remarks: 
*Sendai City, Miyagi Prefecture and FPCJ will not be liable for any inconvenience, trouble or accident that might occur in the course of the tour.
**There are some restrictions on photographing and filming at the tour sites. Please follow the instructions of the officials on duty.