Date : July 23, 2010
Notice: Yokohama City Press Tour vol. 2 —World-Class Yokohama's Water (July 23, 2010)
post date : 2013.08.22
< Yokohama City Press Tour vol. 2 >
Yokohama's Water - Getting Worldwide Recognition with its High Quality and Technology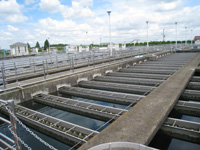 In 1887, Yokohama City started to use a modern waterworks system where water is filtered after sedimentation and sent under water pressure through iron pipes.
The water purification plant of Yokohama has an international standard ISO9001 quality management system and controls quality strictly. The city water delivered to citizens has certified-laboratory international standard ISO/IEC17025 and has confirmed the high technical level by water quality tests.
Yokohama's official water "Hamakko-Doshi The Water", packs the limpid water of the Doshi river (Yamanashi Prefecture) which is the water source of Yokohama, enjoys the greatest sales of water bottled by a local government; they claim that its quality "does not deteriorate even if it crosses the equator".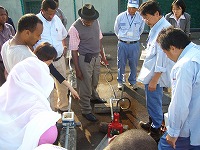 The Yokohama Waterworks Bureau supports developing countries with its technical knowledge and experience gained over the years. Since they sent their first expert to Afghanistan in 1973, it has been transferring water supply engineering technology by sending experts overseas and accepting trainees from overseas. 
On the other hand, Yokohama's water usage and its income from it tend to decrease because of the spread of recent development of environmental technology and environment-conscious living. 
Yokohama will establish a new company named "Yokohama Water Corporation" (tentative translation) to promote water business (July 2010) to reinforce the business infrastructure for future water projects in the city, utilizing the technology and know-how that the Waterworks Bureau has cultivated in its long history. It will contribute to solving both the domestic and international problems of water-supply corporations and will ensure new revenue.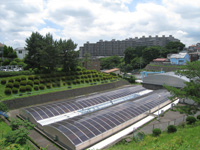 In this tour, you will visit Nishiya Purification Plant which can purify water 356,000 cubic meters of water a day (about 1.1 the capacity of Yokohama Stadium) and reaches a high level of water technology. You will cover about Yokohama City's international contribution activities which utilize its water technology and its new water business.
Go to the Yokohama Waterworks Bureau's Website
【Tour itinerary and application details】
1.Itinerary (Tentative) : Friday, 23 July, 2010
08:30 Meet at JR Kan-nai Station of Keihin-Tohoku Line (South Exit, in front of Yokohama City Hall)
(Move by charterd bus)
08:50 Arrive at Nishiya Purification Plant
09:00-09:30 Briefing on "Yokohama's Water" 
09:30-10:30 Tour of the purification plant 
10:30-11:30 Tour of the photovoltaic power generation facilities and the sludge recycling plant 
11:30-12:00 Briefing on Yokohama Waterworks Bureau's international contribution activities and introduction of Yokohama Water Corporation
Wrap up and disperse
2.Qualification: Bearer of Gaimusho Press Registration Card
3.Participants: Limited to the first 10 applicants on a first-come first-served basis. 
(Only one reporter and one photographer from each company, but two participants from each TV team will be acceptable.)
4.FPCJ Contact: Ms.Koizumi and Ms. Yamada (Tel: 03-3501-5070)
5.Remarks: 
(1) There may be some restrictions on photographing and filming at the tour sites. Please follow the instructions of the officials on duty.
(2) FPCJ and the City of Yokohama will not be liable for any inconvenience, trouble or accident that might occur in the course of the tour.