Date : July 30, 2010
Notice: Yokohama City Press Tour vol. 3 —Creative City Yokohama (July 30, 2010)
post date : 2013.08.22
< Yokohama City Press Tour vol. 3 >
People moves Yokohama - Creative City of Art and Culture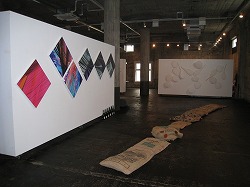 The human creativity that is most prominently exhibited in the cultural and artistic realm gives us strength when we face up to the anxieties and difficulties in individual life and when we tackle such global issues as environment, peace and living in harmony.
For a city like Yokohama, culture and art are something not only to enrich citizens' lives but also to empower the city itself and enable it to be internationally competitive. Based on this thought, Yokohama has advocated a new vision called "Creative City Yokohama" and promotes the citizen-led designing of a city of art and culture.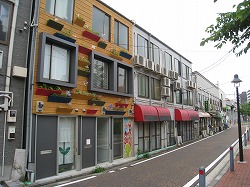 The city is making efforts to produce an ideal environment for artists and creators to live and work by securing studios and ateliers as their production bases in the central area of Yokohama.
It also renovates old buildings constructed some time between the Meiji and early Showa period (1868 to around 1930s) and utilizes them in the fields of audiovisual art and culture, such as theaters and galleries. 
 The city also actively collects creative businesses, by establishing clusters, in order to vitalize the local economy and nurture and support young talents.
This tour will start from Yokohama Creative City Center, visit BankART Studio NYK, and explore the Hatsuko-Hinodecho area, a former red-light district being given new life through art. We will also meet some local artists/creators/activists and learn about the concept and various aspects of the Creative City Yokohama. 
【Tour itinerary and application details】
1. Itinerary(Tentative): Friday, 30 July
13:00 Meet at Yokohama Creativecity Center
 Briefing on "Creative City Yokohama"
13:45 Visit "Bank Studio NYK" and meet artists/creators in residence
15:00 Visit the Hatsuko-Hinodecho area
17:00ish Wrap up and disperse
1.Qualification: Bearer of Gaimusho Press Registration Card
2.Participants: Limited to the first 10 applicants on a first-come first-served basis. 
(Only one reporter and one photographer from each company, but two participants from each TV team will be acceptable.)
3.FPCJ Contact: Ms. Koizumi and Ms. Yamada (Tel: 03-3501-5070)
4.Remarks: 
(1) There may be some restrictions on photographing and filming at the tour sites. Please follow the instructions of the officials on duty.
(2) FPCJ and the City of Yokohama will not be liable for any inconvenience, trouble or accident that might occur in the course of the tour.