Date : June 26 - 27, 2013
Notice: Minamata Press Tour "Polluted City Turns to Eco-Capital of Japan" (June 26-27, 2013)
post date : 2013.08.22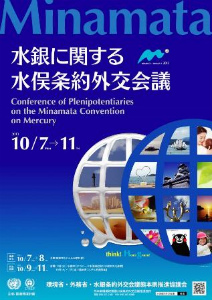 This October, Kumamoto City and Minamata City in Kumamoto Prefecture will host a diplomatic conference for the adoption and opening for signing of a new convention to control the production of and trade in goods containing mercury, which is hazardous to human beings. The title of the new convention, the "Minamata Convention on Mercury," conveys the "No more Minamata disease" message, a commitment that never again shall the destruction of human health and the environment by mercury that occurred in Minamata happen anywhere in the world. The conference is expected to have about 800 participants, including senior government officials from 140 countries. 
Minamata disease, which awakened the world to the horrors of illnesses caused by mercury pollution, is a neurological disorder caused by repeatedly eating fish and shellfish contaminated by the methyl mercury that had been released into the sea by a chemical factory. Since the disease's official discovery in 1956, patients have long suffered from discrimination and prejudice as well as the disorder itself. 
A turning point came in the 1990s. In 1992, Minamata City issued a Declaration on the Construction of a Model Environmental City, learning from the lessons of Minamata disease and working to build an environmentally friendly city. Two years later, the mayor, Masazumi Yoshii, made the first official apology to Minamata disease victims. Using the slogan "Moyai Naoshi" ("repairing social bonds," a phrase coined from moyou, meaning to tie boats together), the mayor called on Minamata residents to reunite in revitalizing the local community. Responding to the mayor's call, citizens started working on recycling trash, while a growing number of local farmers began to focus on farming without the use of pesticides and artificial fertilizers. As a result, Minamata was designated by the national government as an Environment Model City in 2008 and was also honoured as the first Eco-Capital of Japan in an annual contest held by an environmental NGO in 2011. Some of its local specialties are now becoming brands, recognized as safe and reliable products.
How could Minamata City, which was once called "pollution-afflicted city," be reborn as an Eco-Capital of Japan? This press tour will cover the efforts made by the local government, residents, and corporations to overcome the tragedy of Minamata disease, a negative legacy of Japan's high economic growth period. 
*Kumamoto Prefecture and the FPCJ will jointly plan and operate this press tour.
*Tour participants will bear part of the cost, but the tour is not a profit-making operation.
===================================================================
<Presentations>
1. The Minamata Disease Municipal Museum
http://www.minamata195651.jp/guide_en.html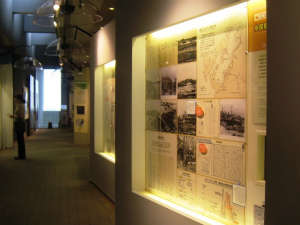 Minamata City established the museum in 1993 to hand the lessons of Minamata disease down to posterity so that such tragic pollution will never be repeated anywhere in the world. It is adjacent to Eco-park Minamata, land reclaimed after mercury-polluted Minamata Bay was dredged. In the museum, panels and photographs present an overview of Minamata disease and its history. Visitors can also hear Minamata disease victims and their family members talk about their experiences. A special exhibition, "Let us rid the world of mercury pollution," is currently being held. It includes a mercury pollution map of the world that depicts very clearly how the world is contaminated by mercury. 
*Tour participants will watch a short video to gain a general understanding of Minamata disease before exploring the museum with a museum staff member as guide.
2. Soshisha, the Supporting Center for Minamata Disease
http://www.soshisha.org/en/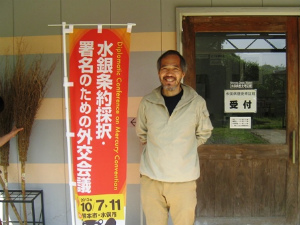 Soshisha was established in 1974 by Minamata disease patients, their families, and their supporters, with a view to assisting patients in their daily lives and to support their movement to receive compensation. Standing in the vanguard in working for Minamata victims, in the past Soshisha engaged in intense confrontations with the government and with Chisso Corporation, the chemical manufacturer responsible for Minamata disease. At present, it is engaged in activities to provide the world with information on the disease and is cooperating with the city in community planning that makes use of the lessons of Minamata disease. Mr. Kunio Endo(photo, right), an executive board member, does not hesitate to say that the expansion of the damage due to belated official recognition of Minamata disease was a "crime perpetrated by the Japanese government and Chisso Corporation." He also appreciates, however, the complicated social context in which Chisso Corporation and its employees were situated. The Soshisha facilities include the Minamata Disease Museum, which was converted from a structure for raising mushroom, built to provide a place for patients to work. The museum's displays include the actual hut for experiments on cats (photo, left) used to discover the cause of the disease and a variety of precious documents that tell the history of the patients' conflicts with the government and Chisso Corporation. In the past, there were also conflicts among the victims. "The same thing has been happening in Fukushima Prefecture after the Great East Japan Earthquake," says Mr. Endo. His remarks are thought provoking.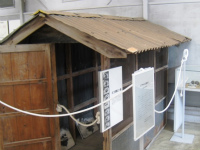 *Tour participants will visit the Minamata Disease Museum and receive a briefing by Mr. Endo on the societal context in which the disease developed and the suffering spread; confrontations between local residents and the administration and Chisso; and the process of the city's revitalization. You will also talk to a Minamata disease victim. 
3. Minamata Mayor Katsuaki Miyamoto
~Environmentally Friendly City-building in Minamata~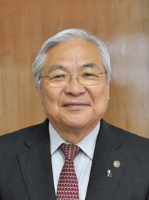 Efforts for the rebirth of Minamata City have begun not from "crying for the moon" but from "exploring what it has," rethinking the distinctive characteristics of the city and making effective use of them. A good example is the city's thorough approach to trash recycling, possible only for a small municipality as Minamata. Trash is sorted into 24 categories, including bottles sorted by color, and most of the trash is recycled. Minamata city has established a system that designates local producers engaged in making things that are environmentally friendly or beneficial to health as "Eco Meisters." The city is helping local farmers promote their products such as tea, amanatsu (sweet Chinese citrons), and salad onions grown with little or no agricultural chemicals, to turn them into brand-named products. It also emphasizes environmental studies programs that only a city that has experienced severe pollution could offer. The programs include Minamata Environment University, which takes the whole of the city as its campus, and the Minamata Environment Academy, which aims to educate people who will be engaged in environmental conservation. Introducing its "school version environmental ISO," the city has been helping children develop an environmentally friendly mind set: If no one is in the classroom, turn off the lights, for example, or use a bucket of water when cleaning. 
Mr. Miyamoto, now on his second term, issued an emergency message after the Great East Japan Earthquake on damage to Fukushima Prefecture caused by unfounded rumors. Knowing how much discrimination and prejudice Minamata citizens faced in the past, he blew the whistle on the prejudice, discrimination, groundless accusations, and slanders about Fukushima evidenced domestically and internationally. 
Mayor's profile :Born in Kumamoto city in 1943. After serving as a junior high school teacher and principal at elementary and junior high schools, and Minamata City's superintendent of schools, he was elected mayor in 2006.
*Tour participants will be briefed by Mr. Miyamoto on environmental policies for the rebirth of the city, his outlook on community planning, and his passion for the diplomatic conference in October. The tour will then go to one of the 300 garbage collection centers in the city to see how garbage is sorted by the "Minamata method."
4. Eco-Meister Hajime Sugimoto of Sugimoto Suisan, Ltd.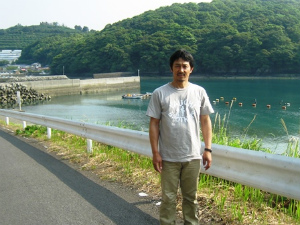 Mr. Sugimoto, who produces additive-free iriko and chirimen dried fish, has been recognized as an Eco Meister by Minamata City. Born into a family that runs a fishery, he lost his grandparents to Minamata disease and was raised by parents who were hospitalized repeatedly for the same disease. Since the cause of the disease was then unknown, the family was severely discriminated against or carrying what was regarded as a bizarre and possibly contagious disease. Mr. Sugimoto, who ran away from home to Okinawa in his teens, says, "I loathed Minamata." He found work in Tokyo, but returned to Minamata with his family in his thirties. In addition to fishery, he is now engaged in a variety of activities in his hometown, including entertaining as a member of Yauchi Brothers, a locally-based comedy troupe and testifying a storyteller at the Minamata Disease Municipal Museum. His parents, Takeshi and Eiko Sugimoto, were plaintiffs in the first lawsuit for Minamata disease certification. Despite poor health, they have continued, as storytellers themselves, talking about the tragedy of Minamata disease and working to help other patients. "We who were unintentionally fed poison should not let others eat poison": that was the fierce commitment that led Mr. Sugimoto's parents to begin growing organic mandarin oranges and producing additive-free iriko dried fish. Mr. Hajime Sugimoto has inherited their passion.
*Tour participants will be briefed by Mr. Sugimoto on the history of his family's battle with Minamata disease and will observe how additive-free iriko dried fish are produced. 
5. Eco-Meister Kazuya Matsumoto of the Sakurano-en Tea Plantation

The Matsumoto family has managed a tea plantation since 1927. The family went through difficult times due to Minamata disease, which generated unfounded rumors about Minamata City and stopped people from buying tea and other products from there. Mr. Kazuya Matsumoto, the third generation head of the family, began cultivating tea without using agricultural chemicals 23 years ago, even though the attractiveness of tea plants to harmful insects makes it commonly thought that growing tea without pesticides is impossible. Nine years ago, he also started cultivating tea naturally, without using either agricultural chemicals or fertilizers. Mr. Matsumoto's shift to natural farming is based on his belief that, as a farmer who has experienced devastating environmental pollution, he should produce safe, reliable tea. Mr. Matsumoto has said that in the past, he did not have the courage to say, "This is tea from Minamata." But he is now proud of his products, saying "Natural farming is a method of which we can boast to the world." Tea from the Sakurano-en is exported to Germany, France, and the United Kingdom. 
*Tour participants will visit the Sakurano-en tea plantation, where Mr. Matsumoto will talk about how he overcame the damage caused by unfounded rumors, how he came to begin natural farming, and what special qualities his products have. You will also taste delicious tea served by Mr. Matsumoto. 
6. Minamata Factory of Chisso Corporation (JNC Corporation)
Chisso Corporation:http://www.chisso.co.jp/english/index.asp
JNC Corporation:http://www.jnc-corp.co.jp/english/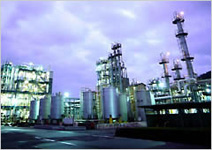 The Minamata factory of JNC (Japan New Chisso) Corporation was formerly operated by Chisso Corporation; the dumping of mercury-tainted water from it is regarded as having caused Minamata Disease. In March 2011, Chisso spun off its business operations to its newly established main subsidiary JNC. 
Behind the failure to prevent the disease from spreading is the fact that during Japan's high economic growth period, Chisso was playing an important role in one of the country's key industries, and its Minamata factory was greatly benefiting the local economy in terms of employment and tax revenues. Even today, visitors will find the presence of Chisso (now JNC) in Minamata City overwhelming when they go into its 500,000-square-meter factory producing liquid crystals, electronic components, and fertilizers with the latest technologies. As a company rooted in the local community, JNC recently has focused on research and development on environment and energy technologies utilizing local resources. For example, the company has developed body-care products using oil extracted from orange peel and is now working on production of bioethanol from local bamboo. A company official says even sweetfish, which are said to live only in clean rivers, now can be found swimming in the factory's drainage ditch, which was once polluted by mercury. 
*Tour participants will visit the Minamata factory of Chisso Corporation (now JNC Corporation) to learn about the roles of the company in reviving the local community and its environment. You will also tour the factory. 
7. Kumamoto Governor Ikuo Kabashima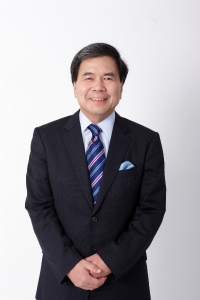 Since assuming office in 2008, Governor Kabashima has been tackling Kumamoto Prefecture's chronic problems including fiscal reconstruction, controversy over the construction of Kawabegawa dam, and compensation for Minamata disease victims. By working hard to persuade lawmakers in the ruling and opposition parties to understand the problem, he succeeded in securing the passage of the Act on Special Measures for Relief of Victims of Minamata Disease. At this year's memorial ceremony for Minamata disease victims, Governor Kabashima said, "The role of the diplomatic meeting in October will be to send the 'Never repeat the Minamata disease tragedy' message throughout the world". 
Governor's Profile: Born in Kumamoto Prefecture in 1947. Went to the U.S. for study while working at a local agricultural cooperative. Received his doctorate in political economics at Harvard University. After serving as a professor at the University of Tsukuba and the University of Tokyo, he became governor of Kumamoto Prefecture. He is now in his second term.
Act on Special Measures for Relief of Victims of Minamata Disease: Enacted in 2009, this law is designed to provide relief for those who do not meet the standard required to be certified as Minamata disease patients according to the existing "Law concerning Pollution-Related Health Damage Compensation and Other Measures." The new Act regards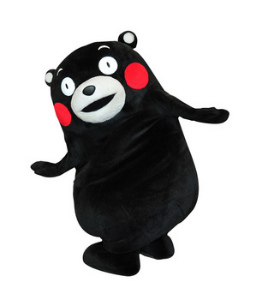 those peoples as victims of the disease as well and stipulates that they shall be provided all possible relief. 
*During the tour, Governor Kabashima will talk about his enthusiasm for the diplomatic conference on the Minamata Convention scheduled for October as well as other topics. You will also meet "Kumamon," Kumamoto's ursine promotional character, which won a popularity contest among other local moscots in 2011. Kumamon is now so popular that he is scheduled to take in the Japan Expo in Paris in July, and when German toymaker Steiff put "Teddy Bear KUMAMON" on sale, it sold out in a few seconds.
< Tour itinerary and application details >
1. Itinerary (Tentative):June 26 (Wed.) and 27 (Thu.), 2013
Day 1:
7:30 Meet at Tokyo Haneda Airport 
8:10 Leave Tokyo Haneda Airport
9:55 Arrive at Kumamoto Airport
10:10-12:00 Move by chartered bus 
12:00-12:40 Lunch at Fukuda Firm
13:00-13:45 Minamata Disease Municipal Museum
14:00-15:45 Soshisha, the Supporting Center for Minamata Disease
16:15-18:00 Courtasy Call to Mayor of Minamata City
18:30 Arrive at Hotel "YUNOKO UMI TO YUYAKE" 
Day 2:
8:00 Leave Hotel
8:30-9:30 Sugimoto Fishery 
10:15-11:15 Sakurano-en Tea Plantation
11:30-12:30 Lunch at Tsuruno-ya
13:00-14:15 Chisso(JNC) Minamata Factory 
14:15-16:00 Move by chartered bus
16:00-17:00 Courtesy Call to Governor of Kumamoto Prefecture
18:15 Leave Kumamoto Airport
19:50 Arrive at Tokyo Haneda Airport
2. Qualification: Bearer of Gaimusho Press Registration Card
3. Cost: 20,000 yen per person including transportation, meals and accommodation
* FPCJ will later inform the participants of methods for payment, cancellation fee etc.
4. Participants: Limited to 10 applicants. 
(Only one reporter and one photographer from each company, but two participants from each TV team will be acceptable.)
5. FPCJ Contact: Ms. Shinobu Ishikawa (Tel: 03-3501-3405)
6. Remarks: 
(1) Tour participants can interview Governor Kabashima and Mayor Miyamoto when making a coutesy call. 
(2) There may be some restrictions on photographing and filming at the tour sites. Please follow the instructions of the officials on duty.
(3) FPCJ and Kumamoto Prefecture will not be liable for any inconvenience, trouble or accident that might occur in the course of the tour.