Date : April 20 - 21, 2010
【Press Tour】20-21 April, 2010: "Food Niigata" Works on Safe and Secure Agriculture, and Disaster Food
post date : 2013.08.22
"Food Niigata" Works on Safe and Secure Agriculture, and Disaster Food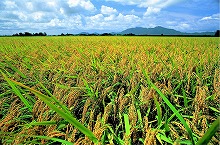 Having prospered as a seaport town, Niigata is a highly urban functional city with a rich natural environment. Facing the Sea of Japan, the city is blessed with water resources including the Shinano River, the Agano River, and the Fukushima-gata tideland, and rice paddies, making the city known for its large production of food such as rice, vegetables, fruits, and other agricultural products. This press tour will cover people involved in agriculture, attractive Niigata food, advanced measures in food supply, and a vision of the urban city. 
***********************************************
Having prospered as a seaport town, Niigata is a highly urban functional city with a rich natural environment. Facing the Sea of Japan, the city is blessed with water resources including the Shinano River, the Agano River, and the Fukushima-gata tideland, and rice paddies, making the city known for its large production of food such as rice, vegetables, fruits, and other agricultural products. With a population of 810,000, Niigata is also a largest hub city on the Japan Sea coast of Honshu mainland, and is expected to further develop as a gateway to East Asia.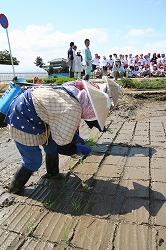 On October 16 and 17 this year, Niigata will host the APEC Ministerial Meeting on Food Security. As the largest rice producing area, Niigata City's food self-sufficiency ratio was 63%, the highest in 17 ordinance-designated cities in Japan in 2005. The ratio for Niigata Prefecture was 99% (2007), outstandingly high compared with the national average of 41% (2008), one of the lowest in the developed countries. The national government recently decided in the cabinet meeting the basic program on food, agriculture, and rural area, in which self-sufficiency ratio target by 2020 is set at 50%, and Niigata is expected to play a major role in achieving this goal. Rising food prices and global warming are making food security an urgent issue to be tackled with. 
Many people in Niigata are involved in agriculture in various forms, and they are working hard to produce and deliver safe and tasty food. Having experienced two major earthquakes in 2004 and 2007, Niigata is leading Japan in the field of food supply at times of natural disaster. This press tour will cover people involved in agriculture, attractive Niigata food, advanced measures in food supply, and a vision of the urban city.
※This press tour is hosted by the Niigata Promotion Association of APEC Japan 2010 Ministerial Meeting on Food Security, and is co-organized by FPCJ.
【Presentations】
1. Briefing on "Agriculture in Niigata, Current Situation and Challenges" by Mr. Nobutaka Nonaka, Director-General, Agriculture, Forestry, and Fisheries Department, Niigata City
To the homepage of Niigata City 
To the homepage of the Northern Cultural Museum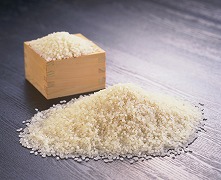 The significance of Niigata as a major food production base is growing. In 2008 Niigata City and Yokohama City concluded an agreement on cooperation in critical phases, and they are prepared to help each other when a natural disaster occurs in one of the cities. If a great disaster occurs in the Kanto area, Niigata will help them by supplying food to Greater Tokyo. On the other hand, with the advancement of the aging society and the change in industrial structure, the environment surrounding Japanese agriculture is increasingly severe. The government's basic program on food, agriculture, and rural areas, recently decided by the cabinet, clearly mentioned that they will make an environment where all farmers, including part-time and small-scale farmers, can continue their farming business. This marks a clear change in agricultural policy which used to focus on scale expansion and more efficiency. In the press tour, the Director-General of the Agriculture, Forestry, and Fisheries Department, Niigata City, will give a briefing on the characteristics and current situation of agriculture in Niigata, and how they are coping with the above issues. 
The briefing will be given in the "Gono no yakata" or "the residence of a wealthy farmer", officially the Northern Culture Museum. The museum is a residence of the Ito family, who made a fortune from farming in the mid-Edo period. You will also enjoy lunch there with the local koshihikari variety of rice cooked in a traditional iron pot.
2. A Small-scale Family Farm, Working on "Natural" Agriculture
To the homepage of the Miyao Farm (Japanese only)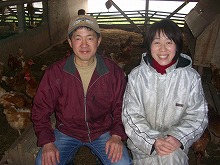 Mr. Hirofumi Miyao (45) left his company 17 years ago and succeeded his father, wishing to promote agriculture in which human beings and nature coexist in harmony. He is the tenth generation owner of the Miyao Farm which started over 200 years ago, and what he is trying to pursue is traditional "natural" agriculture, in which various forms of life coexist and both human beings and agricultural products are healthy. Taking advantage of the natural environment such as native microorganisms, fallen leaves, and rice bran, he produces koshihikari rice and vegetables in a field where insects, earthworms and other creatures are living. Mr. Miyao also raises poultry with safe GM-free feed and produces healthy eggs from healthy hens. Natural agriculture also means recycling agriculture, which enables them to pass on their rich land to the next generation. Rice husks, straw, and other by-products produced in the process of rice farming become self-sufficient feed for hens, making hygienic and comfortable poultry farming possible. In this farm, rice, vegetable, and poultry farming are organically linked with each other, leading to recycling and conservation of nature.
Although the Miyao Farm is a small-scale family farm, they stick to this natural agriculture which requires much time and effort, and cooperate with other farmers in the region who share the same idea in producing safe and tasty agricultural products. In the harvest season, about 70 people including neighboring farmers come to help him. According to Mr. Miyao, the regional self-sufficiency ratio for his feed is 80%, which is only possible with small farms, and to deal with various environmental changes, such as a jump in grain prices, or the bird flu, this kind of small farm is necessary. He also stresses that diversified agriculture with large and small farmers is important. In this press tour, you will interview Mr. Miyao and visit his rice paddies and henhouses.
3. Social Contribution through Food, Regional Cooperation in Disasters by Sato Foods Co., Ltd.
To the homepage of Sato Foods Co., Ltd. (Japanese only)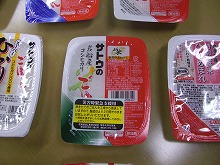 Packed rice is a national hit because it only needs heating to be ready to eat. Sato Foods is a leading manufacturer of packed rice with over 30% market share. With their own state-of-the-art technology, they produce sterilized packed rice, preventing contamination by microorganisms. By ultra high temperature treatment, rice is instantly heated and sterilized so that its taste and flavor can be kept for 6 months at room temperature. They have also introduced a tracking system for some products, enabling them to check when, where, by whom, and how the products were made. 
As a form of CSR through cooked rice, Sato Foods concluded an agreement with Niigata City in 2005 concerning food supply cooperation in disasters and promised to actively cooperate in food supply for the early stabilization of people's lives. In 2007 Niigata Chuetsu Earthquake, 20,000 packs of disaster relief rice were sent to the disaster-stricken area. As the rice was ready to eat for two days even without heating, it was highly appreciated in the areas where no electricity, water, and other infrastructure had been restored. This kind of assistance agreement has been concluded with Shibata City and Seiro Town in Niigata Prefecture, and if a request comes from Niigata Prefecture, the Tokyo Metropolitan Government, or Yokohama City, they are prepared to extend assistance. The press tour will visit the company's Higashiko Factory, interview President Isao Sato, who wishes to keep up valuable Japanese food culture, and tour the factory. 
*There are some restrictions on photographing and filming in the factory. Please follow the instructions of the officials on duty.
4. Joint Press Conference by Niigata Governor Hirohiko Izumida and Niigata Mayor Akira Shinoda
To the homepage of Niigata Prefecture  
To the homepage of TOKI MESSE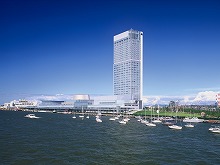 Following the G8 Labour and Employment Ministers Meeting Niigata (2008) and the 21st United Nations Disarmament Conference (2009), the APEC Ministerial Meeting on Food Security will be an important international convention to be held in Niigata. Governor Izumida is excited about this upcoming meeting, saying "I believe that (this meeting) will enhance the function of Niigata as a convention city. By strengthening this trend further, I hope to make Niigata prefecture function as a gateway to East Asia." Mayor Shinoda also positioned fiscal year 2010 as "the important year to become matured, welcoming our 4th year as an ordinance-designated city." For the budget of the next fiscal year, Mayor Shinoda set forth five pillars of policies including "Development of Niigata to bring in East Asia's Power", and "Utilize the Rich Food and Countryside Environment in Niigata." Hoping to utilize the location and potential of Niigata to the full, Mayor Shinoda holds a vision of wanting to bring in the power of a rapidly growing East Asia, to advertize Niigata's food at home and abroad by sending out more information, and to enrich its efforts to promote "Food Valley Niigata" as a base to send out information about food.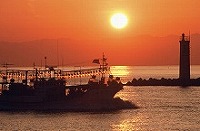 At TOKI MESSE where the APEC meeting will be held, you will hear the messages Governor Izumida and Mayor Shinoda wish to send to the world from the "Food Niigata", which is waiting to hold the APEC Ministerial Meeting on Food Security. In this press tour, you will look across a splendid view of Niigata at sunset, including the vast Niigata plain, the Shinano River, and the Japan Sea, from the observation room of TOKI MESSE. (TOKI MESSE is one of the foremost complex convention facilities in Japan.) 
5. Victim-Oriented "Disaster Food", the Niigata University Local Collaboration Food Science Center
To the homepage of the Niigata University Local Collaboration Food Science Center (Japanese only)
To the homepage of Foricafoods Corporation (Japanese only)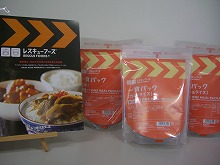 Having bitter experience of not being able to deliver food in the Great Hanshin-Awaji Earthquake (1995), the food industry vocally supported Niigata, where more than 1,000 food-related companies are gathered, to tackle the challenge to deliver "disaster food" for the sake of the victims, and this move is picking up momentum now. It is the Niigata University Local Collaboration Food Science Center which plays the central part in this movement. In industry-academia-government collaboration, it tries to reform, enhance and enlighten the "knowledge" related to food, hoping to "contribute to the development of the food industry in Niigata prefecture." It consists of researchers from various faculties at Niigata University.
Having also experienced earthquake disasters twice, it has looked at earthquake disaster reconstruction from the perspective of food. Collaborating with local companies, it conducts wide-ranging research and development including the kinds of emergency food truly needed in disaster-hit areas, food processing using ultra-high-pressure treatment equipment, and research into the quality and taste of food. In cooperation with this center, Foricafoods Corporation, which is located in Uonuma city, Niigata, has succeeded in commercializing "Rescue Foods" that are warm and tasty just like normal meals even in disaster areas without lifelines. In this tour, you will receive a lecture on disaster food by Visiting Professor Shigeru Beppu at Niigata University (who is also Director of Foricafoods Corporation), and cook and taste "disaster food". You will also look at an experiment in food processing using ultra-high-pressure treatment equipment. 
6.Nature of Niigata Cultivates Terroir, 100% Home-Grown Japanese Wine at "Cave D'occi Winery"
To the homepage of Cave D'occi Winery (Japanese only)
To the homepage of Fermier Winery(Japanese only)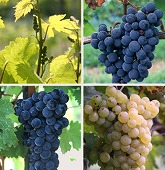 Located in Kakudahama (Kakuda-beach) in Niigata city, there is a European-style, full-fledged winery called "Cave D'occi Winery" whose greenery is spread all over the gentle hill that looks over the Japan Sea. In its boundless vineyard, European types of grapes such as Chardonnay, Cabernet Sauvignon, Pinot Noir, are cultivated, and 100% home-grown, home-fermented "real wines" are made. This winery was born 18 years ago. It was when President Occi Kiichiro (62), a native of Kagoshima, moved here in order to realize his dream of establishing a real winery in Japan after having studied wine making in Germany. The coastal area in Niigata is a perfect location for growing wine grapes. With its well-drained sandy soil, it is hot and dry in summer just like the climate in Bordeaux, France.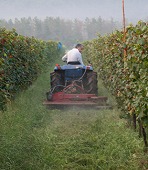 This winery aims to be a winery where consumers and makers are directly connected. To achieve this, it produces only about 70,000 bottles of wine annually, and it is run in the "low-volume production, low-volume consumption" style. People who are drawn to this style of wine making and business have increased year by year, and more than 14,000 people are now registered as members of "the owner-system of grape seedlings" . Also, it is equipped with an English garden, restaurants and accommodation with hot spring, attracting people who love nature. President Occi is also focused on developing people who wish to run a full-fledged winery like himself, and he has opened "the winery business school." In this press tour, you will interview President Occi and Mr. Takeshi Honda, president of the "Fermier" winery, who is the best pupil of "the winery business school." You will then tour the winery (including vineyards, a fermentation chamber, and a cellar), and have lunch at the Cave D'occi Hall which is popular as a wedding venue and a concert hall.
7. Green's Plant Maki Ltd. Gives Safety, Security and Health to People
To the homepage of Green's Plant Maki (Japanese only)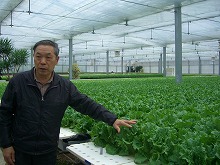 Niigata being designated as a production center for mitsuba (trefoil), a chervil-like herb, by the government, Green's Plant Maki produces and sells, besides mitsuba, about 20 types of fresh herbs for cooking, and 11 types of baby leaves. It owns three farming plants including the 10,000㎡-size greenhouse that is the largest in scale in the Tohoku and Hokuriku regions. It annually ships out 230,000 cases of mitsuba and 240,000 packs of fresh herbs to markets in and out of Niigata prefecture. Fresh herbs are sold on the basis of orders from each market, and they are popular enough for restaurant chefs to order directly sometimes.
President Kaoru Wakabayashi (65), with the motto of "making people healthy by giving safe and secure vegetables", has succeeded in producing safe and secure vegetables with high nutritional value by introducing new farming technologies. For example,they will activate all the water with a technology called "FFC technology" before use. This technology solved problems specific to tank farming such as bacteria that grow in water, and the perishable nature of vegetables. Through this, returns of vegetables from supermarkets declined, and their vegetables are reputed to have a long life on supermarket shelves. President Wakabayashi says "the most important component in vegetables is water, so we must use really good water for farming. Water that is good for vegetables is also good for the people who eat them." While cheap, foreign-produced vegetables sell well, this company competes on quality and taste. This press tour will visit the Kakudahama Farming Plant guided by President Wakabayashi.  
【Tour Itinerary and Application Details】
1. Itinerary: 20 -21 April, 2010
<Day 1: Tuesday, 20 April>
7:48 Leave Tokyo Station by JR Bullet Train (Max Toki No. 307)
9:51 Arrive at Niigata Station 
10:30-12:30 Visit the Northern Culture Museum (Briefing on the Current Situation and Challenges for Niigata's Agriculture), and lunch
13:00-14:30 Visit the Miyao Farm 
15:00-16:15 Visit Sato Foods Industries, Co., Ltd.
17:15-18:05 Joint Press Conference by Niigata Governor Hirohiko Izumida and Niigata Mayor Akira Shinoda
18:15-18:30 TOKI MESSE (Observation Room)
18:40- Reception 
(Stay overnight at Hotel Nikko Niigata)
<Day 2: Wednesday, 21 April>
8:50 Leave Hotel 
9:30-11:30 Visit the Niigata University Local Collaboration Food Science Center 
12:00-14:30 Visit Cave D'occi Winery, and lunch(at Cave D'occi Hall)
14:40-16:10 Visit Green's Plant Maki Ltd. 
17:29 Leave Tsubame-Sanjo Station by JR (Max Toki No. 340)
19:20 Arrive at Tokyo Statoin
2. Qualifications: Bearer of Gaimusho Press Registration Card
3. Expenses: 13,000 yen per person including transportation, meals and accommodation. * FPCJ will inform the participants of payment methods, cancellation fee and other details later on.
4. Participants: Limited to the first 10 applicants on a first-come first-served basis. (Only one reporter and one photographer from each company, but two participants from each TV team will be acceptable.)
5. FPCJ Contact: Mr. Yano and Ms. Hama (TEL: 03-3501-5070)
6. Remarks: 
1) There are some restrictions on photographing and filming in the press tour. Please follow the instructions of the officials on duty.
2) The Niigata Promotion Association of APEC Japan 2010 Ministerial Meeting on Food Security and FPCJ will not be liable for any inconvenience, trouble or accident that might occur in the course of the tour.