Date : March 26, 2010
【Press Tour】March 26, 2010: Cutting-edge Technology and Traditional Culture in Gifu Prefecture
post date : 2013.08.22
Gifu Press Tour
~Cutting-edge Technology and Traditional Culture in Gifu Prefecture~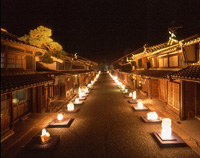 In Gifu Prefecture, which will host an APEC (Asia Pacific Economic Cooperation) SME (Small and Medium-sized Enterprise) Ministerial Meeting in autumn this year, local enterprises are making active efforts to tackle challenges facing Japan and the world, such as a rapidly-aging population and global warming. 
Yamazaki Mazak Optonics Corporation, a laser processing machine manufacturer, created an "eco-factory," which does not need air-conditioning almost all year round, by building the factory entirely underground. In addition, local SMEs and universities are cooperating to develop life-supporting robots in preparation for a possible labor shortage in housekeeping and nursing care in the coming aging society.
Gifu Prefecture is also appealing in the sense that it preserves traditional Japanese culture such as the nationally-famous Mino washi paper (Japanese Paper) and the streets where traditional houses built in the Edo and Meiji periods still exist as they were. 
In this press tour, you will visit Gifu Prefecture where cutting-edge technology and traditional culture coexist. 
***********************************************************
1. Yamazaki Mazak Optonics Corporation Phoenix Laboratory (Underground Factory) 
-No Need for Air-conditioning: the Eco-Factory Slashes Energy Usage by 95%-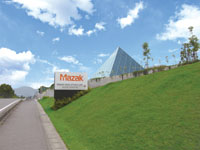 Yamazaki Mazak Optonics Corporation, a group company of Yamazaki Mazak Corporation, a major Japanese manufacturer of machine tools, has a unique factory called Phoenix Laboratory. Its most distinctive feature is that almost the entire facility is hidden underground, and only a pyramid-shaped entrance and a parking lot are above ground. 
Positioning the factory completely underground provides a highly dustproof environment, which is essential for a precision machinery factory. In addition, the factory is eco-friendly as it uses geothermal heat instead of air-conditioning. Electricity usage has been reduced by 95%compared with an above-ground factory that operates an air conditioning system 24 hours a day.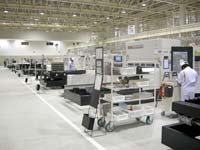 The factory also received the Ministry of Land, Infrastructure and Transport and Tourism Award, the highest award in the 2008 Effective Land Utilization Grand Prix, for its high noise isolation and for its external appearance that does not look like a factory so that it perfectly blends in with the surrounding natural environment.
In this tour, Yamazaki Mazak's vice president will give a briefing at the company's Minokamo Plant and hold a demonstration of laser processing machines, after which you will tour the underground Phoenix Laboratory. 
2. Mino City 
-Streets of Traditional Houses with "Udatsu" Roof-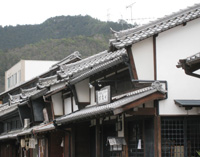 Mino City is known for washi paper (Japanese traditional paper) and udatsu. Udatsu, which dates back to the Edo period when most houses were made of wood and therefore fires occurred frequently, was originally a plastered wall between the first and second storeys of a house to prevent fires from spreading from house to house. But it also became a symbol of wealth because making elaborate udatsu was so costly that only rich families could have one. In a corner of Mino City, which once flourished as a key junction of transportation and a shopping district, there are still rows of houses built in the Edo and Meiji periods. In October every year, the city holds a contest called the Mino Washi Akari Art Exhibition, in which artistic lanterns made of Mino washi paper are displayed in the streets of udatsu. During the contest, visitors can enjoy fantastic scenery. 
In the press tour, on the way from Yamazaki Mazak (Minokamo City) to Gifu City, the director of the Mino Washi Akari Art Museumwill lecture in the bus on the history of udatsu and Mino City, and you will make a brief stop at the old-style streets featuring udatsu. 
3. Kawasaki and Mouri Laboratory, Faculty of Engineering, Department of Human and Information System Engineering, Gifu University
-In Pursuit of Human-like Hands-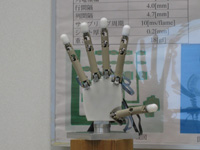 The laboratory of Professor Haruhisa Kawasaki, Associate Dean of the Faculty of Engineering of Gifu University, is researching on an intelligent machine system and human interface robot, which is capable of dexterous and autonomous work just like a human being. The Gifu Hand project, an anthropomorphic Robot Hand, which has been developed over ten years in corporation with local SMEs, is aimed at producing a complex and dexterous hand motion just like that of a human being. Gifu Hand has as many as 859 sensors that "feel" things it touches. It can pick up an object with its fingertips and hold a paper cup without crushing it.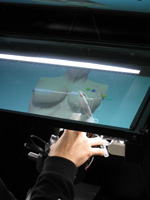 Professor Kawasaki believes that unless you study the mechanism of hand motion, you can never develop a robot useful in daily life. Besides Gifu Hand, he is working on developing a robot that can examine for breast cancer and also a hand rehabilitation support system for hemiplegic patients who have suffered a cerebral vascular attack. In the press tour, you will see demonstrations of theses robots and listen to Professor Kawasaki speak on his research. 
4. Press Conference by Gifu Governor Hajime Furuta 
Gifu Governor Hajime Furuta, who once worked for the Ministry of Economy, Trade and Industry (former Ministry of International Trade and Industry), became the governor in 2005. Reelected in January 2009, he is now in his second term of office. With the goal of making the prefecture "a town where people can live with hope and pride," the governor announced Gifu Prefecture's Long-Term Initiative last year. Amid the great change of the times as represented by shrinking population and global warming, the Initiative presents the prefecture's future visions to be pursued and measures to realize those visions, which include: "Promoting the manufacturing industry as the core industry of Gifu Prefecture," "Creating a society where the elderly and the disabled can actively participate in social activities," and "Making all local residents work together to protect the prefectural and the global environment." 
In the press briefing, Governor Furuta will talk about the prefecture's present situation and future strategy as well as its manufacturing industry, and his enthusiasm for the coming APEC SME Ministerial Meeting.
【 Tour itinerary and application details 】
1. Itinerary (Tentative) :
March 26 (Fri.)
07:20 Leave JR Tokyo Station by Nozomi 203
09:03 Arrive at JR Nagoya Station
09:15 Leave JR Nagoya Station by chartered bus
10:30-11:10 Yamazaki Mazak Minokamo Plant
-Briefing by the company's vice-president
-Demonstration of the company's laser processing machine
11:20-12:10 Yamazaki Mazak Optonics Phoenix Laboratory (underground factory)
12:20-13:00 Lunch
13:00-13:30 Leave for Mino City by chartered bus
- (on the bus) Briefing by the director of Mino Washi Akari Art Museum
13:30-13:45 Streets of Udatsu houses
14:45-15:45 Gifu University, Department of Engineering
16:45-17:15 Press Conference by Gifu Governor Hajime Furuta
18:11 Leave JR Gifu Hashima Station by Hikari 526
20:10 Arrive JR Tokyo Station
2. Qualification: Bearer of Gaimusho Foreign Press Registration Card
3. Expenses: 5,000 yen per person including transportation and lunch
* FPC will later inform the participants of methods for payment, cancellation fee etc.
4. Participants: Limited to the first 10 applicants on a first-come first-served basis. 
(Only one reporter and one photographer from each company, but two participants from each TV team will be acceptable.) 
5. FPCJ Contact: Ms. Koizumi, Ms. Ishikawa (Tel: 03-3501-5251)
6. Remarks: 
(1) Please follow the instructions of the officials on duty for photographing and filming. (2) FPCJ and Gifu Prefecture will not be liable for any inconvenience, trouble or accident that might occur in the course of the tour.