Date : March 29, 2016
Notice: Toyama City Press Tour
post date : 2016.03.04
-Converting local resources into energy: the solutions of environmentally-friendly Future City Toyama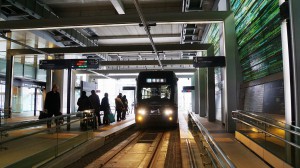 Toyama City's efforts to create a compact city based around public transportation lines have been highly regarded in both Japan and abroad. The city has centralized city functions in the city center and encouraged the use of public transportation by building tram lines, and has also implemented initiatives to encourage efficient energy use and the adoption of renewable energy. In 2011, the city was designated as a Future City by the national government, in recognition of its success in building a town that was both environmentally friendly and met the needs of an aging society. In 2014, Toyama City became the only Japanese city to be selected for the UN's Sustainable Energy for All (SE4All) initiative, as a model for energy efficiency. The goal of the SE4All initiative, launched by the UN Secretary-General, is to increase the share of sustainable energy used worldwide and increase energy efficiency.
Toyama City will be the site of the G7 Environment Ministers Meeting in May this year. This tour will cover the city's agricultural initiatives run by energy made from local resources.
*This press tour is sponsored by Toyama City and Toyama Television Broadcasting, with planning cooperation by the FPCJ.
* This press tour will require participants to bear part of the cost, but is not a profit-making venture.
*Toyama Television Broadcasting will be making a program based on this tour, in order to show Toyama City residents how foreign media report on the city.
 [Tour Details]
1. Egoma Plant Factory Using Natural Energy
Ushidake Hot Spring Plant Factory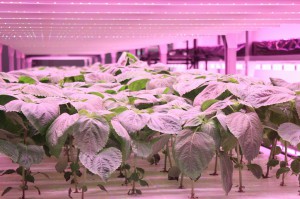 Hydroponic cultivation of egoma (Perilla frutescens) began in April 2014 at the Ushidake Hot Spring Plant Factory located in the Yamada district, a mountainous area in the southwest of the city. Egoma is a member of the Lamiaceae (mint) family. Its leaves contain antioxidants, the seeds contain essential fatty acids that the human body cannot produce itself, and other components of the plant may be effective in preventing dementia and cancer. This factory was built as part of a policy by Toyama City aiming to make egoma, with all its health benefits, into a local specialty. Last year, traces of large quantities of egoma fruit were found in Jomon-period clay vessels excavated within the city, demonstrating that the city has had a connection to egoma for thousands of years. The factory has a growing area of 800 square meters, and this year is expected to produce approximately four times more than last year, for a total of 400,000 leaves. Local hot springs are being used to provide heating in the winter, for an estimated 35% decrease in energy costs. Solar panels are also installed on the roof, covering about 6% of the facility's electricity demand per year.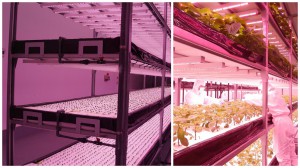 Under commission from the city, this factory is operated by Kensaidou Co., Ltd., a joint venture funded by four local Toyama City businesses. Kensaidou purchases the egoma leaves grown at the factory from the city, and sells them to nurseries, schools, and hospitals in the city to use in their meals. The seeds are collected from egoma which Kensaidou and local farmers grow using open-field farming in extensive abandoned farmland that the city purchased. Egoma oil extracted from those seeds is sold to local supermarkets and other retailers. They expect to produce approximately 800 liters of egoma oil this fiscal year.
In order to further encourage the "sixth industry" for agriculture, the city also supports companies manufacturing and selling supplements made using egoma oil, and Kensaidou is aiming to release a product by this April. Since Fukushima Prefecture used to be the largest egoma producer in Japan, Toyama City is also looking into reviving egoma cultivation in Fukushima in order to help with recovery from the Great East Japan Earthquake.
They have also begun international cooperation, with Toyama University and the University of Gastronomic Sciences in Italy, jointly researching a new healthy oil combining egoma oil and olive oil.
After hearing about the city's plans for making egoma into a local specialty, the tour will be able to film and photograph (from behind glass) how the egoma leaves are being grown at the Ushidake Hot Spring Plant Factory. There will also be an opportunity to see oil being extracted.
2. Large-scale Horticultural Facility with 100% of Energy from Waste Incineration
Toyama Kankyo Seibi Co., Ltd.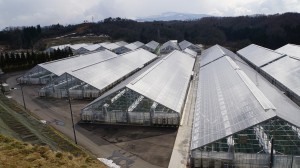 Toyama Kankyo Seibi Co., Ltd. is a waste disposal company with 350 employees, which collects 300,000 tons of waste per year. The waste is carefully separated, recycling what can be recycled and burying the rest. In 2015, construction of 28 greenhouses (with a total area of 4 hectares) was completed, and they began growing fruit tomatoes (tomatoes with high sugar content), and flowers such as eustoma. The biggest feature of these greenhouses is that the company makes all of the energy they use, an estimated 9.88 million kWh annually. The electricity generated from incinerating waste is used for all the electric devices in the greenhouse and excess steam is used for temperature control in the greenhouses. ICT (information and communications technology) is used to track the temperature and humidity in the greenhouses, and this data is then analyzed to determine optimal growing conditions.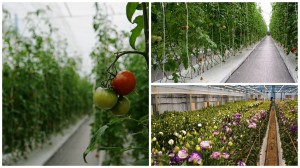 This initiative was recognized as a "Project to Accelerate Adoption of Next-Generation Facilities for Horticulture" in 2014 by the Ministry of Agriculture, Forestry and Fisheries, as part of a project to reduce costs by centralizing facilities and utilize ICT and local resources for energy to systemically produce agricultural products, increase income and create employment. The national government provides aid for approximately 1.7 billion yen of the 2.7 billion yen of operating costs, with the company running the project along with the municipal and prefectural governments.
The target annual harvest is 500 tons of fruit tomatoes and 1.4 million flowers. Most of the products are purchased by grocery stores around the country, with the tomatoes also exported to Thailand and Singapore. The business also contributes to local employment, with 70% of its 85 employees consisting of Toyama City residents.
The tour will visit Toyama Kankyo Seibi, located in Fuchu in the west of the city and cover the plastic separation plant that is planned to begin full operations in April and the tomato and eustoma greenhouses.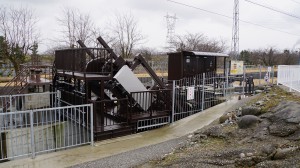 3. Micro Hydroelectric Power from Agricultural Water Canals, Possible Use Overseas
Nishinoban Micro Hydroelectric Power Station
Toyama Prefecture is second in the country for the amount of hydro energy with potential for use in hydroelectric generation. Given this fact, Toyama City began promoting the adoption of micro hydroelectric power, and two micro hydroelectric stations were built four years ago on agricultural canals that draw their water from Joganji River. Joganji River is one of the fastest-flowing rivers in Japan, flowing from the 3,000-meter-high Tateyama Mountains out to Toyama Bay and the Sea of Japan.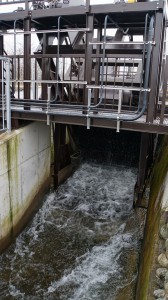 The Nishinoban Micro Hydroelectric Station was built by the Josai Irrigation Canal Land Improvement Association, an enterprise that carries out projects to improve land use. The power station is installed in a spot with a nearly 3 meter height difference in the agricultural canal, and includes a water wheel generator that can be raised and lowered. The water wheel can produce 186,000 kW annually, equivalent to the amount 45 average households would use in one year. In order to supplement the continually increasing maintenance fees, the Josai Irrigation Canal Land Improvement Association built the micro hydroelectric plant, which provides estimated annual revenue of 6.5 million yen from selling all the electricity generated to Hokuriku Electric Power Company. Toyama City, in cooperation with the company which developed the water wheel and with aid from JICA, has been working on encouraging micro hydroelectric generation overseas, and from last year, conducting a field study of agricultural villages in Indonesia which face a lack of electricity. It is hoped that this environmentally-friendly micro hydroelectric generation will help agricultural villages in Southeast Asia, with no need for major developments like dams.
At Nishinoban Micro Hydroelectric Station, a Toyama city official will explain about the adoption of micro hydroelectric stations and their use in Indonesia. Josai Irrigation Canal Land Improvement Association will discuss the goal behind building this facility, and how electricity is generated.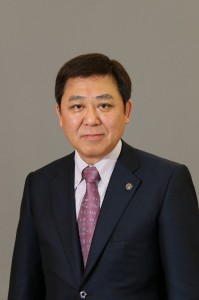 4. Interview with Toyama City Mayor & Toyama Kirari
Toyama City Mayor, Mr. Masashi Mori (63)
Mr. Mori was first elected as mayor of former Toyama City in 2002. He was elected again as mayor of the new Toyama City after its merger with other municipalities in 2005. He is now in his third term. Toyama City had the second-highest ratio of car-owning households in Japan, and by installing tram lines the mayor helped revitalize public transportation and create a compact city where people could live their daily lives conveniently without owning a car. The goal of this policy is to build a green town to deal with the decreasing population and aging society.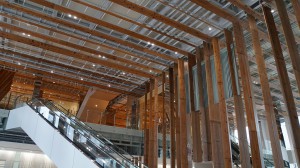 Toyama Kirari, inaugurated last year, is a multiplex building that integrates a glass museum, a public library, and more. Located in the city center, it has no dedicated parking lot, and is a symbol of the compact city concept, with citizens using trams to access it.
①Museum Director Ryoji Shibuya will guide the tour around the Toyama City Glass Art Museum.
②In the Toyama Kirari building, Mayor Mori will speak about current and future initiatives of Future City Toyama.
[Tour Itinerary]
1. Date: Tuesday, March 29, 2016
| | |
| --- | --- |
| 7:20-9:31 | Kagayaki 503: Tokyo→Toyama |
| 10:25-11:10 | Nishinoban Micro Hydroelectric Power Station |
| 12:00-13:10 | Ushidake Hot Spring Plant Factory |
| 13:40-15:35 | Toyama Kankyo Seibi Co., Ltd. |
| 16:15-17:00 | Toyama City Glass Museum (in Toyama Kirari) |
| 17:00-17:40 | Interview with Toyama City Mayor (in Toyama Kirari) |
| 17:40-18:55 | Dinner (in Toyama Kirari) |
| 20:06-22:20 | Kagayaki 516: Toyama→Tokyo |
*The above schedule is tentative, and may be changed.
2. Qualification: Bearer of Gaimusho Press Registration Card
3. Cost: 5,000 yen per person including transportation and meal.
* FPCJ will later inform the participants of methods for payment, cancellation fee, etc.
4. Participants: Limited to 10 applicants.
(Only one reporter and one photographer from each company, but two participants from each TV team will be acceptable.)
*If the number of applicants exceeds 10, an upper limit may be set on the number of participants from each country.
5. FPCJ Contact: Ms. Yokota (Tel: 03-3501-3405)
6. Remarks:
(1) There may be some restrictions on photographing and filming at the tour sites. Please follow the instructions of the officials on duty.
(2) FPCJ, Toyama Television Broadcasting Co., ltd and Toyama City will not be liable for any inconvenience, trouble or accidents that might occur during the tour.