Date : January 13, 2005
Earthquake Prevention in Tokyo – Lifelines that lie 40m beneath the surface
post date : 2013.08.21
Tokyo's Earthquake Counter-measure - Common Utility Duct Press Tour
Presentations 
January 17th will be the 10th anniversary of the Great Hanshin Earthquake. This earthquake caused a major disaster in the Kansai region, especially in Kobe. After the incident, regulations and laws that enacted to minimize the damage of the natural disaster, such as building's strength, have been revised.
The year 2004 was the year of earthquakes in Japan. Starting with the Niigata Chuetsu Earthquake, which caused 40 deaths, more than 4,500 casualties and serious problems of the damage to water pipes and electricity lines. Besides the huge Niigata quake, many quite large quakes have occurred in the last 12 months. While the media have been warning people to prepare for a quake in the Tokyo area, the government held a Central Disaster Management Council in December to analyze the likely damage to Tokyo, if it were hit by a magnitude 7 scale quake. The report predicts 12,000 will be dead and more than 790,000 buildings destroyed.
If a quake really occurs in the vicinity of Tokyo area - there is only so much that the individual can do. Then, how is the government going to prepare, manage, and respond to such a risk?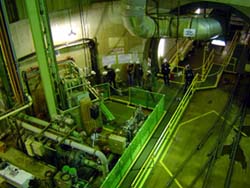 As one of the counter-measures, the Ministry of Land, Infrastructure and Transport has constructed a "common utility duct." This is a tunnel which has been excavated under the major streets (ex: in Tokyo, Route 246, Route 1, etc.), and all the necessary infrastructure (gas pipes, electric cables, telephone cables, and sewage pipes) is being stored in one place. (Currently, more than 100km of the duct has already been built in Tokyo.) In this way, when a natural disaster occurs and the city's lifeline is severely damaged, all repair and maintenance work can be done in a single location, hence reducing the workload and repair time significantly. Also, the location - an underground environment - provides extra-protection against earthquakes and prevents secondary damage from a quake.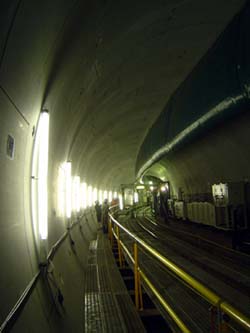 In this press tour, our lifeline, Tokyo metro's "common utility duct" will be featured extensively with Mr. Katushisa Asako, manager of the Common Utility Duct Division from the Tokyo National Highway Work Office. With this expert as our guide, the tour will cover Tokyo's hidden but vital infrastructure.
Tour itinerary and application details
Schedule
JANUARY 13, 2005
08:00-09:15
Briefing: Tokyo's common utility duct and its effectiveness in case of earthquake
Mr. Katsuhisa Asako (Manager, Common Utility Duct Division, Tokyo National Highway Work Office)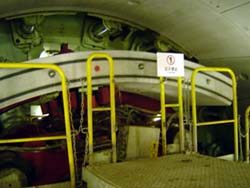 Tokyo National Highway Work Office is in charge of all the common utility duct in Tokyo and its division manager, Mr. Asako, will first brief on the duct. From his briefing, you will be able to get extensive information on the subject. (Tokyo National Highway Work Office is under the jurisdiction of the Ministry of Land, Infrastructure and Transport)
09:30-11:00
Visiting the part of the common utility duct under construction - Toranomon
The second stop of the tour will cover an on-going construction site located in Toranomon. This section of the duct is being constructed from Toranomon to Hibiya via the Sakurada-mon area, and it is scheduled to pass through in June. This stop provides you an opportunity to understand how the construction is done.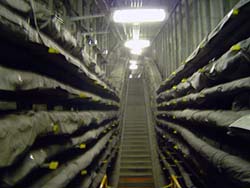 11:30-12:30
Visiting a completed common utility duct in Aoyama (under Route 246)
The final stop is a completed common utility duct, situated in Aoyama (under Route 246.) This duct, which stretches from Shibuya to Akasaka has been in operation for more than 20 years and contains gas pipes, phone lines and electric cables are stored. At this stop, you can observe how the duct is actually utilized.
(Please note that the timing of Toranomon and Aoyama maybe switched, according to the construction schedule at Toranomon.)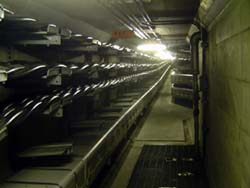 Other Information
Qualification
Bearer of Gaimusho foreign press registration card
Expenses
1,000 yen
Participants
Limited to the first 15 applicants on a first-come first-served basis. (Only one reporter and one photographer from each company, but two participants in each TV team will be acceptable.) If the number of applicants exceeds 15, an upper limit may be set on the number of participants from each country.
FPC Contact
Mr. Yanagisawa, Mr. Yano (Tel:03-3501-3401)
Remarks
(1) When you photograph and film at the tour sites, please follow the instructions of the officials on duty.
(2) FPC will not be liable for any inconvenience, trouble or accident that might occur in the course of the tour.