Date : December 7 - 8, 2015
Notice: Mie Press Tour
post date : 2015.11.17
-Passing on ninja culture in the modern age
-Unique agricultural business initiatives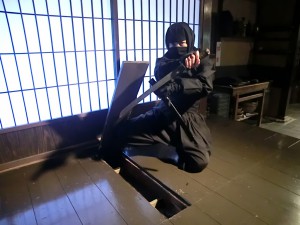 The cities of Iga and Nabari in western Mie Prefecture are known as the home of the ninja. One theory for why Iga ninja were so skilled is that this mountainous region allowed ninja to train while remaining unnoticed. Partly due to the influence of anime and manga, many foreign tourists come here to visit an authentic ninja site. Iga City has collaborated with Mie University and other organizations to set up a course in Ninja Studies in order to carry out academic research on ninja. There are a number of initiatives such as this to stimulate the local economy by using the ancient wisdom and international popularity of ninja.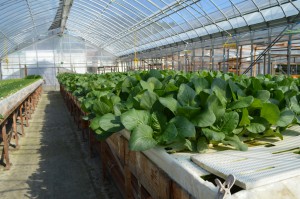 Agriculture is also abundant in this region, and there are efforts underway using unique strategies to produce and sell safe, reliable vegetables and processed goods, in order to steadily increase sales, encourage employment and stimulate the local economy. In the city of Matsusaka in central Mie, one company is using advanced, environmentally-friendly equipment to efficiently produce cherry tomatoes in an attempt to revolutionize agriculture.
Next year, the G7 Summit will be held at Ise-Shima in Mie. This tour is the first in a series of tours to different regions in Mie, and will visit the home of ninja where efforts are underway to try to keep ninja culture alive. The tour will also visit a number of agricultural businesses with unique efforts to deal with various social issues.
*This press tour is sponsored by Mie Citizens Council for the Ise-Shima Summit and planned and operated by the FPCJ. 
**This press tour will require participants to bear part of the cost, but is not a profit-making venture.
1. Ninja Culture in the Modern Age
Iga-Ueno Tourism Society, Representative Director Yasaka Inagaki
Mie University, Professor Yuji Yamada
Mie University, Professor Emeritus Makoto Hisamatsu
Banke Shinobi no den Kensyujyo Mr. Yasushi Kiyomoto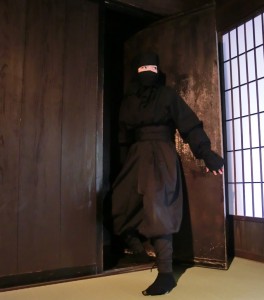 Due to the influence of pop culture, ninja are often thought of as leaping around and throwing shuriken, but in fact they were essentially spies, operating without being noticed. Ninja were thought to have been active from the Nanboku-cho to Edo Periods (14th–19th centuries), and many practitioners were from Iga and Nabari. The Iga-ryu Ninja Museum is operated by the Iga-Ueno Tourism Society, and presents ninja to modern audiences with the gimmicks of a "ninja house" and displays of tools and weapons such as shuriken. The ninja house appears to be a normal house, but it has a variety of gimmicks such as trapdoors, hidden weapons and escape routes in case enemies attack.. This house was moved as-is from a nearby location and restored, and it is believed that there were a number of houses like this in Iga and Koga (Shiga Prefecture) areas. The Iga-Ueno Tourism Society also has a training course for visitors headed by Honorary Museum Director Jinichi Kawakami (said to be the last ninja) and his student Mr. Kiyomoto. The course has had ninety participants since starting last year. Through the training, participants acquire the mental fortitude, information gathering, and analytical skills of ninja, passing on ninja wisdom that is applicable even today. On that note, hyorogan, the portable rations ninja used, were made from two kinds of rice, lotus fruit, nagaimo (yam), cinnamon, hatomugi (Job's tears, a type of grain), ginseng, and sugar, and are nutritional, relaxing, and help recovery from exhaustion. Professor Emeritus Hisamatsu of Mie University says that "Ninja wisdom about food could apply to the stress of modern society and for emergency rations during disasters."
A briefing on ninja and their knowledge of food will be given at the Iga-ryu Ninja Museum. Afterwards, there will be a performance of the gimmicks in the ninja house, and a demonstration by Mr. Kiyomoto. The visit will end with seeing the museum displays.
2. Unique Agricultural Businesses
(1) Example of Successful Sixth Industry Agriculture
Mokumoku Tezukuri Farm Co., Ltd., President Naoyuki Matsuo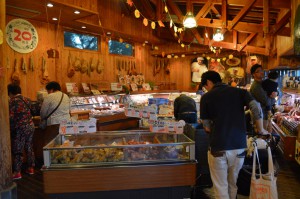 Mokumoku Tezukuri Farm is a 20-year-old facility that provides experiences related to food and agriculture. In addition to producing and selling vegetables, ham, bread, and craft beer, it also has a restaurant using these products, a facility letting visitors hand-make sausages, and a hotel with a hot spring. It has 500,000 visitors annually. It also has restaurants and directly-owned retail stores in Tokyo, Nagoya, and Osaka, with total annual sales of over ¥5 billion. The company has been involved in everything from production to processing to sales since its founding, and is held up as an example of successful "sixth industry" agriculture. Recently, they have applied their management knowhow to an international consulting business. Businesses that they have consulted on have opened in Niigata City and in China, and one is planned to open in South Korea in the spring of 2016 as well.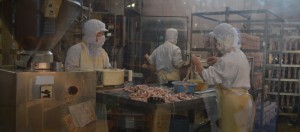 Twenty years ago, eighteen local livestock farmers joined together and started a facility where people could experience sausage making in a single building. From these humble origins, it has continued to gain fans as a place where producers and consumers can interact, and now has grown to an area of around 14 hectares. The farm has around 1,000 employees, with an average age of 35. Over 80% of them are from Mie Prefecture, so the company is also creating local employment opportunities.
The tour will eat lunch at Moku Moku Tezukuri Farm, and after a briefing on the company's business will see their facilities for making processed meat, such as ham and sausages.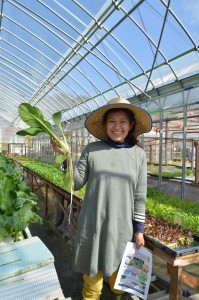 (2) Female Business Owner Combining Agriculture and Social Welfare
Agree Co., Ltd., President Saori Inoue
Agree Farm, operated by Agree and located in Nabari, uses hydroponic cultivation to grow crops such as komatsuna and baby leaf greens in greenhouses located on their 2,437 m2 property. The company uses as little agrichemicals as possible, in order to sell safe vegetables. The company also actively supports efforts to combine agriculture and welfare by employing people with disabilities as agricultural workers, simultaneously increasing employment opportunities for people with disabilities and helping alleviate the shortage of agricultural workers. The person in charge of this effort is Ms. Inoue, who moved to Nabari from Osaka four years ago. With no experience in agriculture or running a business, she overcame hurdles such as lack of funding and various difficulties due to being a woman, and made her company profitable within three years. At the end of the company's fiscal year this September, including another farm in Tsu City, it recorded ¥72 million in annual earnings. Of the 30 or so workers, approximately half have disabilities. Under a legally-established welfare service initiative, work opportunities are provided to people with disabilities without entering into an employment contract, and they are paid wages in exchange for their labor. Nabari City established the Nabari City People with Disabilities Agri-Employment Promotion Council, and is a leader among local governments when it comes to combing agriculture with social welfare, so Ms. Inoue collaborated with this council as she ran her business.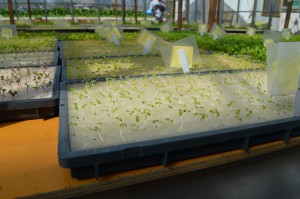 Ms. Inoue began hiring people with disabilities after students from nearby special education school Iga Tsubasa Gakuen visited the farm. Feeling that she could repay Nabari, where she was accepted as a farmer, by providing opportunities for people with disabilities to work at the farm, she made various changes. Normally not available on farms, bathrooms and changing rooms were added, and daily work schedules are written on a whiteboard clearly indicating what each person has to do that day. With this, the workers stopped coming to ask what they should do next. Ms. Inoue believes it may have helped them think independently. Ms. Inoue's goal is to create a cooperative community through agriculture where people can work whether or not they have disabilities.
The tour will visit Agree Farm, and after hearing from Ms. Inoue about initiatives to combine agriculture and social welfare, there will be an opportunity to see work being down on the farm.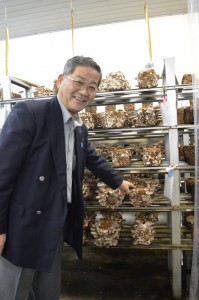 (3) Energizing the Community with Mushroom Production: A Community Confronting an Aging Society
Kinoko no Sato Nishikio Business Council, Chairman Osamu Tomiyama (69)
The Kinoko no Sato Nishikio Production Center in Nabari's Nishikio district produces and sells mushrooms such as shimeji, shiitake, and kikurage. The mushrooms are grown at an elementary school which was shut down, and most of the workers are retired locals. The center also buys mushrooms grown by 35 households in the area. The center sells its products mainly to fresh produce dealers, restaurants, and hotels in the city, with sales of ¥3 million last year. Three years ago, Mr. Tomiyama, who is also the chairman of the Nishikio Community Association, and 15 others around his age decided to start a community business in order to energize the district, as its population continues to age. They purchased shimeji mushroom beds (growing medium with nutrients and mushroom spores included) and grew the mushrooms at home. None of them had any experience growing mushrooms, so it was all new to them. The reason they chose to grow shimeji was because Akame, the neighboring district, is famous for growing matsutake.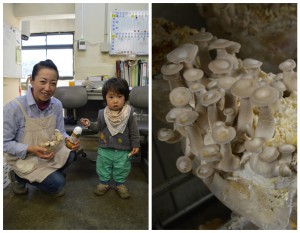 Last year, they repurposed the cafeteria of a closed-down elementary school for ¥4 million, creating a facility that can maintain the proper temperature and humidity to grow shimeji, due to not succeeding in growing any shimeji at home during the second year. This business relies on subsidies from Nabari City and the national government, but Mr. Tomiyama plans to operate it based solely on its own earnings in the future and create employment opportunities by increasing the number of workers, making it into a business that the whole district is involved in. They hold periodic workshops at the community center, in order to help each household grow as many mushrooms as possible to sell. The growers also seem energized, saying "It really does make us happy when people say the mushrooms we grew are delicious."
The tour will visit the Kinoko no Sato Nishikio Production Center, and tour the facility with Mr. Tomiyama as a guide.
(4) Mie Companies Working Together on Environmentally Friendly Cherry Tomatoes Grown in Advanced Facilities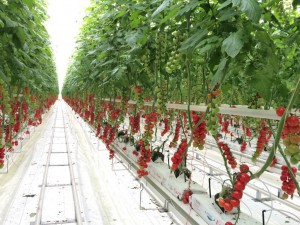 Ureshino agri Inc., President Yasuhiko Tsuji
Mr. Yuichiro Asai
Ureshino agri hydroponically cultivates cherry tomatoes in a greenhouse with a growing area of approximately 20,000 m2, the largest in the Tokai region. This business just started in September of last year as a new type of agriculture with cooperation between farms, the local community, and companies. Ureshino agri is a joint venture between Tsuji Seiyu with its food processing technology, Asai Nursery which produces and sells tomatoes and garden plants, and Mitsui & Co., Ltd. which is seeking to expand overseas. When looking into ways to use the excess energy from Tsuij Seiyu's vegetable oil production plant which is powered by steam energy from a wood biomass plant, they decided to make this energy-saving horticulture business.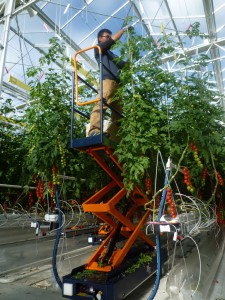 The reason the yield from 1,000 m2 is about three times the national average, at 25 tons of cherry tomatoes, lies in a unique cultivation system based on an advanced system from the Netherlands. The climate in the greenhouse is controlled by computer, creating optimal conditions for growing cherry tomatoes. Since cherry tomatoes grow up to 15 meters high, this leads to the problem of having to harvest the tomatoes from continually increasing heights. In order to limit the burden on workers, strings are used to bend the base of the plant sideways, so that the tomatoes can always be harvested from the same height. The steam provided by Tsuji Seiyu covers the energy used, making this an environmentally friendly large-scale facility for growing tomatoes. The greenhouse also creates employment, with approximately 50 local seniors and housewives working there. Currently, the facility produces 400 tons of tomatoes, and is considering expanding distribution to include overseas markets as well.
The tour will visit Ureshino agri, and after a briefing about the business by Mr. Tsuji, Mr. Asai will guide the tour around the greenhouse where it will be possible to film/photograph the cherry tomato cultivation from outside their glass enclosures.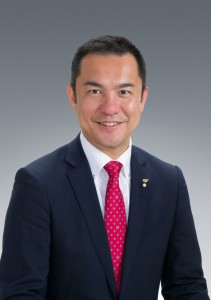 3. Interview with Mie Prefecture Governor
Mie Prefecture Governor Eikei Suzuki
Governor Suzuki was first elected in 2011, and is in his second term. Currently 41 years old, he is the youngest governor in Japan, and became the topic of news in 2012 when he went on paternity leave.
Mie Prefecture launched the Mie Citizens Council for the Ise-Shima Summit, a joint organization consisting of local governments and the private sector, so that the prefecture as a whole can promote the appeal of Mie to the world and prepare for the G7 summit next year. Four elements form the basis for its initiatives: supporting hosting the summit, omotenashi (hospitality), connecting to the future, and distributing information on Mie. The council is acting quickly in order to implement necessary initiatives.
The Mie Prefecture Governor will discuss topics such as next year's G7 Summit at Ise-Shima.

1. Dates: Monday, December 7–Tuesday, December 8, 2015
Day 1
8:37-10:12   Shinkansen Nozomi 17 Shinagawa→Nagoya
12:15-14:30 Moku Moku Tezukuri Farm (including lunch)
15:00-17:00 Iga-ryu Ninja Museum
17:45-19:15 Dinner
19:30           Arrive at hotel(Stay in Nabari)
Day 2
8:30             Depart hotel
9:00-10:30   Agree Farm
11:10-12:15  Kinoko no Sato Nishikio Production Center
12:30-13:15  Lunch
14:30-16:00  Ureshino agri
16:45-17:45  Interview with Mie Prefecture Governor (Mie Prefectural Government Office)
19:32-21:13  Shinkansen Nozomi 48 Nagoya→Tokyo
(*The above itinerary is tentative, and subject to change.)
2. Qualification: Bearer of Gaimusho Press Registration Card
3. Cost: 13,000 yen per person including transportation and meal.
* FPCJ will later inform the participants of methods for payment, cancellation fee, etc.
4. Participants:Limited to 10 applicants.
(Only one reporter and one photographer from each company, but two participants from each TV team will be acceptable.)
*If the number of applicants exceeds 10, an upper limit may be set on the number of participants from each country.
5. FPCJ Contact: Ms. Yokota (Tel: 03-3501-3405)
6. Remarks:
(1) There may be some restrictions on photographing and filming at the tour sites. Please follow the instructions of the officials on duty.
(2) FPCJ and Mie Prefecture will not be liable for any inconvenience, trouble or accidents that might occur during the tour.