Date : August 30, 2015
Notice: Shizuoka Press Tour
post date : 2015.08.07
The Largest Disaster Training Event in Japan
The disaster training that Shizuoka Prefecture holds every year in cooperation with cities within the prefecture is the largest event of its like in Japan. Every year, training is held simultaneously at various different locations, and last year there were 890,000 participants. A similar number of participants are expected this year, including not only residents and municipal employees but also members of the Shizuoka Prefectural Police, the Coast Guard, the Self-Defense Forces, and the US Army stationed in Japan. Drills will be held assuming realistic situations, such as rescuing people by helicopter from a tsunami or from cars and houses ruined by an earthquake. This will be the 37th time this event has been held since starting in 1979, and this year it will be held in cooperation with the cities of Yaizu and Fujieda on Sunday, August 30.
Preparing for the Nankai Trough Earthquake
The reason Shizuoka Prefecture puts so much effort into disaster training is due to the threat of the Nankai Trough Earthquake, which could happen any time now, and other major earthquakes. The Nankai Trough Earthquake is an earthquake expected to have its hypocenter in the Nankai Trough, a 4,000 meter deep trough at the bottom of the Pacific Ocean approximately 770 kilometers long that extends from Suruga Bay to Kyushu. The scale of the earthquake is predicted to be the same as the Great East Japan Earthquake, magnitude 9, and the tsunamis caused by the earthquake could be between 10 to 20 meters tall. Government estimates of the damage predict 320,000 dead throughout Japan and a total of 220 trillion yen in damages, significantly more than the damage from the Great East Japan Earthquake. According to estimates by Shizuoka Prefecture, there will be 105,000 deaths and damages of 29.2 trillion yen in the prefecture.
This press tour will cover the largest-scale disaster training event in Japan, taking place in Shizuoka Prefecture. After the disaster training event, there will be an interview with Shizuoka Governor Heita Kawakatsu.
*This press tour is a joint project by Shizuoka Prefecture and the FPCJ.
*Participants will have to cover part of the cost of this press tour, but it is not a profit-making enterprise.
*****************************************************************************
[Tour Details]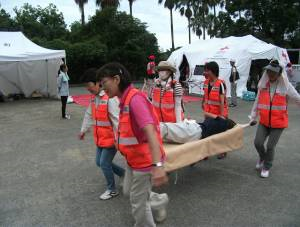 1. 2015 Shizuoka Prefecture, Yaizu City and Fujieda City Joint Disaster Training
The theme for this year's disaster training held jointly by Shizuoka Prefecture, Yaizu City and Fujieda City is "The power of Shida, protecting the area—a disaster-risk-reduction scrum combining 'helping yourself' and 'helping each other' with 'help from government agencies'." Over 50 kinds of drills will be carried out in various locations in Yaizu and Fujieda, both of which are located in the Shida area. The drills will be supposing a shindo 7 (JMA seismic intensity scale) large-scale earthquake occurred at 8:30 am, causing a major tsunami. One goal of this training is to improve the capabilities of the disaster response headquarters of the prefectural and municipal governments, and to improve collaboration with the police, fire department, and Self-Defense Forces. Another goal is to increase disaster preparedness for the area as a whole by having civilians, including members of volunteer fire departments and community-based disaster prevention organizations (CBDPO), participate and work together. CBDPO exist throughout the country, in order to encourage local residents to help each other during disasters instead of just protecting themselves or waiting for help from government agencies such as the police or fire department. After reports were released that 80% of people rescued from rubble after the Great Hanshin Earthquake were saved by their neighbors, a lot of importance was placed on CBDPO for local residents to be able to help each other out right after a disaster. There are 5,140 CBDPO in Shizuoka alone. At Oigawa Port, one of the locations for disaster training in Yaizu, drills will be held this year for the first time with the new tsunami lifeboat and tsunami evacuation tower. At Fujieda Sports Complex Park, the largest training location in Fujieda, many CBDPO will train in putting out fires, performing first aid, transporting wounded people, and cooking outdoors. This press tour will cover the drills listed below.
<Yaizu, Oigawa Port: Tsunami drills>
① Using helicopter to rescue evacuee from tsunami evacuation tower
The tsunami evacuation tower in Oigawa Port is approximately 11 meters tall with two floors, and can hold around 470 people. Construction finished in 2013. Within Shizuoka, there are 139 tsunami evacuation facilities including tsunami evacuation towers and artificial high ground made using embankments, far more than in any other prefecture.
The drill will involve one civilian evacuating to this tower. An Air Self-Defense Forces member will descend from the helicopter and then bring the evacuee up. The tour will watch this drill from a spot approximately 100 meters from the tsunami evacuation tower.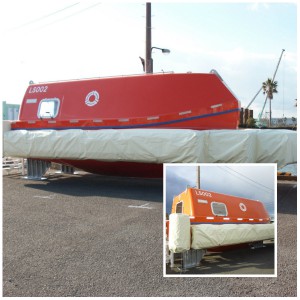 ② Rescuing evacuees from tsunami lifeboat
The tsunami lifeboat used for this drill was bought by Yaizu City in February 2015, making it the first municipality to do so in Shizuoka. The tsunami lifeboat is a floating shelter to help protect people such as the injured and elderly who can't evacuate to higher ground. It has no power source, but is constructed so as to return right-side up immediately if flipped, so people can wait inside to be rescued. The tsunami lifeboat is 8.7 meters long, 3.5 meters wide, and 3.1 meters tall, and can hold up to 35 people. It also has supplies such as emergency rations and water.
For the drill, 10 people will evacuate to the tsunami lifeboat. The evacuees will be rescued by an inflatable boat from the Coast Guard patrol vessel Okitsu. The inflatable boat will then be lifted out of the water by the Okitsu's crane. The drill is planned to be carried out at a point approximately 50-100 meters from the pier, where the tour will watch from.
<Fujieda Sports Complex Park: Drills for collapsed houses and multiple-vehicle accidents due to earthquake>
③Locating people in a collapsed house and transporting them to a medical station
The drill will involve a police dog finding someone trapped under a collapsed house, who Shizuoka Prefectural Police will then rescue and transport to a temporary medical station. In order to receive aid, the rescued person will then be transported to a different medical station by the volunteer disaster prevention association.
④ Transporting people from the site of a multiple-vehicle accident
This drill will suppose that multiple people have been injured in a collision of four passenger vehicles. After firefighters rescue the injured from the collision, volunteer disaster prevention association members will transport them to a medical station.
⑤Triage and first aid at a medical station
In this drill, doctors at a medical station will perform triage and first aid on people made up to look like they have injuries. In situations such as disasters where a large number of injuries occur at once, triage is used to classify the injured by severity, such as by using colored tags (red for immediate treatment, yellow for priority treatment, green for minor injuries, black for survival unlikely). This improves the efficiency of treatment and makes it possible to save more lives.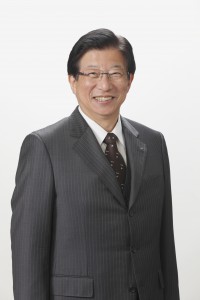 2. Interview with Shizuoka Governor Heita Kawakatsu
Since being elected as governor of Shizuoka in 2009, Governor Kawakatsu has worked on improving the prefecture's disaster awareness. In 2013, he created a 10-year action program to work on earthquake and tsunami countermeasures. This program will involve 420 billion yen of investment, and deal with both building infrastructure for and raising awareness of disaster prevention and disaster risk reduction. The national government has also recognized a special zone for "pioneering the inland frontier" in Shizuoka. Since there is no concern about damage from a tsunami in the inland area that the Shin Tomei Expressway runs through, infrastructure is being built and land use encouraged in that area. Disaster prevention and risk reduction measures are being enhanced in coastal and urban areas, with the goal of being able to maintain urban functionality to support Shizuoka Prefecture.
After watching the drills, the tour will hear from Governor Kawakatsu about the reasons for holding joint training and about preparing for major disasters.
1. Tentative Schedule:
Sunday, August 30, 2015
6:40-7:54 Kodama 631 Shinagawa Station→Shizuoka Station
8:00-8:45     Chartered bus from Shizuoka Station→Oigawa Port
8:45-9:10     ①Drill using helicopter to rescue evacuee from tsunami evacuation tower
10:50-11:30   Drills for ③Locating people in a collapsed house and transporting them to a medical station, ④Transporting people from the site of a multiple-vehicle accident, and ⑤Triage and first aid at a medical station
11:45-12:00   Closing ceremony
12:00-13:00   Lunch, interview with volunteer disaster prevention association members
13:25-13:55   Interview with Governor Heita Kawakatsu
14:00-14:40   Chartered bus from Fujieda Sports Complex Park→Shizuoka Station
15:19-16:40   Kodama 658 Shizuoka Station→Shinagawa Station
*The above schedule may change.
2. Qualification: Bearer of Gaimusho Press Registration Card
3. Cost: 5,000 yen per person including transportation and meal.
* FPCJ will later inform the participants of methods for payment, cancellation fee, etc.
4. Participants: Limited to 10 applicants.(Only one reporter and one photographer from each company, but two participants from each TV team will be acceptable.)
*If the number of applicants exceeds 10, an upper limit may be set on the number of participants from each country.
5. FPCJ Contact: Ms. Yokota (Tel: 03-3501-3405)
6. Remarks:
(1) There may be some restrictions on photographing and filming at the tour sites. Please follow the instructions of the officials on duty.
(2) FPCJ will not be liable for any inconvenience, trouble or accidents that might occur during the tour.