Date : June 2, 2015
Press Tour to Ogawa Town, Saitama Prefecture: Washi (Traditional Japanese Hand-made Paper)
post date : 2015.05.20
-Passing down washi culture and techniques to the next generation-
-Ogawa-washi used in an unconventional mission during WW II-
Hosokawa-shi was registered as Intangible Cultural Heritage (ICH) by UNESCO in November, 2014. Hosokawa-shi is one kind of the washi called Ogawa-washi, which is made in washi no sato [home of washi] including Ogawa Town, Higashi-chichibu Village and their surroundings in Saitama Prefecture. It is becoming more and more necessary not only to promote the good points and the culture of washi, but also to train successors and hand down the techniques to make washi. On the other hand, it is also true that Ogawa-washi was used as an element of the "balloon bomb" during the wartime. 
In this tour, journalists will visit Ogawa Town and Higashi-chichibu Village of Saitama Prefecture and cover the appeal of washi that flourished in that region, the techniques of the craftsmen, and the trainees. As it is the 70th anniversary of the end of WWII, Journalists will also cover another aspect of Ogawa-washi, which was actively produced for the "balloon bomb".
History of Ogawa-washi and Hosokawa-shi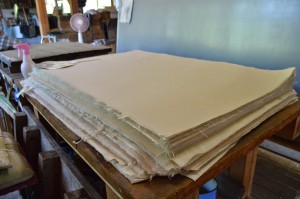 Washi-making around Ogawa Town is considered to have started approximately 1,300 years ago. The usage then was to transcribe Buddhist scriptures by Buddhist monks. Thanks to the rapid growth of raw materials such as the kozo plant (mulberry family) and abundant clean river water, Ogawa-washi has prospered to this day. In the Edo era (1603–1868), washi started to be used by ordinary people. With the increase of commerce, washi was used to record purchases and sales. It was around this time that Hosokawa-shi was developed.
Hosokawa-shi is said to be based on the technique to produce Hosokawa-hosho, a signature paper of the Hosokawa village of Wakayama Prefecture. Traders of paper in Edo (Tokyo) encouraged the craftsmen in Ogawa Town, which was already renowned as one of the biggest washi producing regions, to make Hosokawa-hosho so that they could cut the cost of transporting the paper from Wakayama to Tokyo. It succeeded, and Ogawa Town became the new hometown of Hosokawa-shi.
The Characteristics of Hosokawa-shi
Hosokawa-shi, which is registered on the UNESCO list of ICH together with Sekishu-banshi of Shimane Prefecture and Hon-minoshi of Gifu Prefecture as "Washi, craftsmanship of traditional Japanese hand-made paper", is made from domestically grown kozo plant using traditional tools in a traditional process. Durability is one of its characteristics. It is said that if you throw a Hosokawa-shi notebook in the well when there is a fire, the records on the notebook will be safe even if the house burns down. Nowadays, Hosokawa-shi is used for repair and restoration of cultural properties, and for printmaking, ink painting or paper screens.
*This press tour is planned and operated by the FPCJ.
*Participants will have to cover part of the cost of this press tour, but it is not a profit-making enterprise.
**********************************************************************************
1. Ogawa-washi and Hosokawa-shi, in Desperate Need of Successors
・Hosokawa-shi Craftsmen's Association, Chairman: Mr. Teizo Takano
・Trainees: Ms. Taeko Koyama and Ms. Saki Takayama
The Decline of Washi and the Hosokawa-shi Craftsmen's Association
Western paper was introduced to Japan around 1875. 
After that, the demand for washi dropped, and combined with a lack of raw materials and of successors to carry on the techniques, washi continued to decline. The number of washi makers in Ogawa Town has dropped from over 1,000 in the 1920s to only about 10 today, including nearby Higashi-chichibu Village. In response to this situation, the Hosokawa-shi Craftsmen's Association is focusing on training successors in order to keep the techniques alive for future generations, as a preservation group for intangible cultural heritage.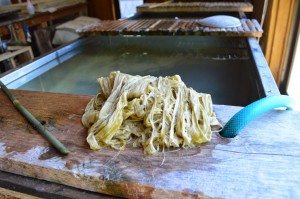 The chairman of the Association is Mr. Teizo Takano, who is 80 years old. Since his family made washi, he began training at the age of 16. For a period of 15 years, he made washi using machines, but after an acquaintance mentioned "At this rate, the art of making washi by hand will be lost. You are experienced in both hand-made and machine-made washi, would you try hand-making washi again?" Hearing this, Mr. Takano returned to making washi by hand.
Currently, two trainees are studying washi while helping out at Mr. Takano's workshop. "They say it takes 15 years to become a competent craftsperson. However, trainees will probably only carry out the entire process from beginning to end two or three times in a year. Even after 15 years, they won't have made very many sheets of paper." 
Mr. Teizo Takano will explain the history and characteristics of Ogawa-washi and Hosokawa-shi, and how they are made, as well as providing a demonstration. The tour will also hear from the two trainees who are studying with him.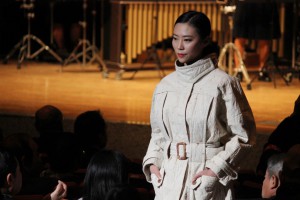 2. A New Possibility for Washi: Kamiko
-Designer: Ms. Taki Okajima
Washi Clothing!?
In February 2015, Ogawa Town held a celebration to commemorate washi being listed as Intangible Cultural Heritage by UNESCO. Part of this event was a fashion show for clothes made using Hosokawa-shi. Coats and pants made using Hosokawa-shi dyed in a variety of brilliant colors demonstrated a new possibility for washi and were met with great applause from the audience. Some of the clothes are now part of the permanent display at the Saitama Craft Center.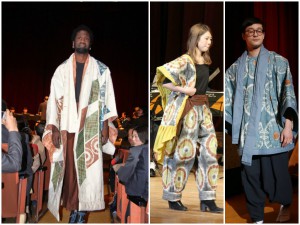 These clothes were made by designer Taki Okajima. She got the idea from omizutori, a traditional ritual at Todaiji Temple in Nara Prefecture, in which even now priests will make their own clothes (called kamiko) out of washi. She was also influenced by the fact that over 10 years ago, when she first visited workshops in Ogawa Town to study washi, many of the craftspeople she met with said they couldn't make a living out of washi. Ms. Okajima was moved by how despite washi being a fantastic craft, many people were unaware of its appeal, and so she decided to use her specialty to design Western-style kamiko. She began production, working with craftspeople in a trial-and-error process, and actively sought opportunities to display it. Although they are not for sale, Ms. Okajima would like her kamiko to inspire people to learn the history and beauty of washi.
Worldwide Appeal
In September last year, a kamiko fashion show was held during a school festival at a junior high school in Ogawa Town, with the junior high school students acting as models. The story received a lot of attention from the local press. When Ogawa Town officials heard of the response, it led to them trying to incorporate a fashion show into the commemorative event. Thinking that being listed as ICH by UNESCO was an opportunity to have the world learn about washi, they recruited foreign students from a fashion school in Tokyo as models, and made an effort to target an international audience. "Hand-made washi has a unique gloss and softness, and warmth, from which you can feel the heart of Japanese people and the skill involved in making it by hand."
The tour will hear from Ms. Okajima about washi, while viewing her kamiko pieces on display at the Saitama Craft Center.
3. Ogawa-washi, Used in Unconventional Operations During the War 
Balloon Bombs
-Ogawa Town Municipal Library, Chief Librarian/Local History Expert: Ms. Fumiko Nitta
- Former Balloon Paper Craftsman: Mr. Kaihei Kasahara (91)
Overview of Balloon Bombs
Baloon bombs were gas balloons 10 meters in diameter made of paper and with bombs attached. The balloons were made with extremely thin washi pasted together with konnyaku (a type of root vegetable) paste. This combination was used due to research showing that it made it less likely for hydrogen to leak from the balloons once they were filled. During WWII, washi craftsmen in Ogawa Town were assigned the mission of making the paper for these balloons. In 1944 and 1945, approximately 9,300 balloon bombs were released from the coasts of Fukushima, Ibaraki and Chiba prefectures. They travelled around 9,000 kilometers on the Westerlies prevailing winds, with about 900 reaching the US mainland. The only casualties were when one of the balloon bombs killed a woman and five children on a picnic in Oregon. There is a memorial at the site of the explosion.
91-Year-Old Former Balloon Paper Craftsman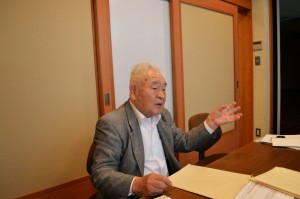 Turning 92 this July, Mr. Kaihei Kasahara was one of the craftsmen who made paper for the balloons. He began his apprenticeship studying washi at the age of 12, and in order to make the thinnest paper possible, he and three other craftsmen worked from morning to night to make 700 sheets of paper per day. Mr. Kasahara had the opportunity to make washi again a few years ago. "After the war, I got involved in the paper industry and so stopped making washi by hand, but it still comes naturally," he said as he took out a particularly thin and light piece of washi. His stories make it easy to imagine how difficult the mission given to the craftsmen was.
Having People Learn the History of Ogawa-washi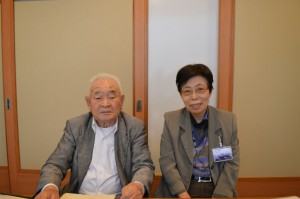 Ms. Fumiko Nitta, the chief librarian of the Ogawa Town Municipal Library, has known Mr. Kasahara for the past 20 years. Ms. Nitta is one of the most knowledgeable people around when it comes to the history of Ogawa Town, as she has compiled a history of the town, including the history of balloon bombs. "The operation to release the balloon bombs was covert, so the craftsmen making the paper for the balloons and the women pasting the paper together weren't told what they were doing, and couldn't find out even if they wanted to. However, those of us alive now can find out what happened if we want to. Ignorance is a scary thing. War is never right, so I would like people to know about this aspect of Ogawa's history."
Ms. Nitta will explain the history of the balloon bomb operation. Mr. Kasahara will give an interview, explaining his feelings and what it was like to make the balloon paper.
< Tour Itinerary and Application Details>
1. Itinerary (Tentative): June 2 (Tue.), 2015 
           7:30 Leave Nippon Press Center Building by chartered bus
9:30-11:30   Explanation of Ogawa-washi and Hosokawa-shi,
                    demonstration of washi-making and interview with the trainees @ Kamikobo Takano
12:00-13:00 Kamiko: Interview with Ms. Taki Okajima @ Saitama Craft Center
13:15-14:00 Lunch
14:15-15:35 Balloon bomb: Interview with Ms. Fumiko Nitta and Mr. Kaihei Kasahara
                   @ Ogawa Town Municipal Library
         17:30   Arrive at Nippon Press Center Building
*The schedule is subject to change.
2. Qualification: Bearer of Gaimusho Press Registration Card
3. Cost: 2,000 yen per person including lunch
* FPCJ will later inform the participants of methods for payment, cancellation fee etc.
4. Participants: Limited to 10 applicants.
(Only one reporter and one photographer from each company, but two participants from each TV team will be acceptable.)
*If the number of applicants exceeds 10, an upper limit may be set on the number of participants from each country.
5. FPCJ Contact: Ms. Yokota (Tel: 03-3501-3405)
6. Remarks:
(1) There may be some restrictions on photographing and filming at the tour sites. Please follow the instructions of the officials on duty.
(2) FPCJ will not be liable for any inconvenience, trouble or accident that might occur during the tour.