Date : February 13 - 14, 2014
Notice: Press Tour "Challenging Aging Society! Regional City Toyama's Approach"
post date : 2014.01.24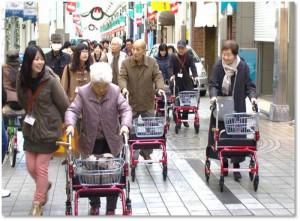 In 2025 Japan will likely be the first nation to face a  super-aging society. The post-war baby boomers will turn 75 in large numbers, Japan's population aging rate, the ratio of people aged 65 and over to the total population, will reach 30%, and the number of single-person households of the aged is estimated to exceed seven million. This will be accompanied by a rapid increase in the need for medical treatment or nursing care and it is feared that urban areas will suffer a serious lack of nursing care facilities.
 In anticipation of the coming aging society, Toyama City has been trying to become an aged-people-friendly city ahead of other cities in Japan. About 10 years ago, the city launched creating a so-called "compact city," the key idea in building a city in the aging era. The Japanese government has already decided to promote building such cities in other parts of the country as well. Also, the city has made many unique efforts for care prevention, believing that helping elderly people extend their "healthy life expectancy" will relieve the future burdens of younger people who support them.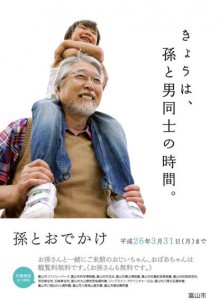 How should we deal with the rapidly advancing aging society? This tour will cover various efforts by local city Toyama, which has been long challenging this issue facing Japan and other advanced countries. The city is one of the case study cities in OECD's project on "Sustainable Urban Development Policies in Ageing Societies."
* Toyama City and Toyama Television Broadcasting Co.,Ltd host this press tour with FPCJ's cooperation in planning and operation.
*Toyama Television Broadcasting Co., Ltd will film the tour and air a 15-minute program in March so that local people could see how foreign reporters covered their hometown.  
*Tour participants will bear part of the cost, but the tour is not a profit-making operation.
===================================================================
<Presentations>
1.    Building an elderly-friendly city
1) Toyama Mayor Masashi Mori, the leader of compact-city promotion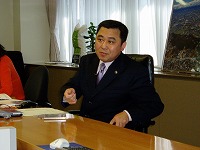 Toyama City is predominantly a "car society" among the cities in Japan's regions. As more people tend to move from city centers into the suburbs, they use cars more often than the public transportation system, so the city was becoming very difficult to live in for old people who cannot use cars freely. Since first elected as Mayor of Toyama City in 2002, Mr. Masashi Mori has been trying to revitalize the public transportation in the city centers to build a city where people can lead a comfortable daily life without a car, advocating "compact city building" to cope with a society where the population is both declining and aging. Toyama City is making other efforts to get old people out of their houses: A project to assist old people who go out with their grandchildren gives them free tickets for facilities designated by the city; or the issuance of an "Odekake (outing) commuter ticket," which reduces transportation costs to 100 yen when citizens of 65 or over use the public transportation system to go to the city centers.
 *Mr. Mori will brief you on the city's efforts to build an elderly-friendly city. Dr. Joseph Runzo-Inada, the city's policy advisor, will talk about Toyama's attractions from a foreigner's viewpoint.
2) LRT (next generation tram system) --- Toyama Light Rail and Centram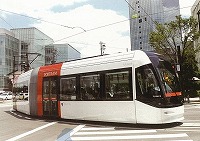 In the course of creating a "compact city," Toyama City has focused on revitalizing the transportation system in the city centers. The city has introduced two kinds of LRTs earlier than other cities. Toyama Light Rail, nicknamed "Portram" and run by the city's third sector, started operation in 2006, and a loop line, nicknamed "Centram" and operated by Toyama Chiho Tetsudo Inc., started in 2009. Portram cars have lower floors so that even old people can have easy access; they are now popular as the "citizens' feet." When the Hokuriku Shinkansen bullet trains start to run in the spring of 2015, Portram will play the role of secondary transportation, connecting the Shinkansen station (Toyama Station) and the city center.
 *On the tour, Mr. Yasuo Kuriyama, President of Toyama Light Rail Co., Ltd., and former Director of the city improvement department, will talk about Toyama's transportation policy from the viewpoint of improving convenience for the elderly. The participants will ride a Centram car to move to the hotel.
2. Toyama, an advanced care prevention city, boosts the number of robust elderly people
1) Project for redesigning a walking-around community
- Newly-developed 4-wheeled walkers encourage the aged to go out and have fun! -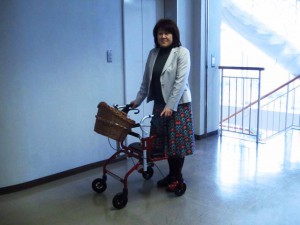 The Toyama University Study Group for Walking-Around Community, in which Toyama City and local firms are joining, has developed a four-wheel walking aid to encourage the aged to go out instead of staying home. The walker is intended to prevent older people from losing their physical strength and functions, and at the same time to vitalize the city, by urging them to go out more often. It is equipped with devices that help them enjoy shopping or walking: a basket for luggage, a brake for a slope, and a chair for rest. Older people can also enjoy customizing the walker by using parts available at local motorcycle shops. Ms. Minako Nakabayashi, an Associate Professor at Toyama University who heads the project, says, "Initially, no one was willing to use the walking aid and it was very hard to find a product tester." But, while carrying out PR activities, her team members continued working on elderly people to try out the walker. As a result, it became known gradually, and some people became willing to use it. Currenly 40 seniors are using walkers on loan.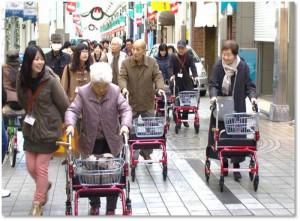 *On the tour, Ms. Nakabayashi will give an outline of the project, the features of the walker, prospect for commercializing it, etc. Then you will join a short tour to walk around a shopping area together with some old folks using the devices and also with female university students involved in the project.
2) Toyama City Kadokawa Care Prevention Center
-Japan's first facility specializing in care prevention, making the elderly healthy with hot spring water-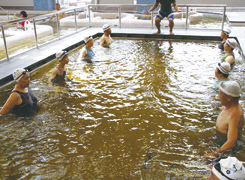 This center, specializing in care prevention, was established in 2011 to extend the healthy life span of the elderly and to curb an increase of those in need of nursing care. If the number of robust elderly people increases, the nation and local governments can reduce the costs for nursing care. The center has resident doctors and a variety of programs including aqua kinetic therapy and spa therapy using hot spring water, offering an environment in which the elderly can enjoy comfortable exercises. The center records the users' athletic performances continuously to take a scientific survey of care prevention effects.
* On the tour, Mr. Shinobu Ichishima, Director, will show you around the center and talk about the effect of spa therapy in care prevention based on the data  the Center has obtained so far.
3. Spreading healthy diet extends "healthy life-span" - Medicine City Toyama's efforts
1)    Ikedaya Yasubei Shoten, a pharmacy serving "Yakuzen" medicinal dishes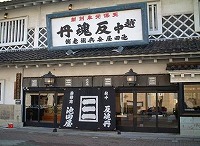 Toyama Prefecture is famous for its pharmaceutical industry that boasts a little over a 300-year history and tradition. Toyama City, also known as "Medicine City," has approved "Toyama Yakuzen (medicinal food)," dishes using Toyama-grown foodstuffs or healthy foodstuffs, and tried to spread them. Ikedaya Yasubei Shoten, one of such approved shops, offers a food space for health, advocating, "Disease prevention starts with eating." The shop still retains the atmosphere of a drug store of the Edo era and sells traditional medicines centering on natural drugs used in traditional Chinese medicine. The restaurant on the second floor provides medicinal food using an ancient strain of rice or Korean ginseng.
 *On the tour, you will have "Yakuzen" medicinal dishes for lunch at the shop.
2)  Project to make agriculture the sixth industry using hot spring heat
-A plant factory produces egoma (perilla frutescens) and creates jobs for the elderly-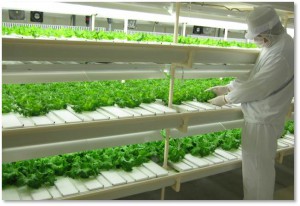 Egoma, a labiate plant, is attracting attention as a health food. Its tasty leaves contain useful components such as chlorophyll, which is high in antioxidant activity; its seeds are rich in alpha-linolenic acid (ALA), an essential fatty acid; and the oil extracted from its seeds is considered  the ideal cooking oil. Aiming to develop egoma as its specialty, Toyama City plans to make the local agriculture the sixth industry; specifically, the city will build a plant factory using hot spring heat in the Yamada district where the population is both declining and aging, and will produce, process, distribute and sell egoma in an integrated manner. This project is also intended to give the elderly motivation in life by hiring local seniors for the factory, as egoma can be cultivated or cropped even by women or older people relatively easily. The factory is scheduled to be completed in March.  
(*The above picture is an image of the completed factory. )                     
*On the tour, city officials will give you an outline of the project and show you the factory to be completed very soon. You will also have lunch featuring  egoma.
4. Toyama's manufacturers supporting aging society
1) Tateyama Kagaku Group "Mimamori Link"
-Protect elderly people living alone! Watching-over service for seniors-
 http://www.tateyama.jp/mimamolink/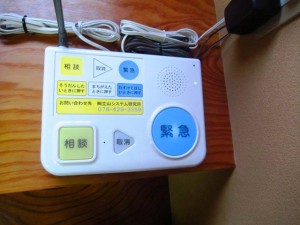 "Mimamori" (Watching over) Link is the safety confirmation system for elderly people who live alone.  Users can make an emergency call and ask for help to a call center by pressing the emergency call button, just like the nurse call in a hospital. Also, when a sensor called "Jinkan Sensor" that monitors a person's activities for 24 hours at home automatically catches something amiss, an emergency center responds and gets in touch with family members, helpers, and the emergency services asking them to send someone to check on the elderly person. There are quite a number of elderly people whose lives have been saved thank to this system and many letters of gratitude have been sent to the Tateyama Kagaku Group. 
*On the tour, you will see a demonstration of the Jinkan Sensor and visit a call center, after having a brief overview of the service.
2)    Takeoka Mini Car Co., Ltd.
-Unique carmaker helping old and handicapped people with originality and compassion-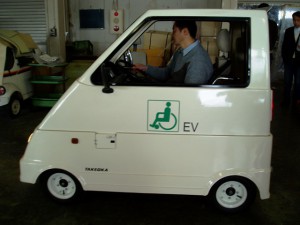 Takeoka has been manufacturing and selling mini-cars for more than 40 years. Its factory is small, but well-known for producing one-man electric cars and scooters easy to drive for older and handicapped people. One of its products, "Friendly-Eco," which was jointly developed by Takeoka and a local utility firm, is known as "Japan's first welfare-purpose electric mini-car for practical use." It allows people in wheelchairs to enter from the rear and drive without leaving the wheelchair. The demand for Takeoka's vehiles is not very high, but orders come from all over Japan as they give greater mobility to the elderly and other people who are concerned about driving ordinary cars. Factory operators have a passion for making vehicles needed in society, although they say it is tough to keep their business going. President Eiichi Takeoka is nearly 90 years old, but still an active engineer who drafts the design for vehicles himself.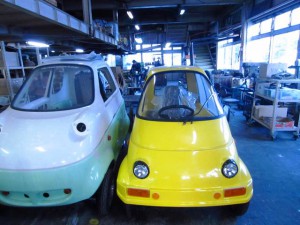 *The tour will vsit Takeoka's factory to cover mini-cars friendly to the elderly.
5. "Toyama as a city of glass art" appealing to the world
1) Toyama Glass Studio
http://www.toyama-garasukobo.jp/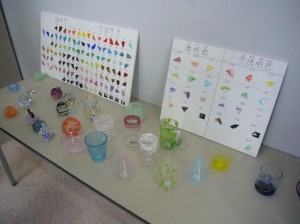 Toyama City is promoting glass art as one of its pillars of community development. In 1991, the city established the Toyama City Institute of Glass Art as Japan's first educational center specializing in glass art, and works created by its graduates have been receiving a high evaluation in the grass-art world. The adjacent Toyama Glass Studio is the operating base for professional glass artists. The walls and the floor of the area under the elevated JR Toyama Station for the Hokuriku Shinkansen, which is currently under construction, will be decorated with glass art crafts created at the Studio.
*For recreation at the end of the tour, you will experience glass crafts, after having a brief explanation of "Toyoma as a city of glass art."
< Tour itinerary and application details >
1. Itinerary (Tentative): February 13 (Thu.) and 14 (Fri.), 2014
*The schedule is subject to change.
Day 1:
9:45-10:45         Tokyo (Haneda)→Toyama (ANA883)
11:00                  Leave Toyama Airport by chartered bus
11:20-12:30   Project for redesigning a walking-around community
12:45-14:00        Lunch at Ikedaya Yasubei Shoten (Yakuzen medicinal dishes)
14:20-15:50        Toyama City Kadokawa Care Prevention Center
16:00-16:30        Interview with President of Toyama Light Rail
16:45-17:00        Ride Centram
17:00             Arrive at ANA Crown Plaza Hotel TOYAMA
17:30-18:30        Briefing by Toyama Mayor Masashi Mori
18:30-19:30        Reception and dinner
(Stay at ANA Crown Plaza Hotel Toyama)
Day 2:
8:30                 Leave Hotel
9:00-10:30      Tateyama Kagaku Group
10:45-11:45        Takeoka Mini Car Co., Ltd.
11:45-14:00      Project to make agriculture the sixth industry using hot spring heat
                      11:45-12:45 Move by charterd bus (briefing will be given on the bus)
                            12:45-13:00 Egoma factory
                              13:00-14:00 Lunch (Egoma)
14:40-16:00        Toyama Glass Studio
16:30                   Arrive at Toyama Airport
17:15                   Leave Toyama Airport
18:20                   Arrive at Tokyo Haneda Airport 
2. Qualification: Bearer of Gaimusho Press Registration Card
3. Cost: 15,000 yen per person including transportation, meals and accommodation
* FPCJ will later inform the participants of methods for payment, cancellation fee etc.
4. Participants: Limited to 10 applicants.
(Only one reporter and one photographer from each company, but two participants from each TV team will be acceptable.)
5. FPCJ Contact: Ms. Shinobu Ishikawa (Tel: 03-3501-3405)
6. Remarks:
(1)   There may be some restrictions on photographing and filming at the tour sites. Please follow the instructions of the officials on duty.
(2)   FPCJ, Toyama City, and Toyama Television Broadcasting Co., LTD. will not be liable for any inconvenience, trouble or accident that might occur in the course of the tour.