Date : December 11, 2013
Press tour: "Washoku"(Japanese Cuisine), becoming a World Heritage
post date : 2013.11.25
-Interview with Yoshihiro Murata, Japan's leading chef/promoter for UNESCO registration-
-Demonstration/Lunch at "Kikunoi," a top classic Japanese restaurant-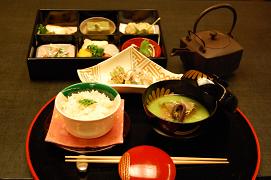 In Japan there are four seasons. Each of them is distinctly replaced by the next season. The sea, the mountains and the villages create a varied natural scenery on this archipelago spreading from north to south. This whole ambience produces various ingredients which constitute "Washoku" (Japanese cuisine). Washoku is a concentration of the culture that respects nature.
It is said that Washoku is the key to long life because it is well-balanced and low-calorie, which is  also highly evaluated overseas. Recently, Dashi, a broth extracted from Kombu (kelp, a kind of seaweed) or Katsuobushi (dried bonito), is catching people's attention all over the world.
   In a global trend, countries/regions are aiming at winning a registration of their own cuisine as Intangible Cultural Heritage of UNESCO (ICH). Four cuisines have been already registered; Gastronomic meals of the French, Mediterranean diet, Traditional Mexican cuisine and the Ceremonial Keşkek tradition of Turkey.
  Japan is no exception. The governmental and non-governmental parties have been collaborating to get "Washoku: Traditional Dietary Cultures of Japanese" to be added to the ICH list. In March 2012, the Japanese government submitted the nomination file to UNESCO. During the upcoming Intergovernmental Committee to be held in Azerbaijan from December 2 to 7, 2013, Washoku is predicted to be officially registered as Intangible Cultural Heritage of UNESCO (ICH).
  Now, what defines Washoku as culture heritage?
According to the submitted nomination format, it is said that there are four elements that characterize Japanese cuisine.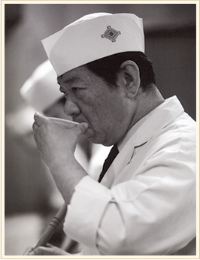 1) Usage of various fresh ingredients
2) Well-balanced meal based on rice
3) Emphasis of the beauty of nature and the transition of the four seasons
4) Close connection to annual events such as Shogatsu (New Year's celebration), Taue (rice planting) or harvesting ceremonies
 ・・・・・・・・・・・・・・・・・・・・・・・・・・・・・・・・・・・・・・
         In this tour, participants will meet Mr. Yoshihiro Murata who has been playing an important role for the registration of Intangible Cultural Heritage of UNESCO (ICH). He is the third generation owner/chef of Kikunoi, a traditional ryotei (a particular type of high-class Japanese restaurant) in Kyoto, which has been awarded three Michelin stars. He is also known world-wide. 
   Participants will visit Kikunoi's Tokyo branch and first observe a chef cutting sashimi. Mr. Murata will explain them about the seasonal ingredients and cooking tools such as Japanese knives, inevitable elements when you talk about Washoku. Later on, the lunch, "Kodaiji Gozen" (Kodaiji Feast) will be served. This meal is full of his seasonal presentation. An interview with Mr. Murata comes after. Participants will hear from him the meaning of Washoku being registered as ICH.
   The tour will deeply explore the essence of Japanese cuisine through the experience of the five senses.
 ・・・・・・・・・・・・・・・・・・・・・・・・・・・・・・・・・・・・・・
【 Presentations 】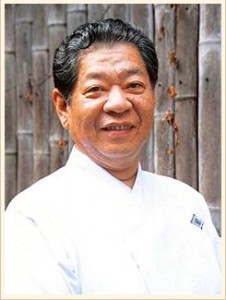 1. An interview with Mr. Yoshihiro Murata (age 62), "Kikunoi" Master chef/ Chairman, NPO Japanese Culinary Academy
- A world-wide chef/ promoter for UNESCO registration drawing a picture of Washoku's future-
Kikunoi Welcome message
The Japananese Culinary Academy
  Murata was born as the third generation of Kikunoi, established in 1912, a classic ryotei in Kyoto dating back more than 100 years. His ancestor was a "chabozu", an official who organized tea ceremonies or serving foods to the regional lord. He is the 22nd generation of his family. He went to France to learn French cuisine while he was a university student. After his return to Japan, he came back to Washoku because the wish to promote Washoku to the world had been growing inside him. Then he took over Kikunoi. Kikunoi has been awarded three Michelin stars for four consecutive years.
   He is also the director of the NPO Japanese Culinary Academy. This organization was established to promote the correct understanding of Japanese cuisine. He travels all over the world to teach Washoku to non-Japanese chefs. He says to preserve Washoku, "I would like to establish a faculty dedicated to Washoku in universities or graduate schools. This will open the door for ambitious young people, even non-Japanese, to learn Washoku. We should stop the custom that only the children of classic ryotei families have privileged access to inherit the art. The door should be open. This is how I want to rear successors."
✓In this tour, participants will interview Mr. Murata, an ambitious promoter of Washoku's registration as World heritage. He will talk about the meaning of such registration for the preservation and future development of Japanese cuisine.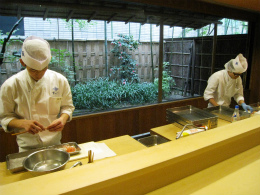 2. Seeing demonstration at Akasaka Kikunoi (Tokyo) / Lunch
-Expressing the four seasons and nature with tradition and innovation-
   Kikunoi's main restaurant is located at Higashiyama, Kyoto, on aprox. 3240㎡ of land. It is said that a local well called "Kikusui-no-i" was used to draw water for the tea ceremony in the 17th century. Mr. Murata's family has preserved this well from generation to generation. The water of this well is used for every meal in Kikunoi and even in Akasaka Kikunoi, opened in 2004 in Tokyo. Kyoto's head Kikunoi has been awarded three Michelin stars for four consecutive years since 2009. Akasaka Kikunoi in Tokyo has won two Michelin stars. 
✓Participants will visit Chef Yoshihiro Murata in his Akasaka Kikunoi, Tokyo. They will be able to see a chef cutting sashimi over the counter. Mr. Murata will explain about the menu, seasonal ingredients, cooking methods and Japanese knives. Then the participants will taste the lunch, "Kodaiji Gozen," full of the season's beauty.
*Notice: Participants are not allowed to enter the kitchen from the standpoint of the Food Sanitation Act. Please understand that photo/video shooting will be allowed only over the counter, from outside from the kitchen. Courtesy should also be extended by the participants to other customers having lunch.
【 Tour itinerary and application details 】
1. Itinerary (Tentative): Dec. 11 (Wed), 2013
*The schedule is subject to change.
11:45                Meeting at Akasaka Kikunoi
                                   6-13-8 Akasaka, Minato-ku, Tokyo 107-0052
                                 
11:45-14:00      [At the counter table on the 1st floor during lunch hour]
                        Seeing demonstration (sashimi being prepared)
                        Explanation from Mr. Murata: menu, seasonal ingredients,
                        cooking methods and Japanese knives
                        Tasting the lunch "Kodaiji Gozen" (5,250 Yen)
14:00-15:00     [In the large room on the 2nd floor after the lunch hour]
                       Interviewing Mr. Murata
                       End of the tour at the site
2. Qualification: Bearer of Gaimusho Press Registration Card
3. Cost: 5,000 yen per person including meal
* FPCJ will later inform the participants of methods for payment, cancellation fee etc.
4. Participants: Limited to the 12 applicants.
(Only one reporter and one photographer from each company, but two participants from each TV team will be acceptable.)
5. FPCJ Contact: Ms. Yoshida (Tel: 03-3501-3405)
6. Remarks:
(1) There may be some restrictions on photographing and filming at the tour sites. Please follow the instructions of the officials on duty.
(2) FPCJ will not be liable for any inconvenience, trouble or accident that might occur in the course of the tour.
*Tour participants will bear part of the cost, but the tour is not a profit-making operation.