Date : October 17 - 18, 2013
Notice: Kitakyushu Press Tour "First Model City for Green Growth in Asia"
post date : 2013.09.27
In 2012, the Organization of Economic Co-operation and Development (OECD) selected Kitakyushu City as the First Model City for Green Growth, a developed model city where the environment and economic development coexist. Having conquered the environmental pollution brought about during the high economic development period, Kitakyushu City, as an environmental model city, has taken the initiative in the field of the environment, while strengthening its network with Asian countries. The city's innovative efforts for realizing low-carbon society, such as the hydrogen town project and offshore wind power generation, are getting attention. The Yawata Steel Works, which helped Japan modernize in the past and is now owned by the Nippon Steel & Sumitomo Metal Corporation; TOTO Ltd., the creator of high-tech toilets; and other local companies have been proactively manufacturing environment-friendly products.
Celebrating the 50th anniversary of the city government---Kitakyushu City was born from the merger of five cities in 1963---the city, naming this October as the eco-month, is planning to hold four international conferences including the OECD Green Cities Programme Commemorative Meeting for the Kitakyushu Report Publication and many other environment-related events. Taking this opportunity when Kitakyushu City is dominated only by "ecology," this press tour will cover the efforts of the world-leading environmentally-advanced city.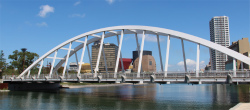 *Kitakyushu City, OECD and the FPCJ will jointly plan and operate this press tour.
*Tour participants will bear part of the cost, but the tour is not a profit-making operation.
*************************************************************************************************
<Presentations> 
1. Kitakyushu Smart Community Creation Project/Hydrogen Town Project
http://jscp.nepc.or.jp/en/kitakyushu/index.shtml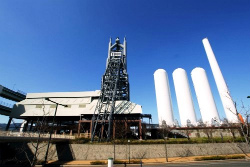 The Higashida area had been leading Japanese modern industry as a "town of iron" for a long time since the Government-operated Yawata Steel Works (now owned by Nippon Steel & Sumitomo Metal Corporation) was established in 1901. Having successfully overcome pollution caused by the rapid industrialization, the area is now shifting into a "green town," which was selected as a location to demonstrate an eco-friendly "smart community."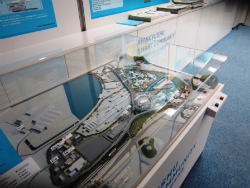 "Smart community" is an initiative to utilize environmental-friendly energy and also highten the energy use efficiency of the whole town by information technology. Some major European cities such as Lyon (France), Malaga (Spain), and Manchester (Great Britain) have already started adopting Japanese technologies to create a smart community there as well. In Japan, a demonstration experiment has been carried out by four local governments, Kitakyushu City (Fukuoka), Keihana Science City (Kyoto), Yokohama City and Toyota City (Aichi). Kitakyushu City's smart community is characterized by "dynamic pricing" and "utilization of hydrogen energy."
 Dynamic pricing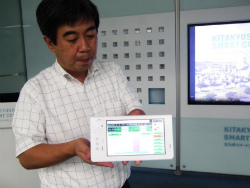 Dynamic pricing is a system that aims to reduce energy consumption with the participation of consumers: it changes the electricity prices according to electricity demand in order to encourage consumers to limit their use of electricity when the power demand is highest. For instance, when the electricity demand is expected to rise, dynamic pricing raises the electricity prices, encouraging consumers to use less electricity and as a result suppresses the electricity demand during the peak time. The Community Energy Management System (CEMS) plays the role of commander to control the energy consumption in the region. The CEMS visualizes and centralizes all the information about the electricity stored in the region. It estimates the amount of electricity used and generated based on daily weather conditions, and then provides this information to dynamic pricing monitors distributed to each household.
Hydrogen Town Project
Hydrogen is expected as an ultimate clean energy source that emits zero carbon dioxide. Japan's hydrogen production capacity is 36 billion cubic meters per year, but only half of this is used effectively at the moment. How to make good use of this surplus capacity? In response to the question, Kitakyushu has launched a world-first attempt to use a pipe-line to supply the hydrogen generated in the iron manufacturing process at at an iron foundry. In the Higashida area, a substantial amount of hydrogen is produced as a byproduct of coke production at Yawata Works. This hydrogen is sent through an underground pipe-line to demonstrate its use in homes, offices, and public facilities. The "Higashida H2" demonstration houses for hydrogen energy sources (comprising seven households) already have some occupants, and there is also a hydrogen energy station for fuel-cell cars in the area.
(Pictures: Fuel-cell bicycle, a fuel-cell car at the hydrogen energy station, and the Higashi H2)
Honda FCX Clarity hydrogen fuel-cell vehicle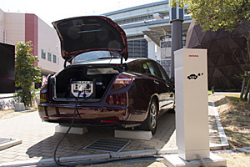 In 2002, Honda Motor began the leasing of its FCX fuel cell cars in Japan and the United States for the first time in the world. The carmaker also unveiled the new model, the FCX Clarity, in 2007 and announced last July its tie-up with US auto giant General Motors in the development of fuel-cell vehicles (FCV). Honda now aims to take the next step: commercial production of FCVs. It has been long considered that commercial production of FCVs is difficult because of the high production cost and a lack of hydrogen infrastructure. But three major Japanese automakers, Honda, Toyota, and Nissan, currently plan to start selling their FCVs, of which the current sales price is around 100 million yen (approx. 1 million dollars), for about 5 million yen (approx. 50,000 dollars) between 2015 and 2017 by cutting production costs. In addition, Japanese energy companies plan to set up 100 hydrogen refueling stations by 2015 and 5,000 by 2030. Honda has been also developing a solar hydrogen station for home use and a vehicle-to-home power supply system using the FCX Clarity. The company will exhibit an FCX Clarity at Eco-Techno 2013, the largest environmental technology exhibition in western Japan, to be held in Kitakyushu during the city's "eco-month."
*The tour will visit the Higashida area and observe various energy management systems including CEMS. The tour will also vist Higashida H2 and a hydrogen refueling station and cover Honda's FCX Clarity to learn about Kitakyushu City's initiative to create a hydrogen energy town. For FCX Clarity, participants will visit Eco-Techno 2013, where a Honda official will show and brief on the car. Participants will also visit the "eco house" in the Higashida area and learn about the vehicle-to-home power supply system from its demonstration.
 2. The Kitakyushu Next Generation Energy Park
http://www.kitaq-ecotown.com/enepa/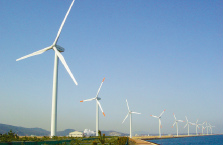 The Kitakyushu Next Generation Energy Park (Wakamatsu Hibikinada area), opened in 2009, is a concentration of a variety of energy-related facilities including energy-supply bases of oil, coal and natural gas, and energy-generating facilities using the renewable energy of wind, sunlight and water. In July this year, Kitakyushu City announced that it would build thermal power stations and offshore wind power stations together in the area. These stations will be built by inviting private companies and will aim at 2.5 million kilowatt generation, equivalent to two nuclear power stations. They are expected to be in full operation by 2020; a practical test of offshore wind power generation with 2MW output started in June this year, and a base for imported LNG is under construction. 
This August, a citizens' solar-power station was completed. Citizens' donations and publicly-issued bonds for citizens covered the construction costs. Bonds totaling 500 million yen with a yearly yield of 0.5% were issued making use of the features of a mega-solar power station, i.e. initial investment is huge, but after that you can anticipate a certain income with less cost. The bonds were sold out in two days. This type of construction of a mega-solar station using citizens' power is spreading from Kyushu to other parts of Japan.
* In the tour, city officials in charge will guide you in the Next Generation Energy Park, including an offshore power station, the citizens' solar-power station, and the base for imported LNG.
3. TOTO Ltd.
- Creator of high-tech toiles contributes to society by developing eco-friendly toilets-
http://www.toto.co.jp/en/index.htm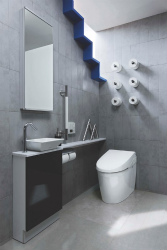 Toilets in Japan are renowned for their cleanliness and multi-functionality. In the newer models, the toilet lid opens automatically when you approach. When you sit down on the toilet seat, you find it comfortably heated. When you finish, you can wash and dry yourself just by pushing a button beside the toilet seat. When you stand up, the toilet flushes automatically. This kind of multi-functional toilet seat is common in Japan, and the best-known brand, the Washlet, was created by TOTO Ltd., which has its headquarters in Kokura, Kitakyushu. TOTO has the largest market share of sanitary ware in Japan. The company has been working to develop and improve water-saving technologies for more than 30 years and is currently carrying out a "TOTO GREEN CHALLENGE" campaign, the goals of which include developing products that can reduce CO2 emissions from household plumbing systems by 50 % (compared with fiscal 1990 levels) by fiscal 2017. Among TOTO's latest technologies are the Tornado Flush system, which cleans and flushes both the rim and the bowl in an innovative way, and the CeFiONtect antifouling technology. With the latest toilet model, NEOREST, the company successfully reduced the amount of water used per flush to 3.8 liters. Recently, TOTO has been focusing on the Asian and European markets as well.
 *In this tour, participants will have a briefing on TOTO's eco-friendly manufacturing including its technologies that make toilets "super clean" and "super water-saving." Participants will also visit Kokura Factory No. 1, which produces toilets.
4. OECD Green Cities Programme Commemorative Meeting for the Kitakyushu Report Publication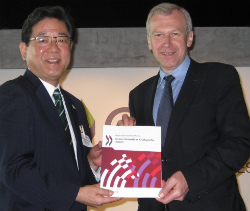 After Kitakyushu City was selected as a model city for green growth, OECD issued a report in May 2013 on the city's green growth. The report introduces advanced examples of Kitakyushu and makes proposals for green growth in the future. The international conference slated for October 18 will have about 120 participants including representatives from the Japanese government, Kitakyushu City, OECD, citizens' groups, industries, and also green cities overseas such as Stockholm, Paris and Chicago. They will deepen their knowledge and discuss the green growth of cities, taking Kitakyushu as a good example.
* The tour will attend the conference and a press conference by Mr. Kenji Kitahashi and Dr. Rolf Alter, OECD Director-General, and will have a round-table discussion with Dr. Rolf.  
< Tour itinerary and application details >
1. Itinerary (Tentative): Oct. 17 (Thu.) and 18 (Fri.), 2013
*The schedule is subject to change.
Day 1:
7:30 Meet at Tokyo Haneda Airport
8:15 Leave Tokyo Haneda Airport
9:55 Arrive at Kitakyushu Airport
10:00-10:45 Move by chartered bus
10:45-11:30  Honda FCX Clarity (Eco-Techno 2013)
11:50-12:50  Lunch
13:00-17:00  Higashida Smart Community/Hydrogen Town Project
                           -Community Energy Management System (CEMS)
                           -Hydrogen Energy Museum, Higashida H2 (HEMS)
                           -NITTETSU ELEX (BEMS), Hydrogen refueling station etc.
                           -Honda's vehicle-to-home power supply system using FCX Clarity
17:30 Arrive at Station Hotel Kokura
Day 2:
8:30 Leave Hotel
9:00-11:00 Kitakyushu Next Generation Energy Park
11:30-12:15 Lunch
12:30-14:30 TOTO Ltd.  
15:00-17:00  OECD Green Cities Programme Commemorative Meeting for the Kitakyushu Report Publication
17:10-17:40 Press Conference
17:40-18:00 Round-table discussion with OECD Director Rolf Alter
19:40 Leave Kitakyushu Airport
21:15  Arrive at Haneda Airport 
2. Qualification: Bearer of Gaimusho Press Registration Card
3. Cost: 20,000 yen per person including transportation, meals and accommodation
* FPCJ will later inform the participants of methods for payment, cancellation fee etc.
4. Participants: Limited to 10 applicants.
(Only one reporter and one photographer from each company, but two participants from each TV team will be acceptable.)

 5. FPCJ Contact: Ms. Shinobu Ishikawa (Tel: 03-3501-3405)
6. Remarks:
(1) There may be some restrictions on photographing and filming at the tour sites. Please follow the instructions of the officials on duty.
(2) Kitakyushu City, OECD, and FPCJ will not be liable for any inconvenience, trouble or accident that might occur in the course of the tour.