Date : December 11 - 12, 2023
Oita Press Tour
post date : 2023.11.21
As there are already more applications for this press tour than there are positions available, we will be closing applications.
If you are still interested in applying, be aware that you will only be able to join if there are cancellations. 
November 30, 2023
<Topics>
1.  The No. 1 Onsen Prefecture Oita, with the Most Hot Spring Sources and Highest Hot Spring Water Volume in Japan—Hot springs popular with inbound tourists/Making outdoor saunas in nature into a new tourism resource
2.  Community Building to Prepare for Population Decline and an Aging Society—Taking advantage of unique local characteristics to maintain the community for the future
Oita Prefecture, which refers to itself as Japan's No. 1 onsen prefecture, has the most hot spring sources (5,093) and the highest volume of water released by them (approximately 300,000 liters/minute) in Japan. In addition to bathing in the hot spring water, there are a wide variety of other onsen to enjoy, such as sand baths in which your body is buried in sand warmed by the hot spring, and with its traditional ryokan and townscapes, Oita has long been popular with visitors. Recently, the number of foreign tourists, which plummeted during the pandemic, has been recovering, and the prefecture is bustling with activity.
Although there are hot springs in nearly all the municipalities in Oita Prefecture, one of the two cities without hot springs, Bungo-Ono, was the first in Japan to declare itself a "sauna city" in 2021, in response to the recent popularity of saunas in Japan. The city has been receiving attention for providing experiences in which visitors can warm up in a tent sauna set up outdoors, and then cool off in a natural setting such as a limestone cave or clear river.
At the same time, like many other local governments in Japan, Oita Prefecture is facing serious issues with population decline and an aging society. Since reaching a peak of 1.28 million people in 1955, the prefecture's population declined to around 1.10 million as of January 2023, and is predicted to fall below one million in 2035. In 1985, people aged 65 and over accounted for 9% of the total population of Oita Prefecture, but in 2022 they accounted for 33.9% of the population, above the national average of 31.4%. This makes Oita No. 10 in Japan for the prefecture with the highest percentage of the population aged 65 and over. Due to these rapid changes, measures to respond to the decrease in local stores and the risk of traditional industries dying out due to the aging and declining population have become urgent social issues.
This press tour will cover onsen with a long history unique to Japan's No. 1 onsen prefecture and outdoor saunas surrounded by nature, as well as local people working to maintain communities and create a society in which everyone can participate regardless of age, in response to population decline and an aging population.
[Tour Details]
<Topic 1>
 The No. 1 Onsen Prefecture Oita, with the Most Hot Spring Sources and Highest Hot Spring Water Volume in Japan—Hot springs popular with inbound tourists/Making outdoor saunas in nature into a new tourism resource>
1.  Yunohira Onsen: Yamashiroya (Yufu City)
—An 800-year-old therapeutic hot spring, becoming active again due to its popularity with foreign tourists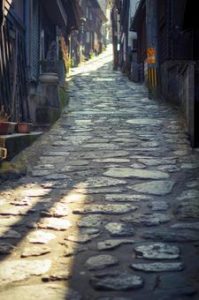 Yunohira Onsen, located in the valley of the city of Yufu, has its origins around 800 years ago in the Kamakura period (1185–1333), and became a hot springs resort as it is today during the late Edo period (1603–1868). The stone-paved, sloping road in the center of the onsen street was made by residents around 300 years ago. Before medicine was widely available, bathing in hot springs was considered to be therapeutic, and Yunohira Onsen, famous for helping with intestinal illnesses, gradually became a popular destination as a therapeutic onsen.
Currently, there are 19 ryokan operating in the area, and although the onsen street is rather small, it is lined on both sides by wooden ryokan and souvenir stores. The red paper lanterns at night give the street a fantastical appearance, and it is famous as a spot reminiscent of the anime Spirited Away. In recent years, the area has become more popular with young couples avoiding major tourist destinations where accommodations cost more, and with Western tourists who want to spend time quietly relaxing at an onsen resort. In addition to the pandemic, the area also suffered damage due to heavy rainfall in 2020 and 2022, but repairs to infrastructure are progressing and vitality is returning to the area.
Yamashiroya is a ryokan where baths can be privately rented and seasonal food enjoyed, and in 2021 it was designated as one of the Kyushu 88 Onsen. Yamashiroya's president, and chair of the Inbound Tourism National Promotion Council, Mr. Kenji Ninomiya, began focusing on inbound tourism around 20 years ago, and was among the first to implement a system to quickly upload local tourism PR articles to websites and social media in multiple languages. As a result of disseminating information via social media in multiple languages, now approximately 90% of Yamashiroya's overnight guests are from overseas (from 35 countries and regions). In particular, guests from South Korea, which is geographically close, account for approximately 70% of the total.
◆The tour will hear from Mr. Kenji Ninomiya about the history of Yunohira Onsen, the current state of the onsen street, disseminating information overseas, and future plans. There will also be a tour of the interior of the ryokan.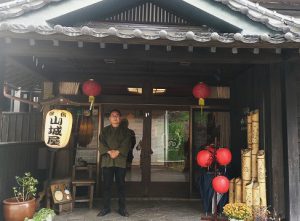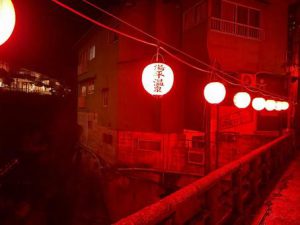 2. Takegawara Onsen (Beppu City)
     —Locals and tourists warming up to sand baths
Among the onsen around Beppu Station, Takegawara Onsen, established in 1879 and with a uniquely imposing building, is known for its sand baths in which people bury their bodies in sand warmed by the hot spring. Guests wear yukata robes and lie on top of the sand, after which staff will cover their bodies below the neck with sand. The sand baths are popular, said to warm your body to its core. A public onsen operated by the city, Takegawara Onsen's building was designated as a Registered Tangible Cultural Property by the national government in 2004. The front roof is made in the karahafu-zukuri style, and this exterior is said to be the symbol of Beppu Onsen. Takegawara Onsen is popular with locals, but the number of visitors from overseas has also been growing year by year, and during the 2019 Rugby World Cup, 80% of the onsen's users were overseas tourists.
◆The tour will visit Takegawara Onsen, and hear from staff with the Beppu City Onsen Section, who operate Takegawara Onsen, about the onsen, Japanese onsen culture, the number of foreign tourists using the onsen, and new initiatives to use public baths as places to ensure the health and safety of seniors.
There will also be an opportunity to film and photograph a demonstration of people being prepared for a sand bath.
*When filming and photographing the interior of the facility, be sure you do not film or photograph any users of the facility.
*Although you can film and interview the members of the Beppu Hatto Onsendo Meijinkai who will act as models for the sand bath demonstration, interviews with the staff covering them with sand will not be possible.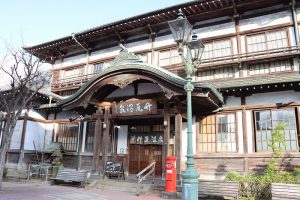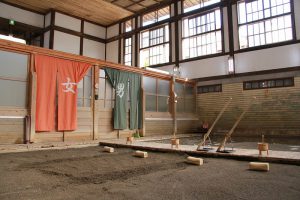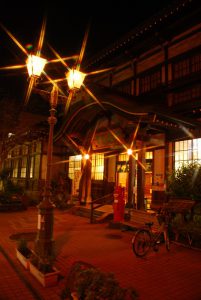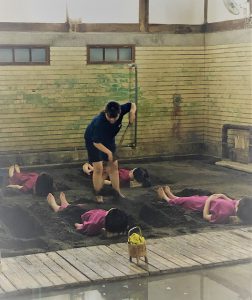 【Photo (bottom right) courtesy of  Oita Prefecture】
3. Creating New Tourism Resources: Outdoor Saunas Taking Advantage of Nature (Bungo Ono City)
The city of Bungo Ono is the only place in Kyushu to be designated as both a Japan Geopark and a UNESCO Eco Park. Although it is one of the rare cities in Oita Prefecture without any hot springs, the traditional culture of rock baths exists there, in which people dug holes in walls made of volcanic rock, boiled medicinal herbs, and enjoyed steam baths. Today, unique outdoor saunas taking advantage of nature are becoming popular as a new tourism resource. After enjoying a sauna set up outdoors, people then cool down in an underwater cave or clear river. However, 45% of the city's population of around 33,000 is aged 65 or over (as of October 2023), with the decline and aging of the population accelerating, and there is an especially serious lack of workers in the agriculture and forestry industries. While moving forward with tourism promotion such as outdoor saunas, the city is also working on creating a sustainable city taking advantage of local resources, in cooperation with local residents and businesses, and people moving to the city from elsewhere.
       —Using one of the largest underwater caves in Japan as a bath! Enjoying a sauna in a fantastical setting
The Inazumi Underwater Cave is a limestone cave that was formed 300 million years ago, which became mostly submerged due to an eruption by Mt. Aso 300,000 years ago. An underwater investigation was carried out for the first time in 1976, and then the next year the cave was opened for tourism. The interior of the underwater cave can be walked through without any special equipment, and is home to a variety of stalactites, including rare underwater stalactites and corallite. As the temperature in the cave is 16°C year-round, it is cool in the summer and warm in the winter, making it pleasant to visit throughout the year. The most popular attraction right now is warming up in the tent sauna set up outside the cave, and then cooling down in the cave waters afterwards. When the tent sauna opened in March 2021, word of mouth spread about this unique outdoor sauna in the fantastical setting of a cave, which could not be experienced anywhere else. The cave is owned by a private company, and a staff member will accompany visitors the entire time, so even beginners can enjoy themselves safely.
◆The tour will visit Inazumi Underwater Cave, and hear from Mr. Ken Takahashi, the person behind Bungo-Ono becoming a "sauna city" and the director of the Outdoor Sauna Council's Onsen Prefecture Ii Sauna Lab, about the characteristics of the underwater cave, initiatives to stimulate the town using outdoor saunas, and future plans and issues. This will be followed with an interview with someone who has experienced the sauna (staff working at the cave), and filming and photographing.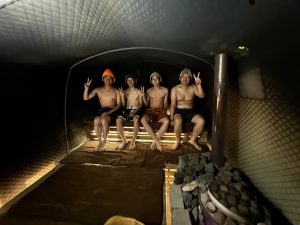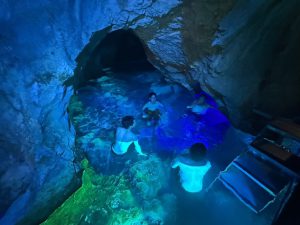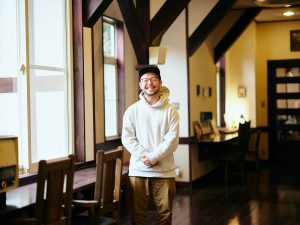 【Photos courtesy of Oita Prefecture】
3-2. Satonotabi Resort Lodge Kiyokawa
         —An authentic sauna facing a clear river to cool off in
Lodge Kiyokawa, formally a municipal camp site open only during the summer, was transformed into a facility open year-round in 2015. With six tent saunas, users can cool down in the river right in front of the saunas after warming up, allowing for a uniquely relaxing experience in the great outdoors. Users can enjoy cooling off in the clear waters of the river, surrounded by greenery.
Combining the appeal of the outdoors and saunas, these kinds of experiences became well-known even to those who were not sauna fans during the pandemic, as they could be enjoyed without coming into contact with other users. Around 350 people visited the Sauna Expo held over two days at Lodge Kiyokawa in October this year.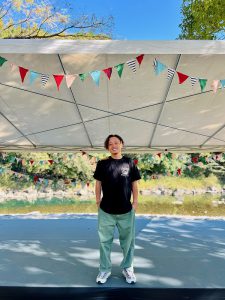 The president of Lodge Kiyokawa, Mr. Yuki Ezoe, moved to the area in 2015 from Siga Prefecture, and in 2019 started the company Joy Village with funding from 20 locals. In addition to operating Lodge Kiyokawa, Mr. Ezoe also carries out consulting on methods to utilize unused local government properties. International students studying at Ritsumeikan Asia Pacific University (APU) in Beppu work as interns at Lodge Kiyokawa, helping run the facility while working to make tourism content from a variety of perspectives, based on the theme of solving local issues and creating sustainable tourism businesses. Mr. Ezoe is concerned not only about the lack of awareness, but also of the effects of depopulation and an aging society on the local economy and the risk to the future of the region. He strives daily to establish a base for creating new businesses that can demonstrate the appeal of the area, connecting locals and others using the ideas of the younger generation.
【Photo courtesy of Mr. Yuki Ezoe】
◆The tour will visit Lodge Kiyokawa and hear from Mr. Yuki Ezoe about the facility, the recent popularity of saunas, initiatives to stimulate the local economy, and related issues. The tour will also hear from Mr. Alex Makoto Fukada, who is involved in operating Lodge Kiyokawa and also lectures at universities and seminars, and from APU interns, about the appeal of outdoor saunas. This will be followed by seeing the facility and tent saunas.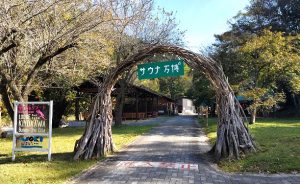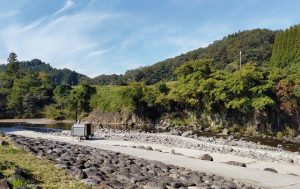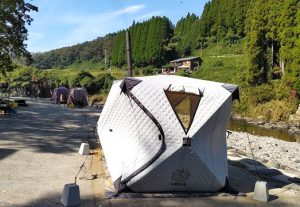 4. Takakiya (Hamashima Shuzo Co., Ltd.)
     —Fully handmade sake, starting from growing the rice
Hamashima Shuzo, with a brewery located in the rural part of Bungo Ono, is a long-standing sake maker first established in the area in 1889. For 17 years from 1979, the company stopped making sake itself, but in 1997 the current (fifth-generation) owner started making sake again. Since 2006, the company has also grown the rice it uses itself. The rice is steamed in traditional wooden vats, put out on cloth to cool naturally, and is all pressed in another vat, with the entire process carried out by hand, starting from making the rice.
Although Bungo Ono is known for its rice, the number of farmers who make rice for sake quitting due to their age has been increasing. With the number of unused fields around Hamashima Shuzo growing every year, the company now buys farmland from locals who have quit farming and continues growing rice there. The company now has 13 hectares of farmland, and the sake brewery's participation in making the rice is helping to protect local agriculture. In April this year, Hamashima Shuzo also opened a new facility, Takakiya Garden SASARA, to promote fermentation culture. The facility sells lunches with fermented foods and sweets made using sake lees, and provides classes for growing rice and making sake, creating a space to pass on fermented food culture while interacting with others. Along with the brewery, which has sake tasting and tours, it is a new attraction drawing in travelers.
◆The tour will visit Hamashima Shuzo, and be guided around the brewery by the future sixth-generation owner, Mr. Yasuhiro Hamashima. Afterwards, the tour will have a lunch including fermented foods at Takakiya Garden SASARA.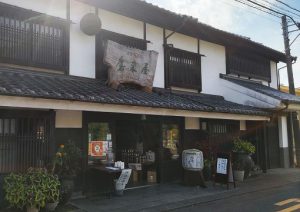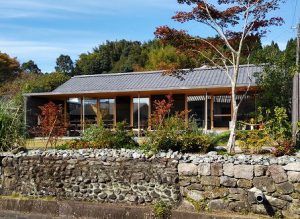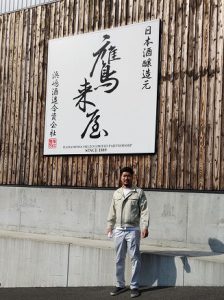 <Topic 2>
 Community Building to Prepare for Population Decline and an Aging Society—Taking advantage of unique local characteristics to maintain the community for the future>
5. Showa Town (Bungotakada City)
    —A shopping arcade retaining the appearance of the 1950s, that regained its liveliness with "Showa"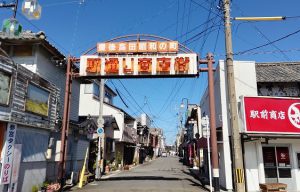 Showa Town is a shopping arcade retaining the appearance of a Showa period town in the 1950s, which has become a popular tourist spot in Oita Prefecture, particularly as a "New Retro" experience among younger generations who never experienced the Showa period themselves. Showa Town includes stores with over a hundred years of history and new stores opened using old storefronts that shut down, and visitors can enjoy the retro atmosphere while walking and sampling local food. Busy years have had more than 400,000 visitors, and despite a slump during the pandemic, the number of visitors was back up to around 230,000 in FY 2022.
Showa Town was a central shopping arcade in Bungotakada, which prospered as a city of commerce, but since the mid-1950s, young workers began heading to the big cities, trains and personal automobiles became more popular, and big-box stores began opening in the suburbs, so some stores closed. It reached a point where it was said "there are more cats and dogs than people" in the shopping arcade. After years of struggling with depopulation, around 30 years ago the local chamber of commerce led an effort to restore the shopping arcade's previous liveliness with the Showa Town project, seeking to encourage both commerce and tourism. With reconstruction not having gone forward, around 70% of the buildings were from the 1950s or earlier, and they decided this was to their benefit, with the buildings, products, and local business of that time giving their town its own unique personality. Using these resources, they reproduced a townscape reminiscent of the 1950s, and in 2001 Showa Town was born.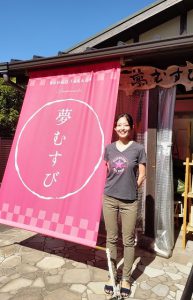 Now, the shopping arcade's district is called Showa Town and Tamatsu Platinum Street. Based on the concept of a town where seniors can spend their time enjoyable, centered around Showa Town, public-private efforts are underway to sell products meeting seniors' needs and to create a place where seniors can gather casually.
Tamatsu Machi no Eki Yume Musubi opened in the district in July 2010, selling local agricultural products. In addition to stimulating the local economy and providing a place to interact with tourists, it acts as a children's cafeteria once per week, providing opportunities for seniors and people raising children to interact.
◆The tour will visit Showa Town, which has become known as a successful case study of revitalizing a regional city, and walk through the shopping arcade, with explanations from a guide. The tour will also hear from Mr. Shunji Buto, second-generation owner of Hinago Sengyoten, and Mr. Katsumi Morikawa, third-generation owner of Morikawa Hokokudo, two of the seven who originally pushed for the establishment of Showa Town, about the origins of the project and future plans. The tour will also hear from Ms. Risako Kushida, who runs Yume Musubi, about its role as a children's cafeteria, and initiatives to support seniors as well.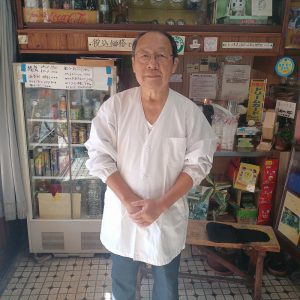 【Photos (left: Mr. Morikawa, right: Mr. Buto) courtesy of Oita Prefecture】
6.  Minna no Ie Colorful (Taketa City)
      —A place for local seniors and children to casually interact and feel welcome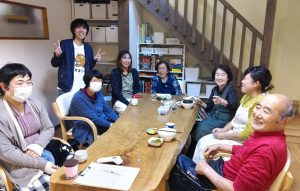 Minna no Ie Colorful, located in the city of Taketa, where over 50% of the population is seniors, is a center for community exchange which anyone can use regardless of age, disabilities, or family background. It was opened in October 2018 by the NPO TETO Company, and operates in cooperation with local seniors' facilities, schools, and the Community Comprehensive Support Center.
Using a renovated 100-year-old traditional Japanese building, users range in age from babies less than a year old to people in their 90s, and they spend their time there as they like, eating, chatting, playing games, or doing handicrafts. It functions as a place where seniors living alone can meet with other seniors, and also as a children's cafeteria where children can eat and play. It is free to use (for adults, lunch costs 300 yen), with operating costs covered by subsidies from the city, donations, and income from an afterschool daycare service.
Colorful was established by Ms. Yuika Oku, a certified nursing care worker who used to be part of the Taketa City Regional Revitalization Cooperation Team, with the goal of creating a welcoming, open space that recognized diversity in order to create a community where no one feels alone. Around 4500 people use the facility yearly, and it has become irreplaceable for many.
Taketa has a population of around 20,000, with 49.6% aged 65 or over (No. 2 in the prefecture as of 2023). With the need for the region as a whole to support seniors, Colorful is a place where seniors can create connections within the community, and is hoped to have potential to prevent the isolation of seniors, a social issue.
◆The tour will visit Minna no Ie Colorful and hear from NPO TETO Company's director, Ms. Yuika Oku, about its activities and the type of community Ms. Oku seeks to build for the future. Afterwards, the tour will be shown Colorful.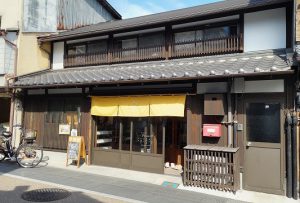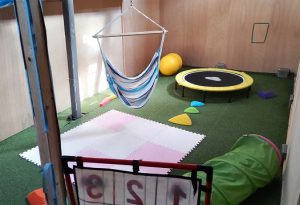 7. Shichitoui Studio Nanatsumugi (Kunisaki City)
—A traditional craft which can only be made here and should be passed on to the next generation
Shichitoui is a plant used to make Ryukyu tatami mats, which unlike other tatami mats have no border on the edges, and is more durable than the igusa used to make normal tatami, so they used to be used for judo tatami throughout Japan, including at the 1964 Tokyo Olympics. Shichitoui was brought over from Okinawa, and has been grown in Kunisaki, Oita for over 350 years. It supported the economy as a local specialty, but since the mid-1960s, production declined due to shichitoui requiring more effort to grow and process. Currently, only five farms in Kunisaki grow shichitoui.
Shichitoui has a good color and gloss, feels nice, and is durable and long-lasting, and so used to be popular, but in addition to the effort required for planting, harvesting, and processing it, it is difficult to automate, and so only around one mat can be made from it per day. The lack of automization and growing age of its producers are issues, but in 2013 the Kunisaki Peninsula and Usa Area were recognized as a Globally Important Agricultural Heritage System, encouraging people to rethink the value of shichitoui.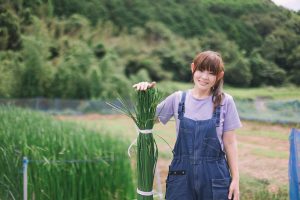 Ms. Chika Iwakiri, the only craft artist in Japan to work with shichitoui, moved to Kunisaki from Miyazaki 18 years ago, and helped revive vanishing traditions while building a relationship of trust with the shichitoui farmers. She is active in a variety of areas, with her stylish works used for the interior of a luxury hotel in Oita Prefecture, and since 2018 holding a craft workshop on board the Seven Stars in Kyushu cruise train. Ms. Iwakiri is passionate about spreading the word about the shichitoui that is grown with care by those farmers.
【Photo courtesy of Oita Prefecture】
◆The tour will visit Nanatsumugi, and hear from Ms. Iwakiri, who works to create value by making products with shichitoui and to preserve traditions on the edge of vanishing, about the characteristics of shichitoui, passing on techniques, and future plans, as well as having the opportunity to film and photograph her working. The tour will also hear from Mr. Hiroaki Hayashi, chair of the Kunisaki Shichitoui Promotion Society, about efforts to revitalize the shichitoui production industry.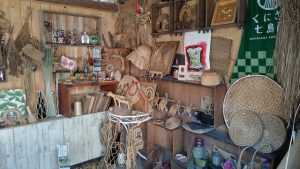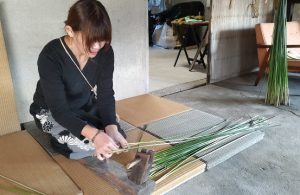 [Tour Itinerary]
 1. Dates: Monday, December 11 to Tuesday, December 12, 2023
 [Monday, December 11]
07:50-09:35   Haneda Airport→Oita Airport(ANA791)
10:45-12:00   Shichitoui Studio Nanatsumugi
12:35-14:30   Showa Town (including lunch)
15:45-17:00   Yunohira Onsen Yamashiroya
18:00-19:00   Takegawara Onsen
19:10               Arrive at hotel (overnight at Beppu)
【Tuesday, December 12】
08:00               Leave hotel
09:30-10:50   Satonotabi Resort Lodge Kiyokawa
11:10-12:00   Takakiya (Hamashima Shuzo Co., Ltd.)
12:05-12:45   Lunch (Takakiya Garden SASARA)
13:05-14:10   Minna no Ie Colorful
14:50-16:10   Inazumi Underwater Cave
19:50-21:20   Oita Airport→Haneda Airport (ANA2498) 
3. Qualification: Bearer of the Ministry of Foreign Affairs of Japan Press Registration Card
4. Cost: 15,000 yen per person, including transportation, accommodation (breakfast included), and lunches (for both days)
*Information on payment and cancellation fee will be provided to participants. 
*Participants will be required to pay their own transportation costs to the meeting place before the tour, and after the tour ends.  
5. Participants: Limited to 10 participants.
(Only one reporter or one photographer from each company, but two participants from each TV team will be acceptable.)     
6.Please be sure to confirm and agree to the following before applying
6-1. Basic Information
(1) This tour is organized by Oita Prefecture and run by the FPCJ.
(2) The schedule is subject to change without notice.
(3) This tour will require participants to bear a part of the cost but is not a profit-making venture.
(4) Oita Prefecture and the FPCJ take no responsibility for any accidents, injuries, illness, or other problems which occur during the tour.  
(5) There may be some restrictions on photographing and filming at the tour sites. Please follow the instructions of the staff in charge.
(6) This press tour is intended to provide opportunities for news coverage. We request that all participants send a copy of the content of their coverage (article, video, or audio in the case of radio) to Oita Prefecture through the FPCJ after their reports are published or aired. When your report is in a language other than English or Japanese, we also ask you to provide a summary in English or Japanese. By submitting your application, we assume that you have agreed to these conditions.
6-2.Handling of Personal Information
When applying for the tour, you agree to the below.
*Regarding the handling of personal information, the press tour sponsors and operators will respect Japan's Act on the Protection of Personal Information and all other laws and guidelines on the protection of personal information, and handle personal information appropriately.
(1)The tour operators will, when there is a need to do so for the press tour, provide the personal information provided when applying (organization name, personal name, etc.) to other parties in the following cases:
-To arrange travel or insurance through travel agencies (Information provided to: Travel agencies, accommodation operators, transportation operators, insurance companies)
-To ensure smooth operations during the tour (Information provided to: Interpreters, stops on the tour, interviewees)
(2) The tour operators, to ensure smooth operation of the tour, will share the personal names and organization names of applicants with the tour sponsors.
6-3.Recordings by Press Tour Sponsors or Operators During the Tour
When applying for the tour, you agree to the below.
 (1) For the record-keeping purposes, the tour operators may film or photograph the tour while it is happening. The copyright holders for these photos or videos will be the tour sponsors.
(2) Photos, videos, or articles of the press tour may be uploaded to websites or social media accounts operated by the sponsors or operators.
(3) The likeness or voice of participants may appear in the abovementioned photos or videos, but you agree to their use by the sponsors or operators.
7. FPCJ Contact: Yamada (Ms.), Watanabe (Ms.) 
Media Relations Division
 (Tel: 03-3501-3405, E-mail: ma@fpcjpn.or.jp)    
◆When applying for the tour, you agree to the following conditions◆
- Press tours have participants from multiple media organizations, and interviews, filming, and photographing are generally carried out jointly. There is no guarantee that you will be able to perform individual interviews or take individual videos at any of the stops on the tour.
- You must follow the instructions of the tour sponsor and operators regarding the tour schedule, timing, and restrictions on taking videos or photos. If you refuse to follow instructions, you will no longer be allowed to participate in the press tour from that point on.