Date : April 10 - 11, 2023
Nagasaki Press Tour
post date : 2023.03.17
[Tour Topic]
Infectious Disease Research, Treatment of Radiation Exposure, and Medicine in Remote Islands
—Nagasaki, the First Place Where Western Medicine Was Introduced in Japan, on the Frontlines of Global Medical Issues
The global spread of SARS and COVID-19 demonstrated that pandemics will be a major threat to humanity in the future, along with the climate crisis, natural disasters, and nuclear war.
In Edo period Japan, when it was shut off to trade, for 200 years the only town open to the outside world was Nagasaki. As well as being where infectious diseases were brought into Japan from overseas, it was also the place where Western medicine was introduced to Japan, and has long been at the forefront of measures against infectious diseases in Japan. Carrying on this history, Nagasaki University is known throughout the world for its study of infectious diseases, and they have already begun new initiatives to prepare for the next infection crisis after COVID-19. Along with Hiroshima, Nagasaki is a city which experienced the devastation of an atomic bombing. As the only medical university in the world to have experienced an atomic bombing, Nagasaki University has researched medical treatment for A-bomb survivors and studied of the effects of radiation on the human body, and was engaged in treating those exposed to radiation and training local personnel after the 1986 Chornobyl nuclear disaster in the USSR (now Ukraine). With its experience in radiation exposure treatment, the university has also devoted itself to the reconstruction of Fukushima and medical support for its people since the Fukushima Daiichi Nuclear Power Plant accident in 2011.
In May this year, the G7 Health Ministers' Meeting will be held in Nagasaki, where they will discuss such issues as universal health coverage (UHC) providing everyone with appropriate health insurance and medical care at an affordable cost. Mostly surrounded by the ocean and with the highest number of islands of any prefecture in Japan, a lack of doctors on remote islands is becoming a major issue in Nagasaki along with the declining birthrate and aging population. On the Goto Islands, remote healthcare has begun being adopted in earnest through digital transformation (DX). With remote consultations and delivery of medicine via unmanned drones, the initiatives begun in Goto for healthcare in remote areas and remote islands have been gaining attention as a pioneering effort for the near future of Japanese medicine, as a decline in healthcare providers is becoming an issue throughout Japan.

This tour will visit Nagasaki Prefecture, and cover initiatives for fighting infectious diseases, treating radiation exposure, and healthcare in remote areas, in a place which has always stood at the forefront of medical issues facing the world.
************
<Tour Details>
1. Nagasaki, the Frontline of Infectious Disease Research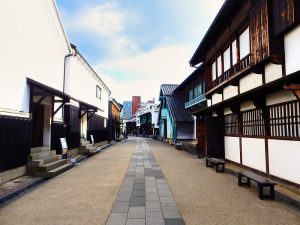 In the first half of the 17th century, the Edo shogunate banned Christianity and forbade trade with foreign countries with their sakoku (national isolation) policy. Until Japan opened up to the rest of the world, Nagasaki's Dejima was the only window open to Europe. Infectious diseases which had not been seen in Japan before, such as cholera and smallpox, were first brought to Dejima before spreading throughout Japan. However, advanced Western academic knowledge and technology, as well as Western medicine, were also communicated through Dejima at the same time, contributing to the study of cures for infectious diseases.
【Photo: Restored Dejima (Collection of Dejima Restoration and Maintenance Office)】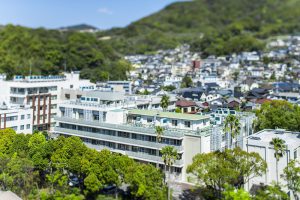 The present-day Nagasaki University is a successor to the first center for Western medical education in Japan, the Igaku Denshusho (Medical Training Institute). Due to the high number of islands in Nagasaki Prefecture, dealing with localized endemics on remote islands was the highest priority, and Nagasaki University carried out serious research on infectious diseases even before World War II, when it was still the Nagasaki Medical College. In 1967, the Research Institute of Endemics was renamed and became the Institute of Tropical Medicine, and it has expanded its research activities to developing countries in Asia and Africa where parasites and infectious diseases such as malaria are a major issue. While carrying out unique research into tropical medicine, they also provide healthcare support and education as a form of international cooperation. This institute is the only public research institute in Japan specializing in tropical medicine, and in response to the COVID-19 pandemic, they worked on the frontlines to reduce infection, speaking in Japanese media, supporting the establishment of diagnosis techniques, researching, and providing international aid.

In April 2022, to prepare for the spread of the next infectious disease after COVID-19, the National Research Center for the Control and Prevention of Infectious Diseases was established. The center also has biosafety level 4 (BSL-4) facilities capable of handling serious and fatal diseases such as Ebola. It is hoped that they will make progress on developing vaccines and treatments in cooperation with other countries around the world.
【Photo: the Institute of Tropical Medicine, Nagasaki University】
The tour will visit Dejima (the Dejima Dutch Trading Post, designated a National Historic Site), where restoration efforts are underway, and hear about this place which served as the window for various cultures and Western medicine to enter Japan. Next, Dr. Osamu Kaneko, director of the Nagasaki University Institute of Tropical Medicine, will give a briefing. This will be followed by an explanation of the BSL-4 facilities at the National Research Center for the Control and Prevention of Infectious Diseases by center director Dr. Yusuke Yanagi, and seeing the outside of the building.
*It will not be possible to enter the BSL-4 facilities.

2. International Contribution in Treatment of Radiation Exposure
In August 1945, an atomic bomb was dropped on Nagasaki, following Hiroshima, killing approximately 70,000 people. Many people exposed to radiation also suffered from aftereffects such as leukemia and cancer (diseases occurring years to decades after exposure). The Nagasaki University Atomic Bomb Disease Institute was founded to treat these atomic bomb survivors as well as researching the effects of radiation on the human body. In addition to treating survivors, the institute also collected data on their health and surgery records, and preserved organs.
When the Chornobyl nuclear disaster occurred, the institute collaborated with the university hospital to send doctors and specialists to the site to provide medical support and study any health effects, as well as accepting trainees to help train locals. After the Fukushima Daiichi accident occurred due to the Great East Japan Earthquake, they used that experience to support treatment at local hospitals for people exposed to radiation, in risk communication to provide accurate information to Fukushima residents, and in rapidly organizing the Fukushima Health Management Survey. Professor Noboru Takamura visited Chornobyl multiple times, and worked as the Fukushima Prefecture Radiation Health Risk Management Advisor since immediately after the Fukushima Daiichi accident. The professor is also the director of the Great East Japan Earthquake and Nuclear Disaster Memorial Museum which opened in Futaba, Fukushima in 2020, where the TEPCO Fukushima Daiichi Nuclear Power Station is located.
The tour will be guided around the Nagasaki Atomic Bomb Museum by its director, and then hear from Professor Noboru Takamura at the Nagasaki National Peace Memorial Hall for the Atomic Bomb Victims about the health effects of radiation, and about studies carried out in Chornobyl and Fukushima.
【Photo: left: © Nagasaki Prefecture Convention and Tourism Association】
3. Dejima Messe Nagasaki (Venue for G7 Health Ministers' Meeting)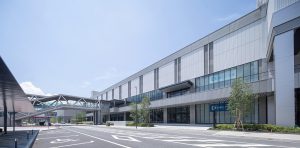 The G7 Health Ministers' Meeting will be held on May 13 and 14, 2023, in Nagasaki, which has contributed to the world in the areas of infectious disease research and treatment of radiation exposure. This meeting is expected to discuss strengthening international frameworks to respond to public health emergencies such as pandemics.
The venue for this meeting will be Dejima Messe Nagasaki, which opened in November 2021. As a new Dejima and center for international exchange, connecting Nagasaki and Japan with the world across the oceans, it is a MICE facility with convention halls, event halls, and conference rooms.
With advanced facilities including countermeasures against infectious diseases and initiatives to contribute to the SDGs, Dejima Messe Nagasaki can be used safely and with peace of mind. The building is designed to be visually pleasing as well as functional, with local Nagasaki flavor throughout the building.

The tour will be guided around the facility by its director, Mr. Masahiro Shikao. 
【Photo: Dejima Messe Nagasaki (🄫Toshihisa Ishii) 】
4. Healthcare and Businesses Supporting Living on Remote Islands
 The Goto Islands are located in western Kyushu, and consist of around 150 islands of various sizes. The main five islands are Fukue, Hisaka, Naru, Wakamatsu, and Nakadori. Goto City administrates the southern half of this archipelago, and has become a popular spot for young people and families from throughout Japan to move to. With many municipalities around Japan struggling with a declining population, Goto has had over one thousand people relocate there over the past five years. The city established the Goto Smart Island Framework, and implemented initiatives to solve the unique challenges of remote islands using the new technology of private companies. These initiatives include building a new logistics network using drones, and aiming for local production and consumption of energy using the local resource of offshore wind energy.
*Images for illustration purposes only
(1) Nagasaki University Island Medical Research Institute
Due to the ocean separating them, the Goto Islands face issues with a lack of healthcare and nursing resources, and an aging population. Nagasaki University established a Remote Island and Remote Area Medicine course in 2004 through endowments by Nagasaki Prefecture and Goto City, with the following aims: (1) supporting medical care in remote islands and other remote areas; (2) conducting regional medical research; and (3) training people to play important roles in regional medicine. The course is based out of the Island Medical Research Institute, which is located in the city's main hospital, Goto Central Hospital, and has two resident faculty members.
The tour will hear from Professor Takahiro Maeda and Assistant Professor Fumiaki Nonaka of the Island Medical Research Institute about healthcare on remote islands.
*The tour will not be visiting the Island Medical Research Institute, and will meet the professors at a conference room in Goto City Hall.


(2)  Mobile Clinic Project 
Over 41% of the population of Goto City is 65 years or older, but medical institutions are scattered throughout the city and there is a shortage of doctors. In order to solve this problem, Goto City began a new mobile clinic project in January this year, using a multi-tasking vehicle equipped with medical devices and with a specialized nurse on board. The vehicles are dispatched near the homes of mainly elderly patients and others who have difficulty accessing medical facilities, and doctors at medical institutions provide online consultations to the patients in the vehicle. Near their home, the patient can see the doctor face to face through a monitor while the doctor remains at the medical institution. In addition, systems such as a remote stethoscope and for carrying out simple tests are also installed. The project is outsourced to Tokyo-based MONET Technologies, Inc. and operated by a cab company in the city.
After receiving a briefing on remote island healthcare and the mobile clinic project at Goto City Hall, the tour will be able to see one of the mobile clinic vehicles in the parking lot. There will also be a demonstration of how an online consultation works.
【Photo: Goto City】
(3) Sora-Iina
 Sora-Iina was established as a group company of Toyota Tsusho Corporation in April 2021. Since May 2022, they have been carrying out periodic automatic delivers using fixed-wing drones made by the American company Zipline. Using boxes with parachutes attached, the drones can drop off delivers at a predetermined location before returning to base automatically. Before, medical goods were delivered from a central location in Fukue Island to medical facilities throughout the Goto Islands using trucks and ships, but with drone logistics, in addition to existing delivery methods, it is now possible to deliver medicine by drone when needed, such as in emergencies, regardless of weather and sea conditions.
【Photo: Zipline International Inc.】
In addition to medicine, delivers of food and daily goods are also being carried out to islands which have no stores, or only a single store. Many residents on these islands use ferries, personal watercraft, or water taxies to go to Fukue Island once or twice a week and buy all the food and necessities they need at once, but with the aging population, there are concerns about whether they can continue to do so. Since September 2022 for Sagano Island and December 2022 for Hisaka Island, they have been carrying out a pilot project of doing deliveries of up to four kilograms at once for food and necessities to the residents of those islands.
Sora-Iina is building an aerial logistics network to support healthcare and people's daily lives in the Goto Islands, as part of their business initiatives to solve logistics problems in regional areas. Of its four employees, three of them were newly hired in Goto City, so the company is also contributing to the local economy and creating new jobs.
The tour will visit Sora-Iina, and see their drone warehouse. If the timing is right, it may be possible to see a drone take off as well.
*Whether or not it will be possible to see a drone flying will depend on the delivery schedule on the day of the tour. It will not be possible to know until the day of the tour.

【Photo: left: Sora-Iina Inc.】
(4) Goto no Tsubaki Project
With new residents continuing to move to the Goto Islands, new initiatives are being implemented to stimulate the local economy.
One of these initiatives is the Goto no Tsubaki Project, a collaboration between industry, academia, and government mainly in Nagasaki Prefecture. Using the camellia (tsubaki) which grow natively in the Goto Islands as a base to create a cycle of everything from product development to consumption, the goal is to make a new model case for regional stimulation by creating a sustainable industry and employment.
Goto no Tsubaki Inc. was established in 2018, and sells a variety of products made using Goto camellia. They have developed products using the flowers, seeds, leaves, skin, and yeast.
Since camellia grew natively on the Goto Islands, research proceeded on ways it could be used other than camellia oil, with that research leading to Goto camellia yeast. The former chair of the Goto City Commerce and Industry Association, Mr. Mitsunori Tateishi, who was focused on ways to use camellia, thought it might be possible to get yeast from camellia, and hired a research institute to look into it. Currently, Goto no Tsubaki Inc. holds the rights to this yeast. In principle, the yeast is only sold to local Goto companies, and a variety of businesses are carried out with local companies using the yeast for products such as skin care products, sake, shochu, wine, fish sauce, and bread yeast.
In February 2021, lactic acid bacteria which strengthens the immune system was found in camellia flowers, and successfully isolated, with research continuing in cooperation with local universities and research institutes.
The tour will visit a camellia farm, and hear from Mr. Tomitaka Tanigawa, president of Goto no Tsubaki Inc.
*In the case of poor weather, the tour will not visit the camellia farm.


【Photo: left: Goto no Tsubaki Inc.】
*Camellia flowers are not in season and may not be seen.
************
<Tour Itinerary>
1.Dates:
Monday, April 10–Tuesday, April 11, 2023
2.Schedule:
[Monday, April 10]
07:25-09:20   Haneda Airport - Nagasaki Airport (JAL605)
10:45-11:45   Dejima (the Dejima Dutch Trading Post, designated a National Historic Site)
12:00-13:00   Lunch (Shikairo – Champon Noodle)
13:30-14:35   Nagasaki University Institute of Tropical Medicine
15:00-15:50   Nagasaki Atomic Bomb Museum
16:00-17:00   Briefing by Professor Noboru Takamura, the Atomic Bomb Disease Institute, Nagasaki University (at the Nagasaki National Peace Memorial Hall for the Atomic Bomb Victims)
17:30-18:00   Dejima Messe Nagasaki
19:00-19:15   Mt. Inasa observatory (free photography of night view)
19:15-20:15   Dinner (Mt. Inasa restaurant ITADAKI)
20:45       Arrive at hotel (overnight at Nagasaki)  
 [Tuesday, April 11]
07:10       Depart from hotel
07:40-09:05   Nagasaki Port - Fukue Port (jetfoil)
09:30-12:15   Nagasaki University Island Medical Research Institute and Mobile Clinic Project (at Goto City Hall)
12:25-13:15   Lunch (Restaurant Bukeyashiki)
13:30-15:00   Sora-Iina Co., Ltd.
16:00-17:00   Goto no Tsubaki Project (at camellia farm)
18:35-19:05   Fukue Airport – Nagasaki Airport (ORC78)
20:25-22:05   Nagasaki Airport – Haneda Airport (JAL616)
3.Qualification: Bearer of Gaimusho Press Registration Card
4.Cost:
15,000 yen per person, including transportation, accommodation (breakfast included), and lunches (for both days).
*Information on payment and cancellation fee will be provided to participants.
*Participants will be required to pay their own transportation costs to the meeting place before the tour, and after the tour ends.
5.Participants:
10 participants (Only one reporter or one photographer from each company, but two participants from each TV team will be acceptable.)
*  If the capacity is exceeded, the organizer may make adjustments.
6. Remarks:
(1)This tour is sponsored by G7 Nagasaki Health Ministers' Meeting Promotion Council and operated by the FPCJ.
(2)The schedule is subject to change without notice.
(3)This tour will require participants to bear a part of the cost, but is not a profit-making venture.
(4)G7 Nagasaki Health Ministers' Meeting Promotion Council and the FPCJ take no responsibility for any accidents, injuries, illness, or other problems which occur during the tour.
(5)This tour may call for participants to wear a face mask temporarily, if there is a significant spread of COVID-19 or the situation makes it necessary.
(6)There may be some restrictions on photographing and filming at the tour sites. Please follow the instructions of the staff in charge.
(7)Please be aware that videos and photos of the tour, and articles about it, may be posted by Nagasaki Prefecture and the FPCJ on their websites or social media.
7.FPCJ Contact:
Takahashi (Ms.) and Sugawara (Mr.), Media Relations Division
(Tel: 03-3501-3405, E-mail: ma@fpcjpn.or.jp)   
************
【Photos: © Nagasaki Prefecture Convention and Tourism Association】