Date : March 24 - 25, 2023
Hiroshima Press Tour
post date : 2023.03.06
 Topic: This is Hiroshima—Attracting the World with Uniqueness Found Only in Hiroshima
 Over its long history, Hiroshima, where the G7 Summit will be held in May 2023, has passed on and developed many things which are unique or the best in Japan and say "This is Hiroshima," and appeal to people both in Japan and worldwide. Despite having to overcome hardships such as war and the atomic bomb, the traditions and resources which past generations have developed have been carefully preserved to the present day, along with new developments being made, and their value is being actively promoted in Japan and around the world.
 Hiroshima produces many nishikigoi carp, which have been designated as a new priority export item by the national government, and is home to a carp farm which has produced fish which have won numerous grand championships at international competitions. Okonomiyaki, which helped cheer up the people in Hiroshima during reconstruction after its atomic bombing in World War II, is spreading overseas as well as a "borderless food" due to the flexibility in recipe, which allows the use of a wide variety of local ingredients. With its warm climate and the power of nature leading to fragrant lemons, Hiroshima is now the No. 1 producer of lemons in Japan. A lemon farm operated by new residents who relocated to an island in Hiroshima to begin growing lemons has been gaining fans around the country, and has proceeded with "sixth industrialization" as they process and sell lemon-based products as well. Hiroshima is also the No. 1 producer in Japan of oysters, and the large, flavorful oysters grown at the only farm in Japan using former salt farm ponds are in constant demand from countries around the world. Hiroshima kagura was at risk of being lost after World War II, but underwent a unique transformation and has developed into a popular attraction for overseas tourists. Buke sado (samurai family tea ceremony), a traditional form of culture which began in the Warring States period, has also been creating new value while reaching the hearts of people worldwide.
 The tour will visit Hiroshima Prefecture, and cover Hiroshima's traditional arts, history, food, and more. The tour will hear from people who have inherited the traditions and resources of Hiroshima which previous generations overcame obstacles to build up, who are creating new value and appeal by changing with the times in order to pass those traditions on to the future and the rest of the world.
[Tour Details]
1.Konishi Koi Farm Co., Ltd. (Hiroshima City)
 Nishikigoi, a Symbol of Peace Loved Around the World
 Nishikigoi, traditional Japanese carp known as "swimming jewels," are said to have developed as a mutation from magoi carp being farmed as food around 200 years ago. With high environmental adaptability and robustness, they are said to be the easiest ornamental fish to care for, and are popular around the world. In December 2022, the Ministry of Agriculture, Forestry and Fisheries added nishikigoi to the list of approximately 30 priority export items. As a work of art born in Japan, nishikigoi are anticipated to have a growing global market.  Being able to easily keep one in an aquarium is another part of their appeal, and as they tend to be docile and like people, they are also known as a symbol of peace.
 After their birthplace of Niigata, Hiroshima is the second-largest producer of nishikigoi, with buyers coming from around the world to Niigata in the east and Hiroshima in the west. In the inner moat of Hiroshima Castle, sometimes called "Carp Castle," nishikigoi can be seen swimming gracefully as a symbol of the City of Peace, Hiroshima. These carp were donated by Konishi Koi Farm, which began operations in 1919. With over one hundred years of history, they have had excellent results in international competitions, including winning grand championships. Although they are generally thought of as expensive, Konishi Koi Farm sells nishikigoi for as little as 500 yen each, with a variety of lengths from 10 cm to over 1 meter (with a circumference of 90 cm). Third-generation owner Mr. Konishi is putting effort into promoting nishikigoi so more people can learn of their appeal. Around 80% of the nishikigoi produced in Japan are for export, with 90% of Konishi Koi Farm's sales also being from overseas. Nishikigoi are popular in Hong Kong and Taiwan in Asia, as well as in Singapore, Malaysia, the Philippines, and Vietnam, and in Europe they are especially popular in Germany. Konishi Koi Farm is aiming to export to India, the Middle East, and Africa in the future as well.
 The tour will hear from Konishi Koi Farm president Mr. Joji Konishi about the history and characteristics of nishikigoi, the state of exports overseas, and their connection with Hiroshima, as well as being able to film and photograph the carp.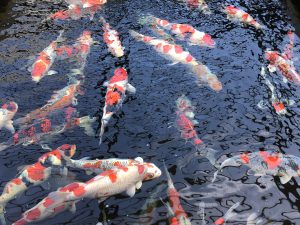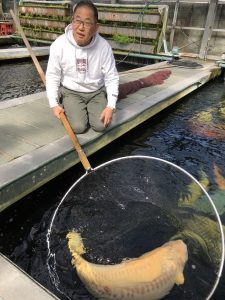 2.Okosta (Hiroshima City)
 Experience Making Hiroshima Okonomiyaki, Hiroshima's Soul Food
 Hiroshima okonomiyaki is made by spreading the flour-based dough out thinly, and layering toppings such as cabbage, pork, yakisoba, and fried egg on top. With around 41 okonomiyaki restaurants per 100,000 people, Hiroshima Prefecture has by far the highest number per capita in Japan. Hiroshima okonomiyaki's origins are said to lie in issen yoshoku, an inexpensive snack popular with children before World War II, made by thinly frying dough made with flour and water and topping it with Worcestershire sauce. After the war, this snack developed into a meal, okonomiyaki, as a way to stave off hunger, and helped support Hiroshima's reconstruction.
 Okosta, located near Hiroshima Station, is an okonomiyaki cooking studio where people can learn directly from an instructor how to make delicious okonomiyaki. Vegetarian and halal options are also available, and many overseas tourists visit the studio. Okosta is operated by Otafuku Sauce Co., Ltd., a long-standing Hiroshima business founded in 1922, which celebrated its 100th anniversary last year. Its core product is okonomi sauce, made specifically for okonomiyaki. The company has developed sauces for diverse diets around the world, considering veganism, food allergies, sugar content, and salt, and now sells its products in over 55 countries and regions worldwide.
 The tour will hear from Otafuku Sauce Co., Ltd. staff about the characteristics of Hiroshima okonomiyaki and how it helped support Hiroshima's reconstruction. Tour participants will then be instructed on how to make their own okonomiyaki, which they will eat for lunch.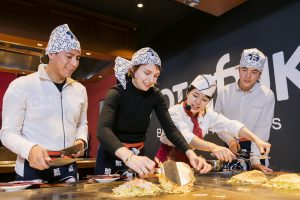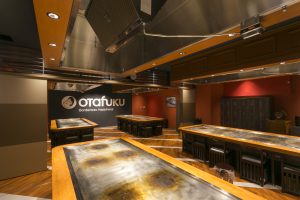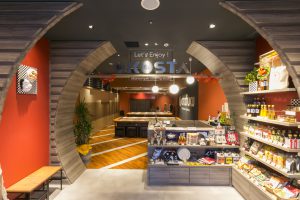 [Photos courtesy of Otafuku Sauce Co., Ltd.]
3.   Uedaryu Wafudo (Hiroshima City)
 A Banker and a Professional Dancer Creating a New Kind of Buke Sado
 Ueda Sokoryu is a style of buke sado (samurai family tea ceremony) passed down by the Ueda clan, who were the chief retainers for the Hiroshima Domain. Ueda Soko was a feudal warlord who served Toyotomi Hideyoshi, and learned tea ceremony from Sen no Rikyu and Furuta Oribe (a feudal warlord and apprentice of Sen no Rikyu) before establishing his own buke sado style. Serving the Asano clan, lords of Hiroshima Castle (Carp Castle), and having made Shukkeien, a daimyo garden that is still popular today, Ueda Sokoryu has a close connection with the development of Hiroshima's culture. Characteristics of Ueda Sokoryu include differences in how tea is prepared for men and women, and fukusa (cloth for purifying utensils) are placed on the right hip due to swords traditionally being carried on the left hip. Ueda Sokoryu is based out of Hiroshima, with disciples found in Chugoku, Kansai, and Kanto in Japan, as well as in Australia, France, Germany, and the US.
 The 16th generation iemoto (head) of Ueda Sokoryu, Mr. Sokei Ueda, has worked to revive Uedaryu. After retiring from the Hiroshima Bank in 1975, he faithfully reconstructed the original tea house of the Ueda clan, which was located in Hiroshima Castle in the Edo period, on the grounds of what is Wafudo today. He has also performed tea ceremony lectures and demonstrations in Belgium, Canada, China, France, Germany, Hungary, the Netherlands, Russia, and the US.
 The next iemoto of Uedaryu, Mr. Soko Ueda, became enthralled with dancing in his second year of high school, practiced street dancing in university, and travelled overseas starting from scratch, working as a professional hip-hop dancer. Afterwards, he eventually made the decision to take on the mantle of iemoto of Uedaryu, and returned to Hiroshima to join the world of tea ceremony. In addition to demonstrating tea ceremony around the world, he has held special exhibitions at Wafudo, been actively developing new products and planning online, sustainable cultural activities.
  The tour will hear from the upcoming iemoto of Ueda Sokoryu, Mr. Soko Ueda, about the history of Ueda Sokoryu, its connections with Hiroshima, and his thoughts on passing on traditions.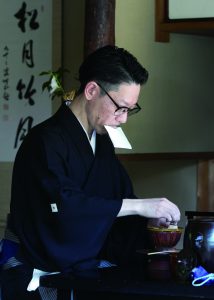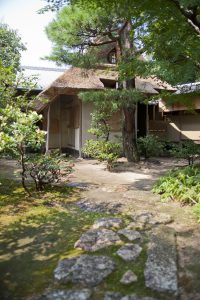 [Photos courtesy of Uedaryu Wafudo]
4.  Hiroshima Kagura (Hiroshima City)
 A Traditional Art Enjoyed by People of All Ages
 Kagura is performed throughout Japan as a ceremony to thank the gods of nature for the rice harvest. Hiroshima kagura is known for its gorgeous costumes, vigorous dancing, and choreography such as a princess turning into a demon in an instant, for higher levels of artistry, performance, and entertainment than seen in kagura in other areas. Nowadays, kagura performances are always very popular with a large audience, and Hiroshima kagura is receiving attention from within Japan and abroad as a tourism resource.
 In 1945, soon after the war ended, the GHQ sent out an order banning kagura, but concerned about kagura becoming lost, Mr. Junzo Sasaki of the city of Akitakata created a new form of kagura to preserve it, eliminating its mythological elements and incorporating stories from noh and kabuki, and received permission to perform from the occupying forces. In 1965, the pre-war performances were categorized as "old dances," with those made after the war categorized as "new dances," and this kagura was passed on as folk culture that allowed enjoyment of Japanese history. Later, by incorporating new stagecraft and other features it moved beyond its image as "rural entertainment," and this kagura which had evolved into stage entertainment received major support from people in Japan and around the world, and is beloved as "Hiroshima kagura" to this day.
 The tour will hear from Mr. Yuki Matsuda, head of the Kuwata Tenshi Kaguradan, about Hiroshima kagura. Afterwards, the tour will watch a performance of Yamata no Orochi, with filming and photographing allowed.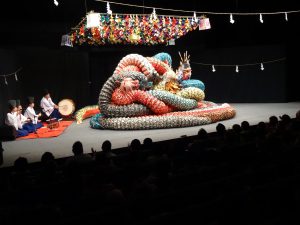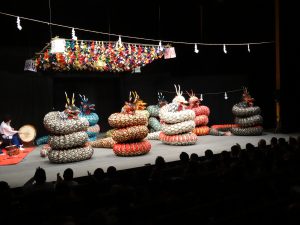 [Photos courtesy of Kuwata Tenshi Kaguradan]
5.  Farm Suzuki (Osakikamijima)
 Japan's Only Salt Farm Matured Oysters
 Hiroshima Prefecture is the No. 1 producer of oysters in Japan. Farm Suzuki, on the island of Osakikamijima in the Seto Inland Sea, is the only place in Japan cultivating oysters in ponds at a former salt farm.
 Along the Seto Inland Sea coast, with its long daylight hours and warm climate, salt farming has long been a major industry. The ponds used by Farm Suzuki were used to make salt using sunlight back in the 1800s. Since around 1955, kuruma prawn farming became popular, but with the price plummeting after the collapse of the bubble the farm here went out of business, and at one point there were plans to use it as a landfill for industrial waste.
 Farm Suzuki president Mr. Takashi Suzuki joined a fisheries company after graduating from the National Fisheries University, and in 2008 started an export company for seafood products such as oysters. When looking for a place to farm oysters that could be sold globally, he found these ponds in 2011. He was moved by the beautiful ocean water and peaceful scenery of the environment. Having determined it was a good place for a farm, with ample phytoplankton for oysters to eat, he established Farm Suzuki in 2015. After a process of trial and error, the farm begun producing Claire oysters, the only salt-farm matured oysters in Japan, which have been chosen as Hiroshima Premium Top Oysters, a distinction given to only around 0.3% of the oysters produced in Hiroshima Prefecture.
 For a few months per year, all the water is drained from the ponds and their soil is tilled, ensuring the environment of the ponds is one suited to supporting life. In order to avoid damaging the ecosystem of the ponds, no chemicals are used. This is to preserve the salt farm, a precious resource left behind by previous generations. Instead of the traditional Japanese oyster farming method of suspending them from ropes, the oysters are grown in baskets in the Western style, freely incorporating new ideas. Currently, Farm Suzuki produces 700,000–800,000 oysters annually, with 70% of them being exported. With frequent trips overseas to study new methods, Farm Suzuki continues to do more than just rely on tradition to produce high-quality oysters.
 The tour will hear from Farm Suzuki president Mr. Takashi Suzuki about farming oysters in what used to be a salt farm, and have a chance to film and photograph the oyster farm. There will also be lunch, with kuruma prawn and raw oysters.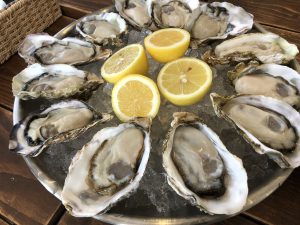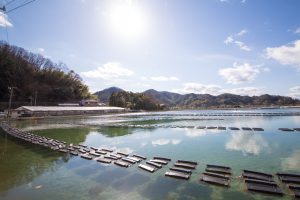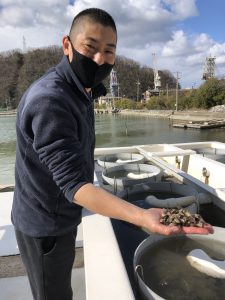 [Photos courtesy of Farm Suzuki]
6.  Iwasaki Noen (Osakikamijima)
 A Lemon Farm Run by a New Resident
 Hiroshima Prefecture is the No. 1 producer of lemons in Japan. Benefitting from the warm climate of the Seto Inland Sea, lemon farming is popular on Osakikamijima, and the lemons grown here are popular for being unwaxed, with a high sugar content and pleasant fragrance.
 Osakigamijima, located more or less in the center of the Seto Inland Sea, is one of the islands that is attracting an increasing number of immigrants from all over Japan. Mr. Taro Iwasaki and Ms. Aki Iwasaki, a couple who run a lemon farm on the island, brought their children with them when they moved from Kyoto in 2011. With no experience in agriculture, they used idle farmland to grow lemons both outdoors and in greenhouses, and now also manufacture and sell products such as homemade jam with no additives, in "sixth industrialization." Based on their own experience of moving to the island, every year they now accept trainees who want to become lemon farmers on the island, and are currently supporting five trainees. In addition to lemon cultivation, they also introduce the trainees who are not yet used to life on the island to other residents and farmers, acting as a bridge between locals and new residents. With the COVID-19 pandemic, they say that there are more popular who have reconsidered their lifestyle and looked into moving to the island, and recently, there has been a noticeable increase in younger people coming to the island with a clear desire to become farmers.
 The tour will hear from Mr. Taro and Ms. Aki Iwasaki about lemon farming and why they decided to relocate, as well as what life on the island is like. *Since cold weather this year led to the lemons being harvested earlier than usual, there will be no lemons on the trees at the time of the tour. Be aware there will be no opportunity to film or photograph the farm.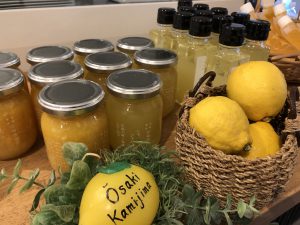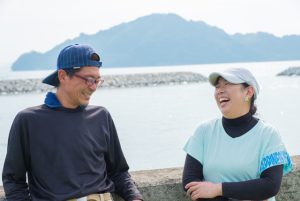 [Photos courtesy of Iwasaki Noen]
[Tour Itinerary]
1.Dates:
Friday, 24 March to Saturday, 25 March, 2023
2.Schedule:
[Friday, 24 March]
8:20-9:50             Haneda Airport-Hiroshima Airport (ANA673)
11:15-12:45         Konishi Koi Farm Co., Ltd.
13:00-14:30         Okosta(Experience Making Okonomiyaki, lunch)
15:10-16:40         Uedaryu Wafudo
17:30-19:00         Setouchi 7 Summit, Dinner Party (Presentation by Governor Yuzaki,
followed by Dinner party with standing buffet)
19:15                   Arrive at hotel (overnight at Hiroshima)
[Saturday, 25 March]
8:00                     Depart from hotel
8:30-10:00           Hiroshima Kagura
12:30-12:55         Ferry transfer: Takehara Port - Tarumi Port
13:15-14:00         Lunch at Farm Suzuki
14:00-15:30         Farm Suzuki
15:45-17:15         Iwasaki Noen
17:45-18:10         Ferry transfer: Tarumi Port - Takehara Port
20:25-21:40         Hiroshima Airport-Haneda Airport (JAL266)
4.Cost:
18,000 yen per person, including transportation, accommodation (breakfast included), and lunches (for both days).
5.Participants: Limited to 10 applicants.
(Only one reporter or one photographer from each company, but two participants from each TV team will be acceptable.)
* If there are more applicants than positions available, the tour organizer may make arrangements.
6.FPCJ Contact: Hamada (Ms.), Hayashi(Ms.)
 (Tel: 03-3501-5251、E-mail: sc@fpcjpn.or.jp)
7.Remarks:
(1) This tour is sponsored by Citizens Council for the Hiroshima Summit and run by the FPCJ.
(2) The schedule is subject to change without notice.
(3) This tour will require participants to bear a part of the cost, but is not a profit-making venture.
(4) Citizens Council for the Hiroshima Summit and the FPCJ take no responsibility for any accidents, injuries, illness, or other problems which occur during the tour.
(5) There may be some restrictions on photographing and filming at the tour sites. Please follow the instructions of the staff in charge.
(6) Please be aware that videos and photos of the tour, and articles about it, may be posted by Citizens Council for the Hiroshima Summit and the FPCJ on their websites or social media.