Date : March 27 - 28, 2023
Gunma Press Tour
post date : 2023.03.03
[Tour Topic]  Inclusive Society
 I. Initiatives for Multicultural Inclusion in Oizumi, a Town with One of the Largest Immigrant Populations in Japan 
II. Universal Tourism in Ikaho, an Onsen Town Known for Its Stone Steps
III. Using Digital Technology to Create a Society Where No One Is Left Behind
---
I. Initiatives for Multicultural Inclusion in Oizumi, a Town with One of the Largest Immigrant Populations in Japan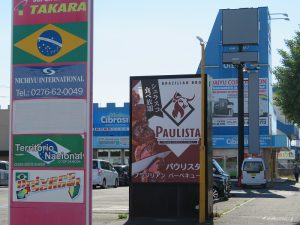 With the serious labor shortage brought about by the declining birthrate and aging population, the revised Immigration Control Law was put into effect in 2019, and shifted to officially accepting foreigners into the country as laborers. The national government continues to claim it has "no immigration policy," but the revision was described as "a shift in Japan's policy towards foreigners" and "the first year of immigration." Throughout Japan, industries such as manufacturing, restaurants, construction, and agriculture can no longer operate without foreign labor. With increased global competition in acquiring workers, and Japan's relative economic appeal decreasing, creating a multicultural, inclusive society is an urgent issue in order for foreigners to continue choosing Japan.

【Photo: courtesy of the Oizumi Tourism Association】
Oizumi, Gunma has a total population of around 42,000, with around 8,000 foreigners (approximately 20% of its population), making it a town with one of the largest immigrant populations in Japan. Home to factories of major companies such as Subaru and Panasonic, it is a key industrial town in Northern Kanto, and the labor shortage became a major issue in manufacturing beginning in the late 1980s. With the 1990 revision to the immigration law, second- and third-generation Japanese descendants and their families were permitted residency in Japan without work restrictions, and Oizumi actively encouraged such people from Brazil and Peru to come to the town, where they settled. Over half of the foreigners in the town are Brazilian, mostly Japanese Brazilian, and grocery stores and restaurants with signs in Portuguese can be seen in the town.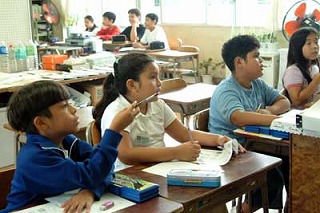 With the rapid increase in foreign residents, there was confusion and friction caused by differences in language and culture, and Oizumi was the first in Japan to pioneer a number of projects to promote a multicultural, inclusive society. All the municipal elementary and junior high schools in the town implemented Japanese as a second language classes for children, and in order to provide information about the town and rules about living in Japan to foreign residents, the town hall hired interpreters and released Portuguese versions of newsletters. In order to have foreign residents participate in community building, the town established a "cultural interpreter" registration system for people to communicate information about the town with family and coworkers in their native tongue, and worked to encourage volunteer activities to clean up the town with Japanese and foreign residents cooperating, and a foreigner volunteer group preparing for disasters.
【Photo: courtesy of Oizumi Town】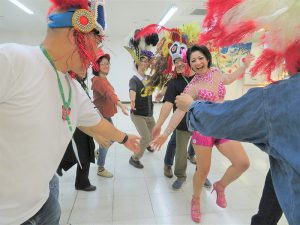 Currently, Oizumi has been facing the new developments of its foreign residents aging and having more diverse nationalities. With foreign residents who came and settled in Japan at the peak of their working years becoming seniors, pensions and nursing care have been surfacing as major issues. In recent years, in addition to foreigners from South America, more Asian foreigners from countries such as Nepal and Vietnam have also come to the town looking for work, and foreign residents in Oizumi now include 49 different nationalities. With the town becoming less "Brazilian," the local tourism association, which until recently promoted Oizumi as "Brazil Town" using its Brazilian culture as a tourism resource, has in recent years begun promoting it as "International Town".

【Photo: courtesy of the Oizumi Tourism Association】
Gunma Prefecture as a whole has around 65,000 foreign residents, with the third largest proportion of foreign residents in Japan after Tokyo and Aichi. In April 2021, Gunma was the first prefecture in Japan to introduce an ordinance for the promotion of intercultural co-creation, stating that Japanese and foreign residents respecting each other's differences and using their diversity to work together to create new values is a source of Gunma's strength.
After briefings from Gunma Prefecture and Oizumi Town officials, the tour will be guided around the town by Mr. Isamu Paulo Hirano, a third-generation Japanese Brazilian who came to Oizumi when he was 10 years old and saw the town change, and Mr. Masaki Nakayama, director of the Oizumi Tourism Association. In addition to speaking with staff at stores and restaurants targeting Brazilian residents, the tour will also hear from Asian foreign residents, learning about the state of Oizumi, which is said to show the future of Japan in miniature and be a testing bed for a multicultural, inclusive society.
II. Universal Tourism in Ikaho, an Onsen Town Known for Its Stone Steps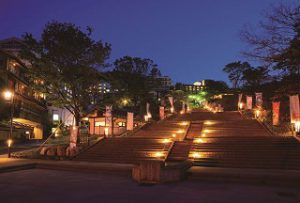 Ikaho Onsen (in the city of Shibukawa) is one of Japan's most famous onsen towns. On both sides of the stone steps that are its symbol are ryokans (traditional hotels), souvenir shops, and restaurants, and before the pandemic around one million people stayed their overnight annually. The water from the hot springs higher up the mountain is carried down by a canal inside the stone steps, and provided to facilities on either side.
【Photo: courtesy of Shibukawa Ikaho Onsen Tourism Association】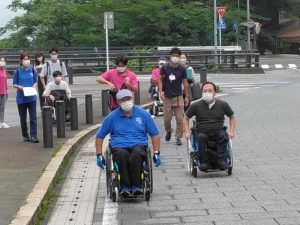 As an onsen town taking advantage of being on a slope, Ikaho has begun initiatives for universal tourism, so that everyone can enjoy the town regardless of age, nationality, or disabilities. The stone steps that are a symbol of Ikaho Onsen also present an obstacle to people in wheelchairs or seniors who have difficulty walking. As part of a national project related to the Tokyo Olympics and Paralympics, in September 2021 Shibukawa released a barrier-free map so people could enjoy the onsen town even while in a wheelchair. City officials inspected the area together with DET Gunma (DET=Disability Equality Training), and added information to the map on routes to get to the top of the stone steps while using a wheelchair, and on accessible washrooms. For each slope, the angle of the slope is included, and suggestions on whether it would be possible to make it up the slope under your own power or if assistance would be required.

【Photo: courtesy of DET Gunma】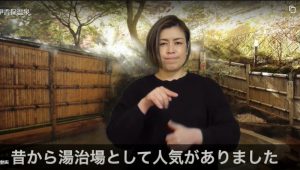 With the Japanese Federation of the Deaf having been founded in 1947 in Ikaho Onsen, many deaf people still visit it today as a "mecca." In May 2022, the Shibukawa City Deaf Welfare Society, with the Ikaho Onsen Tour Guide Association and local sign-language groups and interpreters which they frequently work with, established an executive committee to create a tourism map complete with sign-language videos, in order to encourage deaf visitors to Ikaho to visit relevant spots and tourist destinations. Scanning the QR codes on the map will open links to sign-language videos describing the locations.

【Photo: courtesy of the Shibukawa City Deaf Welfare Society】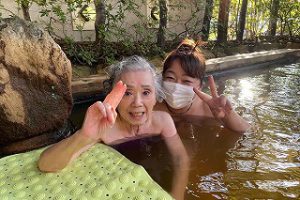 The number of ryokans and hotels working to become barrier free, by adding handrails to rooms and baths or by eliminating elevation differences in floors, has also been increasing. Hotel Matsumotoro was one of the first onsen ryokan in Japan to begin work on becoming barrier free, having installed wheelchair accessible bathrooms in 1991. It now has seven barrier-free rooms with onsen, and even with the national government's emergency declaration during the pandemic, the barrier-free rooms only continued to be full with reservations. Matsumotoro also puts effort into barrier-free food, providing easy to swallow food for people who have difficulty eating hard foods, and a variety of food for babies and toddlers at different stages of growth.
【Photo: courtesy of Hotel Matsumotoro】
The tour will learn about the onsen culture of Ikaho, which uses the mountain's slope to deliver the hot spring water, before visiting the monument to the establishment of the Japanese Federation of the Deaf with a member of the Shibukawa City Deaf Welfare Society, and hearing an explanation about the tourism map with sign-language videos. Next, the tour will experience barrier-free tourism along the stone steps together with DET Gunma president Mr. Kunitoshi Iijima, himself a wheelchair user. At Hotel Matsumotoro, the tour will hear from Ms. Yuki Matsumoto, the assistant manager (wakaokami), and have an opportunity to see the hotel.
III. Using Digital Technology to Create a Society Where No One Is Left Behind
The G7 Digital and Tech Ministers' Meeting in Takasaki, Gunma will be held in April 2023, and unique initiatives are underway using digital technology such as AI to build an inclusive society.
With the declining population due to the low birthrate and aging population, maintaining and operating transportation infrastructure is becoming difficult in rural areas, and providing transportation methods for people such as seniors who cannot drive a car on their own has become an issue. Fukushi Mover (fukushi=welfare) by Social Action Organization (in Maebashi) is a service which matches in real time empty seats in shuttle buses for local adult day care centers with seniors and others lacking transportation who want to go shopping or to the hospital. People who need transportation can use their smartphone or a call center to provide their pickup location and destination, and a nearby shuttle bus will take a detour from its usual route to drive them. As a carpool service using the existing infrastructure of adult day care shuttle buses, it has received attention from around Japan as a way to help supplement increasingly fragile public transportation in rural areas.
⇒The tour will hear from staff at Social Action Organization about Fukushi Mover, and see a demonstration of how a shuttle bus can be called with a smartphone.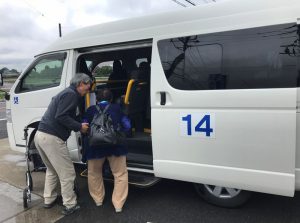 【Photo: courtesy of Social Action Organization】
Maebashi's Mebuku Eye system uses a smartphone camera and AI technology to help support people with visual impairments being able to walk around freely. Cloud AI technology uses image recognition to identify the surroundings seen by the smartphone's camera, such as obstacles, the color of signal lights, and scenery, and communicate them by audio, making it possible to "hear the scenery." This self-assistance system is combined with a mutual assistance system matching people who want help with people who want to help, providing navigation from a distance via smartphone or support in person, and It can transform difficult travel, which is difficult for people with visual impairment, into a fun walk. Through integration with the city's mutual assistance platform, people with visual impairments can provide information on places they found dangerous based on their personal experiences, and make their own contribution to building a safer city. This idea won the Prime Minister's Award at the 2022 Summer Digi-den Koshien, and Tthe city plans for a full launch of the system in spring 2024.
⇒The tour will listen to a briefing about Mebuku Eye, followed by a demonstration.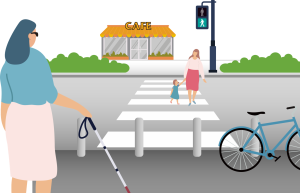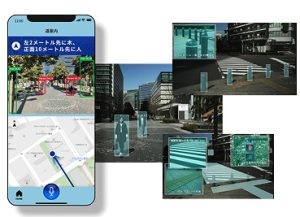 【Pictures: courtesy of Maebashi City】
In March 2022, Tsukurun Gunma Creative Factory opened in Maebashi, as the first center for nurturing youth specialized in digital creativity in Japan. Elementary, junior high, and high school students in Gunma can use it free of charge, with the intent being to nurture creativity by having them freely perform creative activities using the latest professional-level digital technology and software. Tsukurun won an award of excellence in the activities category at XR Kaigi (the largest VR and metaverse exhibition in Japan).
On the 32nd floor of the Gunma Prefectural Government Building, the public-private co-creation space Netsugen opened based on the concept "new ideas are born when people connect." Approximately 120 members (private companies) and government organizations collaborate to create business opportunities and solve social issues. In 2020, Gunma established an Esports and New Content Creation Section and is working on using the characteristics of esports to stimulate the region (developing human resources, building communities, and creating jobs) and increase Gunma's brand power.

⇒The tour will visit Tsukurun and Netsugen, and hear about initiatives to make Gunma into one of Japan's top "pioneering digital prefectures."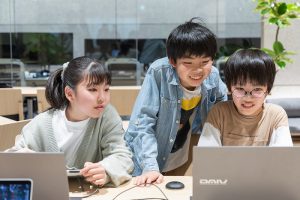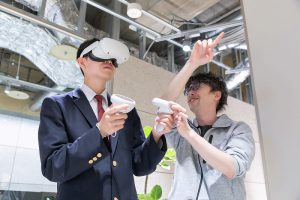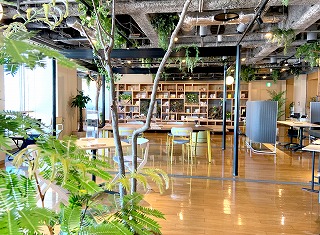 【Photos: courtesy of Gunma Prefectural Government】
④The World of Sosaku Kokeshi, Breathing New Life Into Tradition
Kokeshi are wooden dolls that have long been popular in Japan. Generally, kokeshi have a round head and cylindrical body, but sosaku (creative) kokeshi are not bound by tradition, and allow the creator's originality to shine through with more freedom in their shapes and designs. Gunma accounts for about 70% of the sosaku kokeshi produced in Japan, with Usaburo Kokeshi, located in Shinto, being the most well-known producer. In 2010, they made kokeshi based on the world-famous Dutch character Miffy. It was a major success, and so they began making character kokeshi in earnest. The products were well received in Japan and abroad for their warmth and sense of luxury due to being made from wood, as well as the delicate color usage and quality expected from a traditional craft, and so a new market was created. Currently, Usaburo Kokeshi makes 130,000 kokeshi annually, from classic kokeshi to those based on popular characters, and exports them to 18 countries around the world, mainly in Europe.
⇒The tour will hear from Mr. Yoshihiro Okamoto, vice-president of Usaburo Kokeshi, grandson of its founder Usaburo Okamoto, and creator of sosaku kokeshi, about his thoughts as a creator, and also see how kokeshi are made.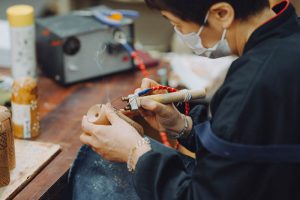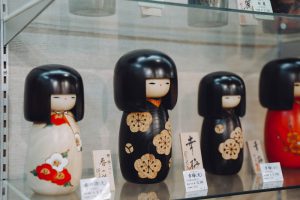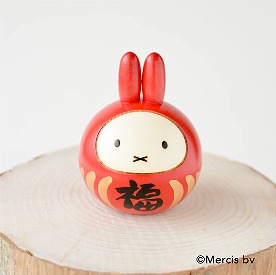 【Photos: courtesy of Usaburo Kokeshi】
---
【Tour Itinerary】
1. Dates:
Monday, March 27  to Tuesday, March 28, 2023
2. Schedule:
【Monday, March 27】
07:00     Leave Nippon Press Center Building (by chartered bus)
09:00-10:00  Briefings from Gunma Prefecture and Oizumi Town officials
10:10-13:20 Tour of Oizumi Town including Lunch (@Brazilian restaurant)
14:00-15:00  Ishikawa Construction, Co. Ltd. in Ota City
16:15-17:15  Usaburo Kokeshi
17:45    Arrive at Ikaho Onsen (stay overnight at Moriaki Ryokan)

【Tuesday, March 28】
08:30-09:00  Tour of Ikaho Onsen town
09:15-12:00  Universal tourism initiatives in Ikaho Onsen
12:10-12:50  Lunch
13:45-14:45  Social Action Organization "Fukushi Mover"
15:15-15:45  Netsugen
15:45-16:15  Walking Support System for Visually Impaired People "Mebuku Eye"
16:45-17:30  tsukurun-GUNMA CREATIVE FACTORY-
20:00    Arrive at the Nippon Press Center Building
3. Qualification:
Bearer of Gaimusho Press Registration Card (in principle)

4. Cost:
10,000 yen per person, including transportation, accommodation (dinner and breakfast included), and lunch for both days
5. Participants:
Limited to 10 applicants.
(Only one reporter or one photographer from each company, but two participants from each TV team will be acceptable.)
*  If the capacity is exceeded, the organizer may make adjustments.
6. FPCJ Contact:
Sugawara (Mr.) and Watanabe (Ms.), Media Relations Division
(Tel: 03-3501-3405, email: ma@fpcjpn.or.jp)
7. Others
(1) This tour is sponsored by Promotion Council for the G7 Digital and Tech Ministers' Meeting in Takasaki, Gunma and run by the FPCJ.
(2) The schedule is subject to change without notice.
(3) This tour will require participants to bear a part of the cost, but is not a profit-making venture.
(4) Promotion Council for the G7 Digital and Tech Ministers' Meeting in Takasaki, Gunma and the FPCJ take no responsibility for any accidents, injuries, illness, or other problems which occur during the tour. Tour participants should apply for travel insurance coverage individually should they decide it is necessary.
(5) There may be some restrictions on photographing and filming at the tour sites. Please follow the instructions of the staff in charge.
(6) Please be aware that videos and photos of the tour, and articles about it, may be posted by Gunma Prefecture and the FPCJ on their websites or social media.