Date : December 16, 2022
Politics and Religion in Japan: The Separation of Religion and State, in Principle and in Reality (Dr. Katsuhiro Kohara, Professor, Doshisha University)
post date : 2022.12.02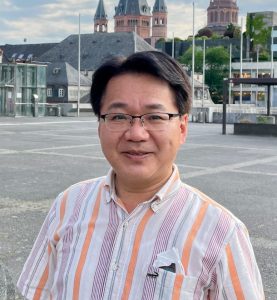 Since the assassination of former Prime Minister Shinzo Abe, the relationship between "new religions" and politics has become a major issue. With discussions on this topic considered taboo until now, what is the relationship between politics and religion in Japan like today, based on the principle of the separation of religion and state introduced after World War II, and what contradictions and issues exist? What will happen in the future with the Unification Church problem, as well as with what could be considered its cause, the relationship between politics and religion?
The FPCJ has invited pastor and theologian Dr. Katsuhiro Kohara, a professor at the Doshisha University School of Theology who has been actively commenting on this topic in the media, to discuss the relationship between politics and religion in Japan while including an international perspective.
■Please note that you cannot physically attend this briefing, as it will be a Zoom webinar. 
■Date: December 16 (Fri), 2022, 10:30-12:00 (Deadline for application: 12:00 December 15)

■Theme: Politics and Religion in Japan: The Separation of Religion and State, in Principle and in Reality
■Briefer: Dr. Katsuhiro Kohara, Professor, Systematic Theology, School of Theology, Doshisha University
■Language: Japanese, with consecutive English interpretation
As in our standard press briefings, there will be a Q&A session at the end.
*In principle, questions will only be accepted from members of the foreign press.
■Members of the Foreign Press:
Please send any questions for the briefer or topics you are interested in to cp@fpcjpn.or.jp by Noon on Wednesday, December 14.

As there will only be a limited amount of time to ask questions during the briefing, we will collect questions and provide them to the briefer in advance.
Embassy representatives and FPCJ supporting members may also watch the briefing as observers (admission free).
■How to Apply: Please refer to the email  we sent.
*We will not be accepting applications by email.