Date : November 15, 2022
Revision of the Three Security Documents: Significance and Key Points (Dr. Ken Jimbo, Professor, Keio University)
post date : 2022.11.04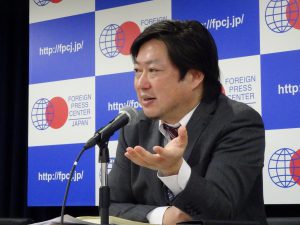 As the security environment facing Japan becomes increasingly severe, the three documents guiding national security for the next 10 years (the National Security Strategy, the National Defense Program Guidelines, and the Medium Term Defense Program) will be revised by the end of this year. 
In anticipation of the new "Three Security Documents," the FPCJ has invited Dr. Ken Jimbo, Professor of Policy Studies at Keio University and an expert in security and diplomacy, to discuss the significance and key points of the revisions, as well as future challenges and potential outcomes for Japan's security.
■Please note that you cannot physically attend this briefing, as it will be a Zoom webinar. 
■Date: November 15 (Tue), 2022, 11:00-12:30  (Deadline for application: 12:00 November 14)
■Theme: Revision of the Three Security Documents: Significance and Key Points
■Briefer: Dr. Ken Jimbo, Professor, Keio University
■Language: Japanese, with consecutive English interpretation

As in our standard press briefings, there will be a Q&A session at the end.
*In principle, questions will only be accepted from members of the foreign press.
■Members of the Foreign Press:
Please send any questions for the briefer or topics you are interested in to cp@fpcjpn.or.jp  by 16:00 on Friday, November 11. As there will only be a limited amount of time to ask questions during the briefing, we will collect questions and provide them to the briefer in advance.


Embassy representatives and FPCJ supporting members may also watch the briefing as observers (admission free).
■How to Apply: Please refer to the email  we sent.
*We will not be accepting applications by email.