Date : February 18, 2022
Outcome of the IAEA Review Mission on Safety of ALPS Treated Water at Fukushima Daiichi Nuclear Power Station (IAEA)  
post date : 2022.02.07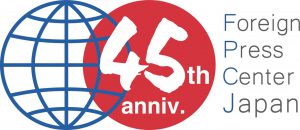 The IAEA delegation will visit Japan this month to review safety of ALPS treated water at Tokyo Electric Power Company (TEPCO)'s Fukushima Daiichi Nuclear Power Station. The FPCJ has invited senior officials of the IAEA to explain the outcome of the visit.
■Please note that you cannot physically attend this briefing, as it will be a Zoom webinar. 
■Date: February 18 (Fri), 2022, 16:00-17:00 (Deadline for application: Noon, Feb. 17)  
■Theme: Outcome of the IAEA First Review Mission on Safety of ALPS Treated Water at the TEPCO's       Fukushima Daiichi Nuclear Power Station 
■Briefer (both from IAEA (International Atomic Energy Agency)):
      1. Ms. Lydie Evrard, Deputy Director General and Head of the Department of Nuclear Safety
          and Security    
      2. Mr. Gustavo Caruso, Coordinating Director for the Fukushima ALPS project, Department of
        Nuclear Safety and Security
■Language: English, with consecutive Japanese translation
As in our standard press briefings, there will be a Q&A session at the end.
*In principle, questions will only be accepted from members of the foreign press.
■Members of the Foreign Press:
Please send any questions for the briefer or topics you are interested in to cp@fpcjpn.or.jp by 12:00 noon on Feb. 17. As there will only be a limited amount of time to ask questions during the briefing, we will collect questions and provide them to the briefer in advance.

Embassy representatives and FPCJ supporting members may also watch the briefing as observers (admission free).
■How to Apply: Please refer to either the email or fax we sent.
*We will not be accepting applications by email.