Date : January 18, 2022
Free and Open Indo-Pacific and Japan's China Strategy —Outlook for Japanese Foreign Affairs in 2022 (Prof. Shin Kawashima, The University of Tokyo)
post date : 2021.12.23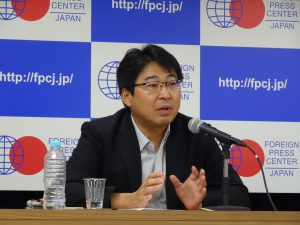 With China's rise in recent years and arguments that its increasing belligerence is a challenge towards the international order based on freedom and democracy, a Summit for Democracy hosted by the US was held on December 9 and 10.
For the first FPCJ online briefing of 2022, we have invited University of Tokyo Professor Shin Kawashima, an expert in the history of Chinese diplomacy and international relations in East Asia, and one of four experts from the US and Japan to release the "Proposed Basic Principles for a U.S.-Japan Strategy for China" urgent recommendations in July 2021. 2022 marks the 50th anniversary of the normalization of Japan-China relations, and the Winter Olympics will be held in Beijing in February.
Dr. Kawashima will talk about Japan-China relations, one of the most important topics for Japanese diplomacy in 2022, including the Free and Open Indo-Pacific, the strategy for China as part of the Japan-U.S. alliance, and the actions of the Quad including Australia and India.
■Please note that you cannot physically attend this briefing, as it will be a Zoom webinar. 
■Date: January 18 (Tue), 2022, 14:00-15:30 (Deadline for application: Noon, Jan. 17)
■Theme: Free and Open Indo-Pacific and Japan's China Strategy —Outlook for Japanese Foreign       Affairs in 2022
■Briefer: Dr. Shin Kawashima, Professor, Department of International Relations, Graduate School of
      Arts and Science, The University of Tokyo
■Language: Japanese, with consecutive English interpretation
As in our standard press briefings, there will be a Q&A session at the end.
*In principle, questions will only be accepted from members of the foreign press.

■Members of the Foreign Press:
Please send any questions for the briefer or topics you are interested in to cp@fpcjpn.or.jp by 12:00 noon on Jan. 17. As there will only be a limited amount of time to ask questions during the briefing, we will collect questions and provide them to the briefer in advance.

Embassy representatives and FPCJ supporting members may also watch the briefing as observers (admission free).
■How to Apply: Please refer to either the email or fax we sent.
*We will not be accepting applications by email.