Date : October 21, 2021
Japan's Contributions to Carbon Recycling, the Key to Decarbonization (Mr. Hiroshi Tsuchiya, Director, Carbon Recycling Promotion Office, Agency for Natural Resources and Energy, METI)
post date : 2021.10.13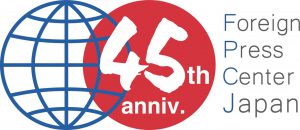 One potential key technology for achieving a decarbonized society by 2050 is carbon recycling. Japan is competitive in this field, which looks at CO2 as a resource. CO2 is separated, captured, and then reused in concrete, chemicals, and fuels, thereby reducing CO2 emissions into the atmosphere. The carbon recycling industry covers multiple major fields including minerals, fuels, and chemicals. The Ministry of Economy, Trade and Industry has made a technology roadmap assuming the expansion of carbon recycling and a green growth strategy for carbon neutrality to support the development of recycling technology and the adoption of products through reduced costs.
The FPCJ has invited Mr. Hiroshi Tsuchiya, Director of the Carbon Recycling Promotion Office, Agency for Natural Resources and Energy of METI, to speak about the government's vision and the current position of Japan's latest technology from an international perspective.
■Please note that you cannot physically attend this briefing, as it will be a Zoom webinar.
■Date: October 21 (Thu), 2021, 14:00-15:30 (Deadline for application: Noon, Oct. 20)
■Theme: Japan's Contributions to Carbon Recycling, the Key to Decarbonization
■Briefer: Mr. Hiroshi Tsuchiya, Director, Carbon Recycling Promotion Office, Agency for Natural Resources and Energy, METI 
■Language: Japanese, with consecutive English interpretation     
As in our standard press briefings, there will be a Q&A session at the end.
*In principle, questions will only be accepted from members of the foreign press.
■Members of the Foreign Press:
Please send any questions for the briefer or topics you are interested in to cp@fpcjpn.or.jp by 12:00 noon on October 20. As there will only be a limited amount of time to ask questions during the briefing, we will collect questions and provide them to the briefer in advance.

Embassy representatives and FPCJ supporting members may also watch the briefing as observers (admission free).
■How to Apply: Please refer to either the email or fax we sent.
*We will not be accepting applications by email.