Date : June 11, 2021
The COVID-19 Pandemic and Changes to Japan's Temples and the Japanese View of Life and Death (Rev. Hidenori Ukai , Journalist/Head Priest of Shogakuji Temple/Representative Director of Yoi-Otera Research Institute)
post date : 2021.06.01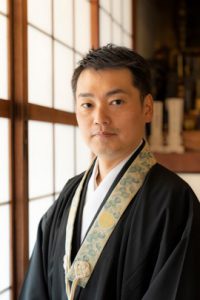 Japan is home to approximately 77,000 Buddhist temples, making them more common than convenience stores (approx. 55,000). Temples used to play an important role in local communities throughout the country, and were used for various gatherings, but with the overall population decline and depopulation of rural areas it has been noted that temples are at risk of "vanishing." The COVID-19 pandemic is said to have exacerbated this trend. With the simplification of Buddhist services and efforts to avoid gathering in large numbers, temples' total income in 2020 may have declined to half of what it was five years ago.
While new initiatives such as online services and cashless offerings are being implemented, there is also growing inequality among temples. What changes has the pandemic brought to the environment surrounding temples, and how has it affected people's views of Buddhism or life and death? The FPCJ has invited Rev. Hidenori Ukai, author of the oft-discussed 2015 book Vanishing Temples, to discuss temples' current situation and future. Rev. Ukai is a journalist and editor for an economics magazine, and this January became the head priest of Shokakuji Temple in Kyoto, which is managed by his family. He continues to research and study temples, and disseminate information around the theme of "modern society and Buddhism."         
■Please note that you cannot physically attend this briefing, as it will be a Zoom webinar. 
■Date: Date: June 11 (Fri), 2021, 14:00-15:30 (Deadline for application: Noon, June 10)
■Briefer: Rev. Hidenori Ukai, Journalist/Head Priest of Shogakuji Temple/Representative Director of                     Yoi-Otera Research Institute/Part-Time Lecturer at Tokyo University of Agriculture and                         Bukkyo University
■Language: Japanese, with consecutive English interpretation                                  
As in our standard press briefings, there will be a Q&A session at the end.
*In principle, questions will only be accepted from members of the foreign press.
■Members of the Foreign Press:
Please send any questions for the briefer or topics you are interested in to cp@fpcjpn.or.jp by 12:00 noon on June 10.  As there will only be a limited amount of time to ask questions during the briefing, we will collect questions and provide them to the briefer in advance.

Embassy representatives and FPCJ supporting members may also watch the briefing as observers (admission free).
■How to Apply: Please refer to either the email or fax we sent.
*We will not be accepting applications by email.