Date : April 30, 2021
The Mysteries of Space Revealed by the Hayabusa2 (Dr. Makoto Yoshikawa, Mission Manager, Hayabusa2 Project Team)
post date : 2021.04.16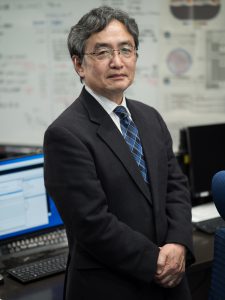 In December 2020, the Hayabusa2 space probe returned to Earth after a six-year odyssey, succeeding in bringing back even more samples than expected from the asteroid Ryugu. Currently, information on the samples (such as weight, color, size, and shape) is being recorded and catalogued to prepare for sample analysis to begin in earnest in June. It is expected that research using these first-ever samples from a C-type asteroid will help reveal unprecedented scientific mysteries.
The FPCJ has once again invited Dr. Makoto Yoshikawa, the mission manager for the Hayabusa2 project and an associate professor at the JAXA Institute of Space and Astronautical Science, to discuss the current state of and future plans for the project, and what mysteries they hope to solve through their research.
■Date: April 30 (Fri), 2021, 11:00-12:30 (Deadline for application: Noon, April 28)
■Briefer: Dr. Makoto Yoshikawa, Mission Manager, Hayabusa2 Project Team

■Language: Japanese, with consecutive English interpretation                                  
As in our standard press briefings, there will be a Q&A session at the end.
*In principle, questions will only be accepted from members of the foreign press.

■Members of the Foreign Press:
Please send any questions for the briefer or topics you are interested in to cp@fpcjpn.or.jp by 12:00 noon on April 28.  As there will only be a limited amount of time to ask questions during the briefing, we will collect questions and provide them to the briefer in advance.

Embassy representatives and FPCJ supporting members may also watch the briefing as observers (admission free).
■How to Apply: Please refer to either the email or fax we sent.
*We will not be accepting applications by email.