Date : March 17, 2021
Japanese-South Korean Relations in 2021 (Dr. Kan Kimura, Kobe Univ. Professor/Director of Center for Asian Academic Collaboration)
post date : 2021.03.05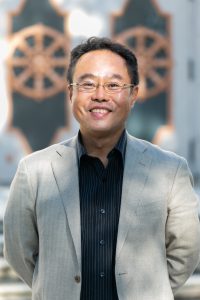 Although Japanese-South Korean relations have cooled due to issues surrounding former civilian workers from the Korean Peninsula and comfort women, South Korean President Moon Jae-in stated earlier this year that he recognized the agreement between Japan and South Korea on comfort women as an official agreement, possibly a sign that he would like to improve relations. The new Biden administration which began in January has also indicated that they intend to emphasize cooperation between the US, Japan, and South Korea, in another sign of change for the situation between Japan and South Korea.
How will the Suga administration, which began last year with the intent to carry on the Abe administration's foreign policy, work to improve relations with South Korea, which are also critically important from a security perspective? The FPCJ has invited Dr. Kan Kimura, a professor at the Graduate School of International Cooperation Studies (GSICS) and the director of the Center for Asian Academic Collaboration at Kobe University who specializes in comparative politics and the Korean Peninsula, to discuss the future of Japanese-South Korean relations in 2021. 
■Please note that you cannot physically attend this briefing, as it will be a Zoom webinar. 
■Date: March 17 (Wed), 2021, 14:00-15:30 (Deadline for application: Noon, March 16)
■Briefer: Dr. Kan Kimura, Professor of Graduate School of International Cooperation Studies (GSICS)/Director of Center for Asian Academic Collaboration, Kobe University
■Language:  Japanese, with consecutive English translation
As in our standard press briefings, there will be a Q&A session at the end.
*In principle, questions will only be accepted from members of the foreign press.
■Members of the Foreign Press:
Please send any questions for the briefer or topics you are interested in to cp@fpcjpn.or.jp by 12:00 noon on March 16.  As there will only be a limited amount of time to ask questions during the briefing, we will collect questions and provide them to the briefer in advance.

Embassy representatives and FPCJ supporting members may also watch the briefing as observers (admission free).
■How to Apply: Please refer to either the email or fax we sent.
*We will not be accepting applications by email.