Date : February 22, 2021
Minister for Reconstruction Katsuei Hirasawa Discusses the Current State of and Challenges for Reconstruction Ten Years After the Great East Japan Earthquake
post date : 2021.02.16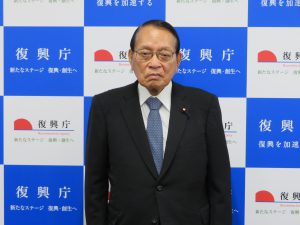 Nearly ten years have passed since the Great East Japan earthquake. This disaster caused massive losses, with over 22,000 people dead or missing, including indirect disaster-related deaths. The number of evacuees has declined from a peak of 470,000 to 42,000 now, but issues still remain, such as restoring a livable environment in areas affected by the nuclear accident and providing evacuees with mental care while preventing them from becoming isolated.
The region's industry has generally recovered to former levels, but new sales routes need to be developed for the seafood processing industry, in which sales have been slow to recover, and negative perceptions of agricultural, forestry, and fishery products from Fukushima Prefecture also need to be eliminated.
The FPCJ has invited Minister for Reconstruction Mr. Katsuei Hirasawa, who grew up in Fukushima Prefecture and is determined to deal with the remaining issues, to discuss the current state of and challenges for reconstruction.     
■Please note that you cannot physically attend this briefing, as it will be a Zoom webinar. 
■Date: February 22 (Mon), 2021, 17:30-18:30 (Deadline for application: Noon, Feb. 19)
■Briefer: Mr. Katsuei Hirasawa, Minister for Reconstruction and Minister in charge of 
    Comprehensive Policy Coordination for Revival from the Nuclear Accident at Fukushima
■Language:  
    1. First Half (Speech by the Minister): Simultaneous English translation of Original Japanese
    2. Second Half (Q&A session): Japanese/English, with consecutive translation  
As in our standard press briefings, there will be a Q&A session at the end.
*In principle, questions will only be accepted from members of the foreign press.
■Members of the Foreign Press:
Please send any questions for the briefer or topics you are interested in to cp@fpcjpn.or.jp by 12:00 noon on Feb. 19.  As there will only be a limited amount of time to ask questions during the briefing, we will collect questions and provide them to the briefer in advance.

Embassy representatives and FPCJ supporting members may also watch the briefing as observers (admission free).
■How to Apply: Please refer to either the email or fax we sent.
*We will not be accepting applications by email.