Date : October 15, 2020
The New Administration and Japanese Security Policy (Prof. Nobukatsu KANEHARA, Faculty of Law Department of Political Science, Doshisha University)
post date : 2020.09.30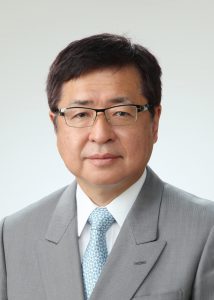 Former Prime Minister Shinzo Abe implemented new security policies such as the Free and Open Indo-Pacific strategy and establishing the National Security Council (modeled on the US NSC), as well as strengthening the Japan-US alliance. Intending to maintain these policies, the new Suga Cabinet inaugurated on September 16 made news by selecting Nobuo Kishi, the brother of former Prime Minister Abe, as the new minister of defense. On the other hand, the security environment in the Asia Pacific has been becoming more serious, with the escalating conflict between the US and China (referred to as a new cold war), the lack of progress on North Korea's missile and nuclear weapon development programs, and the increased activity of Chinese government vessels around the Senkaku Islands.
The FPCJ has invited Doshisha University Professor Nobukatsu Kanehara, who played a central role in drafting security policies for the Abe government, to discuss the situation. The professor worked mainly at the Ministry of Foreign Affairs before appointed as Assistant Chief Cabinet Secretary in December 2012. After the establishment in December 2013 of the National Security Council, he served as deputy secretary-general of the Cabinet Office's National Security Secretariat from January 2014 when it was established until 2019.
■Please note that you cannot physically attend this briefing, as it will be an online press briefing held as a Zoom webinar. 
■Date: October 15 (Thurs), 2020, 11:00-12:30 (Deadline for application: Noon, October 14)
■Briefer: Prof. Nobukatsu KANEHARA, Faculty of Law Department of Political Science, Doshisha University
■Language: Japanese, with consecutive English interpretation
■Deadline for application: Noon, October 14
Note: No reply will be sent confirming your application, but after applying an email will be sent before the day of the briefing with details on how to join the briefing.
As in our standard press briefings, there will be a Q&A session at the end.
*In principle, questions will only be accepted from members of the foreign press.
■Members of the Foreign Press:
Please send any questions for the briefer or topics you are interested in to cp@fpcjpn.or.jp by 12:00 noon on October 14.  As there will only be a limited amount of time to ask questions during the briefing, we will collect questions and provide them to the briefer in advance.
Embassy representatives and FPCJ supporting members may also watch the briefing as observers (admission free).