Date : December 18, 2019
Outlook for Japanese Foreign Policy in 2020 (Dr. Ken JIMBO, Keio University Professor)
post date : 2019.12.01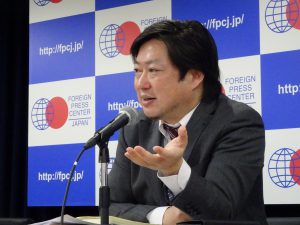 Prime Minister Shinzo Abe, who in November this year became the longest-serving prime minister in the history of Japan's constitutional government, has also stated that for foreign policy he would engage in strategic diplomacy that takes a panoramic perspective of the terrestrial globe, and has visited other countries 79 times since taking office again in December 2012, the most of any prime minister in Japan's history. This month, he will be attending a trilateral summit between Japan, China, and South Korea held in China starting on the 23rd. Chinese President Xi Jinping is also expected to visit Japan in April 2020.
The FPCJ has invited foreign policy and security expert Dr. Ken Jimbo, a professor at the Keio University Faculty of Policy Management, to discuss Japan's foreign policy in 2020, including both its foreign policy in Asia and its relations with the US, which will be having presidential elections in November next year.  
Date: December 18 (Wed), 2019, 11:00-12:30
Briefer: Dr. Ken JIMBO, Faculty of Policy Management, Keio University
Place: Foreign Press Center Japan(6th fl., Nippon Press Center Bldg)
          *No car park is available. 
Language: Japanese (with consecutive English interpretation)

【Reservation required: 40 openings available】 
*Embassy representatives and FPCJ supporting members may also attend the briefing as observers (admission free).
  In principle, only one person will be accepted from each organization.
  If all openings have been filled, your application may be rejected.
  Please note that FPCJ will not reply to your application, unless NO openings are available.
  Thank you for your understanding.