Date : February 21, 2019
Building Economic & Sporting Legacy of Rugby World Cup 2019 (Organising Committee CEO Shimazu/ Ambassador Sakuraba (Kamaishi Seawaves GM))
post date : 2019.02.14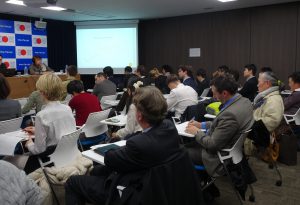 The Rugby World Cup (RWC) is held once every four years. The ninth RWC will be held in Japan from September 20 to November 2, the first time it has been held in Asia. The last RWC, held in England in 2015, had a total of around 2.47 million spectators at its 48 matches, with a total TV audience of 4 billion. Over 500,000 spectators are expected to travel to Japan for this RWC, and it is hoped the tournament will contribute to stimulating local economies, particularly those in the 12 cities matches will be held in.
One of those host cities is Kamaishi, Iwate, which was known as the "City of Rugby" in the 1980s and was seriously damaged by the Great East Japan Earthquake. As part of the reconstruction plan after the disaster, a new stadium was built, and the city intends to demonstrate its recovery to the world through this World Cup.
The FPCJ has invited Mr. Akira Shimazu, CEO of the Rugby World Cup 2019 Organising Committee, along with Mr. Yoshihiko Sakuraba, who played for Japan in the RWC three times and is the Rugby World Cup 2019 Ambassador, to speak about preparations for the tournament, the significance of hosting it, and solutions to various issues. Mr. Sakuraba, who was a player and coach for the Kamaishi Seawaves (formerly Nippon Steel Kamaishi)and is currently their general manager, will also speak about his feelings toward the Rugby World Cup.   
Date: February 21 (Thu), 2019, 10:00-11:30
Briefer: Mr. Akira SHIMAZU, CEO, Rugby World Cup 2019 Organising Committee    
             Mr. Yoshihiko SAKURABA, Rugby World Cup 2019 Ambassador/General Manager, Kamaishi
                    Seawaves/ Former Nippon Steel and Kamaishi Seawaves player and Former Japan
                    National Team (43 caps, Rugby World Cup – 1987, 1995 & 1999)
Place: Foreign Press Center Japan (6th floor, Nippon Press Center Bldg)
Language: Japanese (with consecutive English interpretation)
【Reservation required: 40 openings available】 Due to the size of the venue, please apply in advance.  
*Embassy representatives and FPCJ supporting members may also attend the briefing as observers (admission free).
  In principle, only one person will be accepted from each organization.
  If all openings have been filled, your application may be rejected.
  Please note that FPCJ will not reply to your application, unless NO openings are available.
  Thank you for your understanding.
*No car park is available. Please use a nearby car park if you come by car.