Date : December 7, 2018
Present and Future of Japan-Russia in 2018 (Mr. Shinji Hyodo, Director, Regional Studies Department, The National Institute for Defense Studies)
post date : 2018.11.21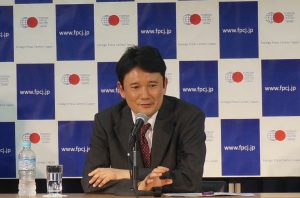 On November 14, a Japan-Russia summit meeting was held in Singapore, with both leaders agreeing to accelerate negotiations on a peace treaty based on the 1956 Joint Declaration by Japan and the USSR. With the two leaders expected to meet again during the G20 Buenos Aires summit at the end of November and plans for Prime Minister Abe to visit Russia early next year, there are hopes for progress on a peace treaty and in negotiations regarding the Northern Territories.
The FPCJ has invited Mr. Shinji Hyodo, director of the Regional Studies Department of the National Institute for Defense Studies (NIDS), to speak about the present and future of Japan-Russia relations.
Date: December 7 (Fri), 2018, 15:00-16:30
Place: Foreign Press Center Japan (6th floor, Nippon Press Center Bldg)
Language: Japanese (with consecutive English interpretation)
【Reservation required: 40 openings available】
Due to the size of the venue, you must apply in advance. 
Thank you for your understanding. 
*Embassy representatives and FPCJ supporting members may also attend the briefing as observers (admission free).
  In principle, only one person will be accepted from each organization.
  If all openings have been filled, your application may be rejected.
  Please note that FPCJ will not reply to your application, unless NO openings are available.
  Thank you for your understanding.
*No car park is available. Please use a nearby car park if you come by car.