Date : October 3, 2018
Strategy for Japanese Economic Recovery (Dr. Haruo SHIMADA, Tokyo Metropolitan Univ. Board of Trustees Chairman)
post date : 2018.09.20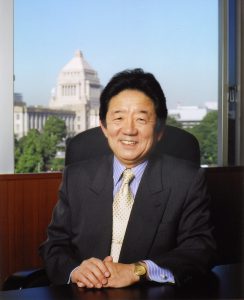 With social security costs in Japan increasing due to the declining birthrate and aging society, how can fiscal reform be carried out? What is the Bank of Japan's exit strategy for its quantitative and qualitative monetary easing, and how can a Japanese economic recovery be brought about?
The FPCJ has invited a leading economics expert Dr. Haruo Shimada, Tokyo Metropolitan University Board of Trustees Chairman, to speak about the strategy for Japanese economic recovery. In a book he recently wrote, Dr. Shimada went over the key points of Abenomics and clearly described the remedies to bring about a Japanese economic recovery.
He has held many important positions including a professor at Keio University, director of the Fujitsu Research Institute's Economic Research Center, president of the Chiba University of Commerce, a member of the Council on Economic and Fiscal Policy and a Special Advisor for Economic and Fiscal Policy to the Cabinet Office, and since 2017 has been chairman of the Tokyo Metropolitan University Board of Trustees.
Date: October 3 (Wed), 2018, 15:00-16:30
Place: Foreign Press Center Japan (6th floor, Nippon Press Center Bldg)
Language: English only
【Reservation required: 40 openings available】Due to the size of the venue, please apply in advance.  
*Embassy representatives and FPCJ supporting members may also attend the briefing as observers (admission free).
  In principle, only one person will be accepted from each organization.
  If all openings have been filled, your application may be rejected.
  Please note that FPCJ will not reply to your application, unless NO openings are available.
  Thank you for your understanding.
*No car park is available. Please use a nearby car park if you come by car.