Date : August 17, 2021
Tokyo 2020 Paralympics: Our Pledge for a Successful Games (Ms. KOIKE Yuriko, Governor of Tokyo)
post date : 2021.06.10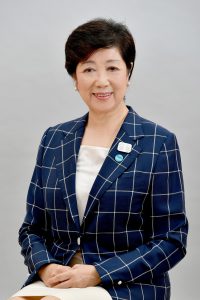 The Tokyo 2020 Paralympic Games will begin on August 24. As the first city to host the Summer Games twice, overcoming unprecedented difficulties, what message will Tokyo send to the world, what kind of future do they envision, and what legacies do they intend to pass on to future generations?
The FPCJ has invited Ms. KOIKE Yuriko, Governor of Tokyo, who demonstrated her passion for the Paralympics with the comment, "The Tokyo Games will not be a success unless the Paralympics are a success," to speak one week before the Paralympics begin.              
■Please note that you cannot physically attend this briefing, as it will be a Zoom webinar. 
■Date: August 17 (Tue), 2021, 17:00-17:40 16:10-16:50 [The time has been changed.] (Deadline for application: Noon, August 16)
■Theme: Tokyo 2020 Paralympics: Our Pledge for a Successful Games
■Briefer: Ms. KOIKE Yuriko, Governor of Tokyo
■Language: Japanese and English (QA session will be in Japanese with consecutive English interpretation)
As in our standard press briefings, there will be a Q&A session at the end.
*In principle, questions will only be accepted from members of the foreign press.
■Members of the Foreign Press:
Please send any questions for the briefer or topics you are interested in to cp@fpcjpn.or.jp by 12:00 noon on August 16.  As there will only be a limited amount of time, we will collect questions and provide them to the briefer in advance.

Embassy representatives and FPCJ supporting members may also watch the briefing as observers (admission free).
■How to Apply: Please refer to either the email or fax we sent.
*We will not be accepting applications by email.