Date : March 9, 2017
Health of Fukushima Residents, Six Years After the TEPCO Fukushima Daiichi Nuclear Accident
post date : 2017.02.22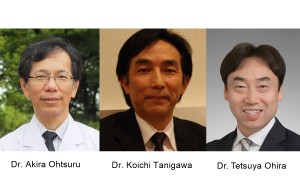 Nearly six years have passed since the Great East Japan Earthquake and Fukushima Daiichi nuclear accident. The Fukushima Health Management Survey has been carried out by Fukushima Medical University since June 2011, three months after the nuclear accident.
FPCJ has invited doctors involved in the survey to discuss its findings, including the results of thyroid exams and the physical and mental health of Fukushima residents. Don't miss this rare chance!
Breifers: Dr. Koichi Tanigawa, Vice President, Fukushima Medical University
      Dr. Akira Ohtsuru, Director, Department of the Thyroid Ultrasound Examination, Radiation        Medical Science Center for the Fukushima Health Management Survey
      Dr. Tetsuya Ohira, Director, Department of Health Survey Support, Radiation Medical Science        Center for the Fukushima Health Management Survey)
Date: March 9 (Thurs), 2017, 14:00-15:30
Place: Foreign Press Center Japan (6th fl., Nippon Press Center Bldg.)
Language: Japanese (with consecutive English interpretation)
*Embassy representatives and FPCJ supporting members may also attend the briefing as observers  (admission free).
*No car park is available. Please use a nearby car park if you come by car.