Date : January 27, 2017
Japan's Economic Partnership Strategy in 2017 (Prof. Yorizumi Watanabe, Faculty of Policy Management, Keio University)
post date : 2017.01.17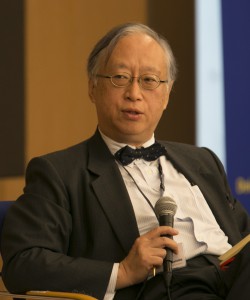 How will Japan deal with the announcement by new United States President Donald Trump that the U.S. will withdraw from the Trans-Pacific Partnership? With negotiations for the Economic Partnership Agreement with the European Union, the Regional Comprehensive Economic Partnership, and the Japan-China-Republic of Korea Free Trade Agreement, the question remains of what strategy the Abe administration, which has set the economy as its highest priority, will take moving forward on economic partnerships.
The FPCJ has invited Professor Yorizumi Watanabe of the Keio University Faculty of Policy Management, who has significant experience with economic partnership agreements from his time at the Ministry of Foreign Affairs and international organizations, to speak about the issues facing and outlook for Japan's economic partnership strategy in 2017. Don't miss this rare chance!
Date: January 27 (Fri), 2017, 15:00-16:30
Place: Foreign Press Center Japan (6th fl., Nippon Press Center Bldg.)
Language: Japanese (with consecutive English interpretation)
*Embassy representatives and FPCJ supporting members may also attend the briefing as observers  (admission free).
*No car park is available. Please use a nearby car park if you come by car.