Date : November 22, 2016
Japan's East-Asia Diplomacy (Mr. Yoshiki Mine, President, Institute for Peaceful Diplomacy)
post date : 2016.11.06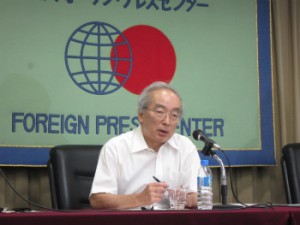 With an increasingly tense security situation in East Asia due to North Korea's nuclear and missile development as well as other factors, Japan-China-ROK trilateral cooperation is becoming more important. 
The FPCJ has invited Mr. Yoshiki Mine, President of the Institute for Peaceful Diplomacy, to talk about the current situation of and outlook for Japan's East-Asia diplomacy. 
Date:  November 22 (Tue), 2016, 14:00-15:30     
Place: FPCJ (6th floor, Nippon Press Center Bldg)
Language: Japanese (with consecutive English interpretation)
*Embassy representatives and FPCJ supporting members may also attend the briefing as observers (admission free).
*No car park is available. Please use a nearby car park if you come by car.